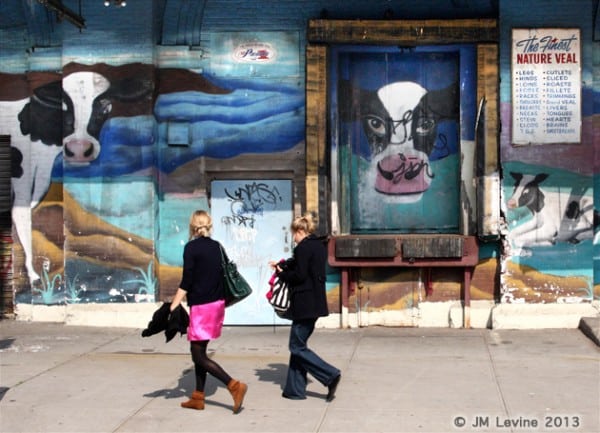 This is the second installment in a my journal of a changing New York City.  Putting these posts together required searching through thousands of photos taken over the last twenty years.  The black and white shots were scanned from negatives that were originally developed in the kitchen sink of my first apartment on the West Side.  Once again I present an annotated list of images below.
The Finest Nature Veal, West Side Highway, Meat Packing District, Manhattan.  This sign belonged to a meat packing company building that was demolished to build the new Whitney Museum downtown.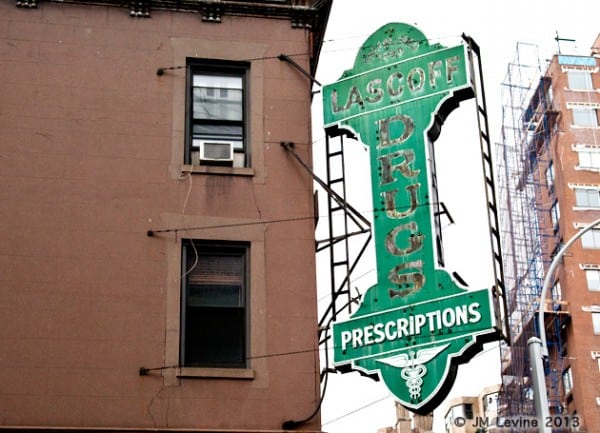 Lascoff Drugs, Lexington Avenue on the Upper East Side of Manhattan.  This neighborhood landmark drugstore recently closed, and I expect its sign will be taken down soon.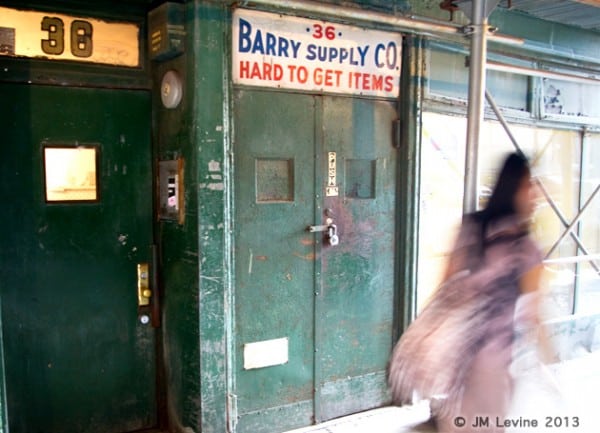 Hart to Get Items, West 17th Street, Manhattan.  This mysterious sign was on a storefront in the Flatiron District.  There was no indication of what kind of items it once sold.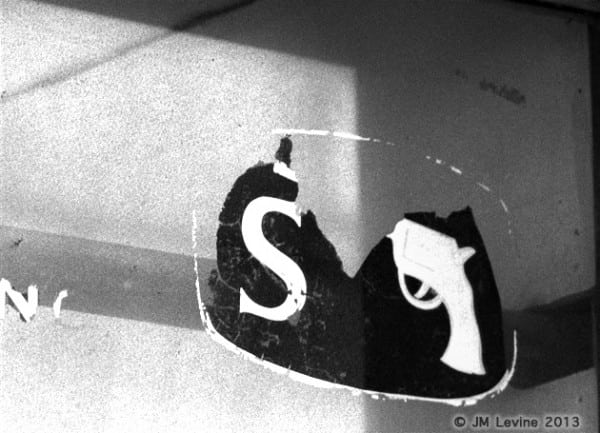 Guns, across from the Old Police Headquarters on Baxter Street, Lower Manhattan.  There was once a row of gunshops behind the Old Police Headquarter that is now a luxury condo building.  This is a remnant of one of the stores.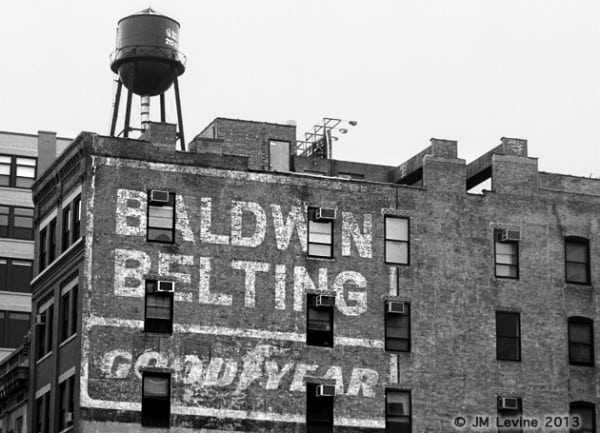 Baldwin Belting, Soho, Manhattan.  This remnant of SoHo's industrial past is now long gone.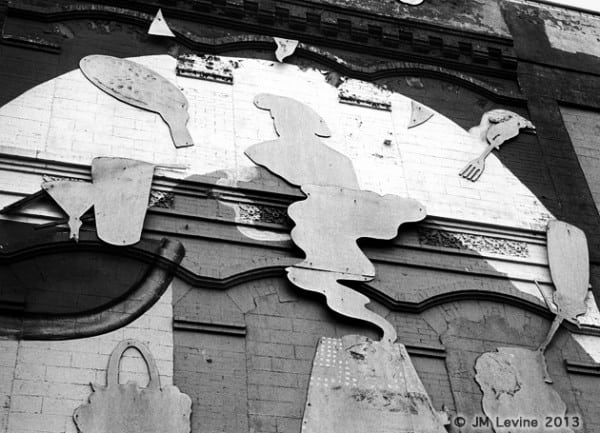 Kitchen Supplies, Bowery Street, Manhattan.  The Bowery was once the go-to place for kitchen supplies.  This ghostly sign was on a building that is now demolished.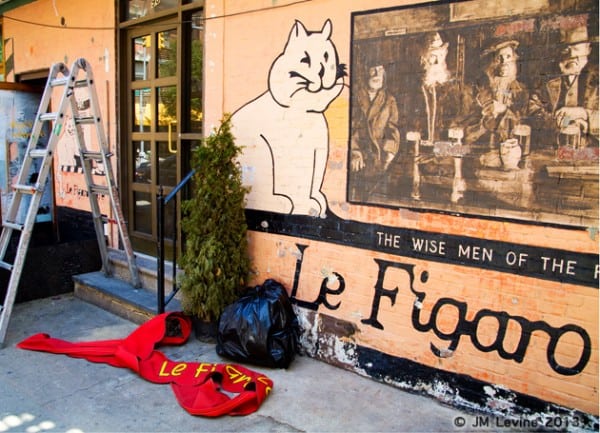 Le Figaro Cafe, Greenwich Village, Manhattan.  Back in my medical school days I went to Le Figaro for cappuchino.  I managed to pass by after the cafe closed and they were taking down the signage.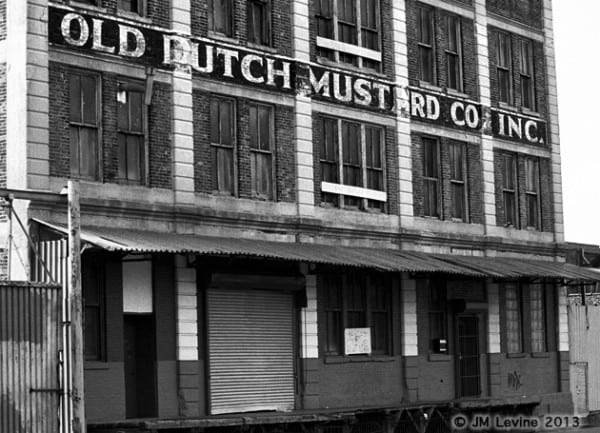 Old Dutch Mustard Company, Williamsburg, Brooklyn.  Williamsburg has been a gold coast of gentrification, and neighbors were saddened when this old factory was demolished.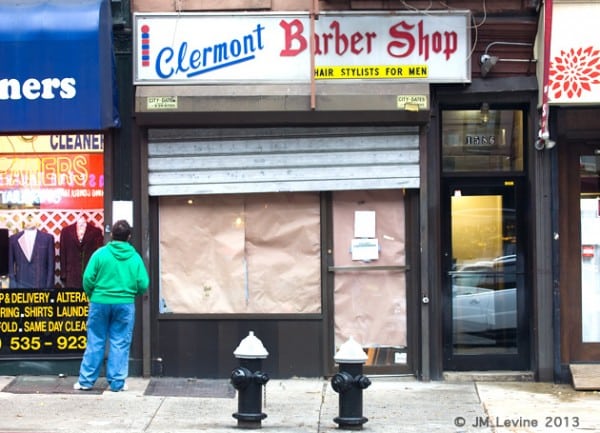 Clermont Barber Shop, First Avenue, Upper East Side of Manhattan.  Many old neighborhood businesses have been shut down by escalating rents.  This barber shop in my neighborhood is one of them.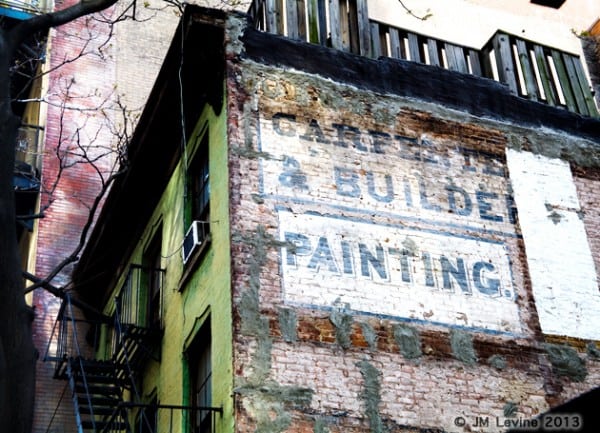 Carpenter & Builder, West 13th Street, Greenwich Village, Manhattan.  This nineteenth century sign was briefly revealed by neighboring demolition, but quickly covered up with white paint.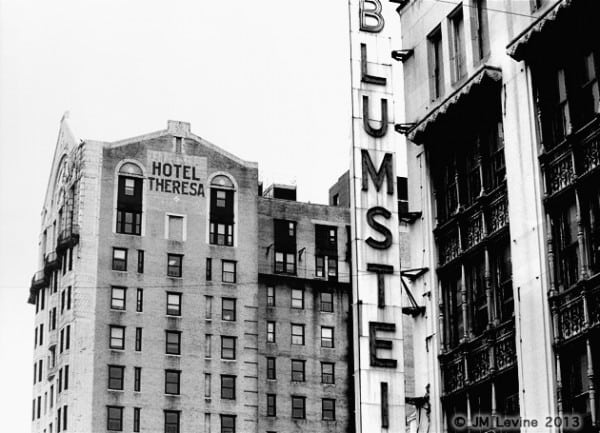 Blumstein's Department Store, 125th Street in Manhattan.  Blumstein's in Harlem was once a cause of community concern because of discriminatory hiring practices.  The sign lasted years after its closing but is now gone.  The Hotel Theresa next door was where Fidel Castro stayed when he visited New York City.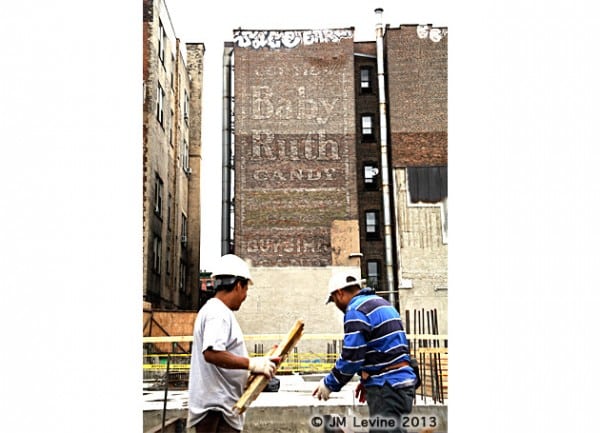 Baby Ruth Candy, Houston Street near the Williamsburg Bridge, Manhattan.  I loved this old sign which stood at the base of the Williamsburg Bridge in Lower Manhattan.  It is now permanently covered up by a new sleek building.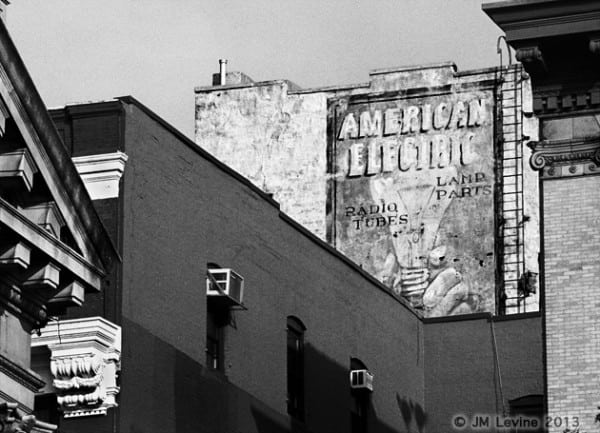 American Electric Radio Tubes, Canal Street, Lower Manhattan.  Canal Street was once a center for electronics.  This remnant of days past is now only a memory.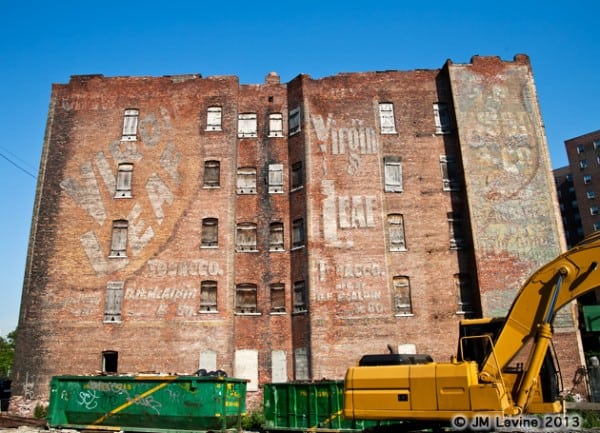 Virgin Leaf Tobacco,  Park Avenue in the 130's, Harlem.  This amazing sign was seen from Park Avenue in Harlem, but the building has since been demolished.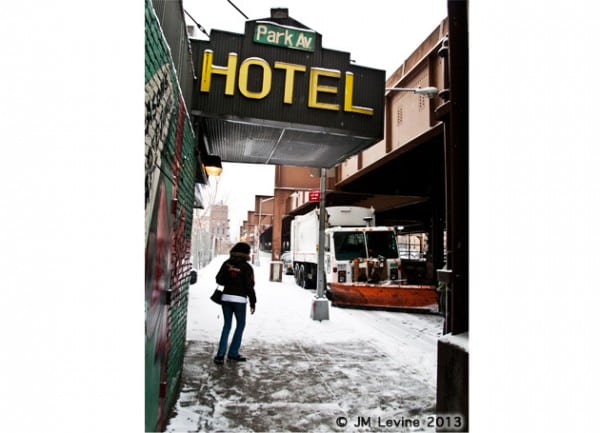 Park Avenue Hotel,  Park Avenue and 125th Street, Harlem.  The last vestiges of old neighborhoods in Manhattan are fading fast, and this tilted hotel sign is now gone.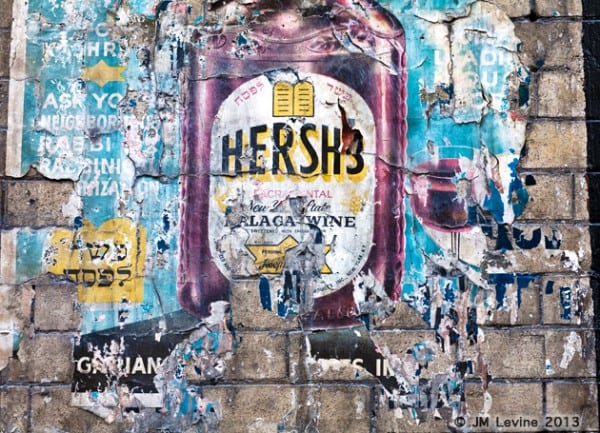 Hersh's Kosher Wine,  Lower East Side, Manhattan.  How this paper broadside survived is a little miracle, but I dont think you can find Hersh's wine in any stores today.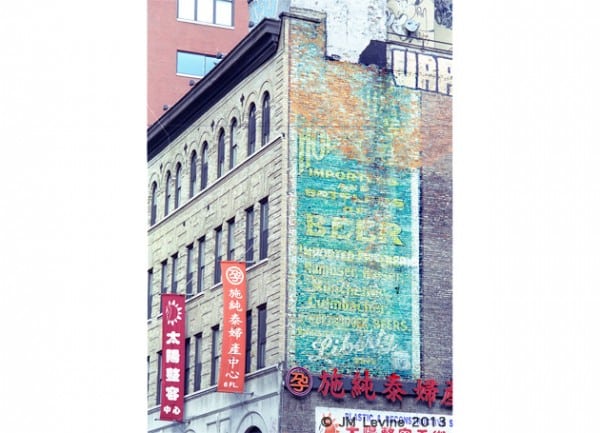 Beer.  Canal and Lafayette, Manhattan.  This amazing old beer advertisement in Chinatown is only a memory.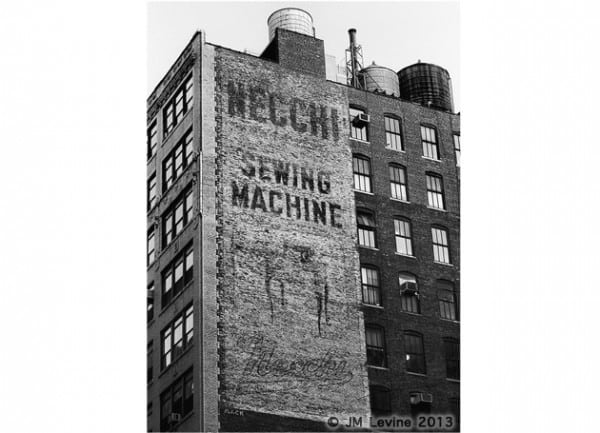 Necchi Sewing Machines, 7th Avenue in Chelsea, Manhattan.  Another vestige of Manhattan's industrial past was evident in this sewing maching advertisement that once covered 6 stories of a building in Chelsea.  The sign is now covered.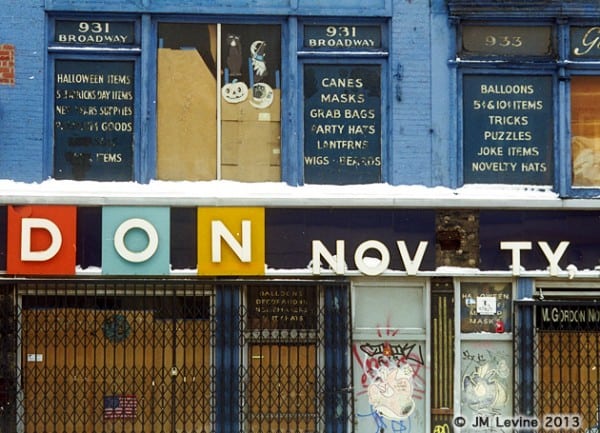 Gordon's Novelties, Broadway near Flatiron, Manhattan.  On Broadway between 20th and 21st Street, Gordon's Novelties occupied this space in 1934.  The store closed shortly after 9/11 in a city that wasn't in the mood for rubber chickens and gorilla masks.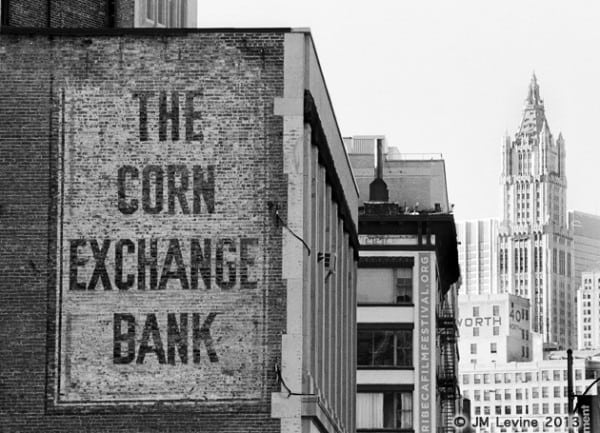 Corn Exchange Bank, Varick Street, Lower Manhattan.  Several Corn Exchange Bank signs survived in Manhattan until recently.  This one was seen near the entrance to the Holland Tunnel.  You can see the Woolworth Building off in the distance.
* * * * * * * * * * * * * * *