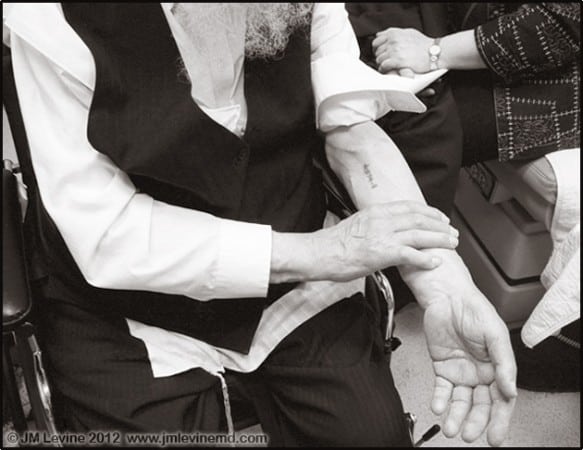 Mr. W. was brought to my office in a wheelchair by one of his daughters for a problem with his leg.  In his late eighties and ravaged by age, his skin was pale and swollen from anemia and congestive heart failure, and a gray beard was draped over his chest.  While helping him onto the examining table, his sleeve pulled up and I got a glimpse of the tattoo on his left forearm.  It was hard not to gasp but I tried not to show my reaction in accordance with the rules of bedside manner.
When tattoos get old, pigments spread within the skin and what was once a thin line becomes an ugly blur.  This tattoo was over sixty years old and was ugly from the day it was placed, because it was given as an identification mark by people who worked in the concentration camp named Auschwitz-Birkenau where he was transported in a cattle car after being taken from his home in Hungary.   He was lucky in a bizarre sense, because those who didn't get the tattoo were sent directly to die in a gas chamber.
I avoided mentioning anything about the tattoo during his first appointment.  Some weeks later on a subsequent visit, as we were wrapping up the treatment I mentioned the tattoo.  Mr. W. was tired and didn't want to talk, but his daughter gave me some background.  As the sole surviving member of his family he settled in America and started a family, and now has seven children and a growing number of grand-children.  Despite his shattering experiences in Europe he maintained his faith and ultra-orthodox Jewish traditions.
She also told me an unexpected result of her father's tattoo.  "In our community when someone goes to Israel, people place personal prayers into cracks of the Western Wall in Jerusalem.  Our Rebbe said that if you don't have the money or opportunity to go to Israel, just give your prayer to someone with a tattoo like my father." She added that she would find hand-written prayers on scraps of paper in his pockets when he returned from synagogue.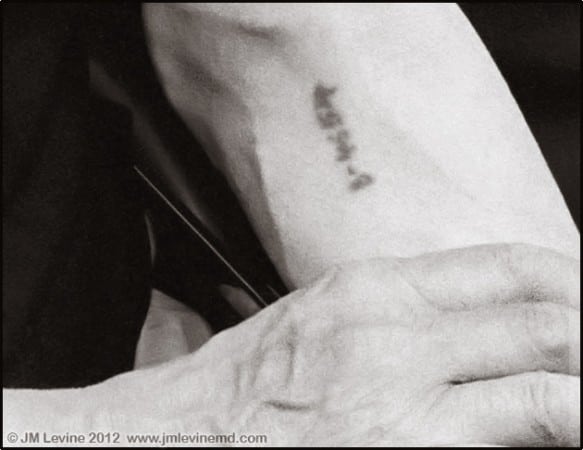 I explained that I photograph aging, and that it would be important to photograph Mr. W's tattoo as it opens a door to history.  They agreed, provided that it does not show his face, and that I make prints for his children.
As a doctor I frequently get privileged access into people's lives, and worlds open up that would otherwise remain unseen or forgotten. And so I am posting a scan of my black and white photo of Mr. W's tattoo.  Take a look and learn about human cruelty and a man's resilience, strength, and survival.
* * * * * * * * * * * * * * *
Related posts:
Revisiting My Medical School Sketchbooks
A Train Graveyard in Thorndike, Maine
An Abandoned Psychiatric Hospital in Tuscany
Childhood Dreams Under the Pulaski Skyway
Manhattan After the Hurricane
Photographing Letchworth Village
Returning to Cow Canyon Trading Post
More Vanished Signs of New York
The Meatpacking District Before the High Line
Photographing Wigstock in Tompkins Square Park, 2003
Hospital Closure and the Gift of Time
Aging on the Covers of The Gerontologist