Recently I've gotten into the habit of carrying my sketchbooks onto the subway. More crowded than ever, the NY subway is an endless kaleidoscope of people, fashion, and color.  This post presents some of my favorite work based on scenes in and around the subway.  Some were completed on-site, some were started in the subway and completed in the studio, and some were total studio work. The scene below was on 23rd Street from a coffee shop window on a rainy day.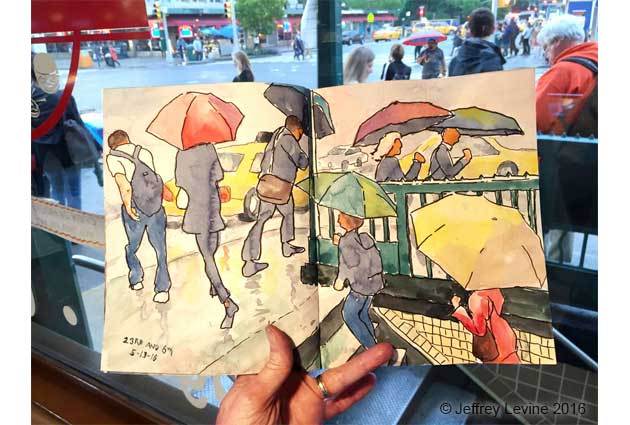 I was lucky to have my sketchbook when a magician sat across from me on the uptown #6 train.   After I sketched him he pulled a rabbit out of his hat… really!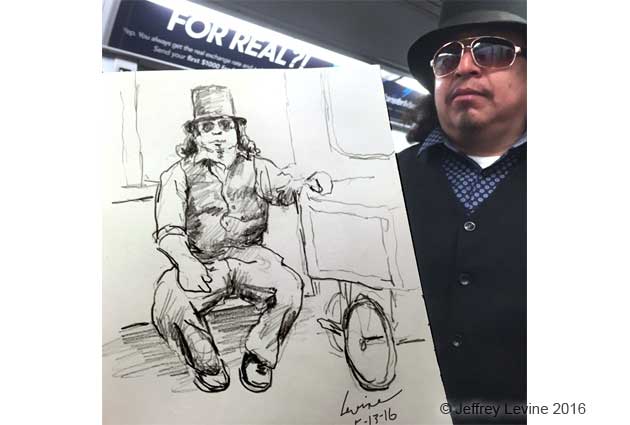 I painted this scene below from memory.  It took place in a long underground tunnel in Queens.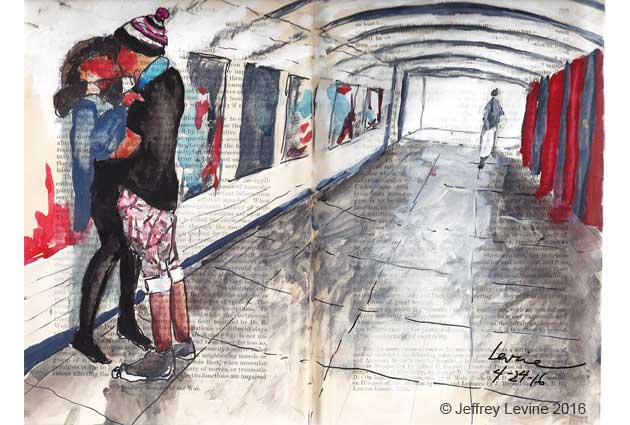 Below this young woman is drinking coffee and checking messages on the way to work.
Recently there has been an influx of 'crusties," or homeless nomads with dogs.  This one set up a few blocks from my downtown office.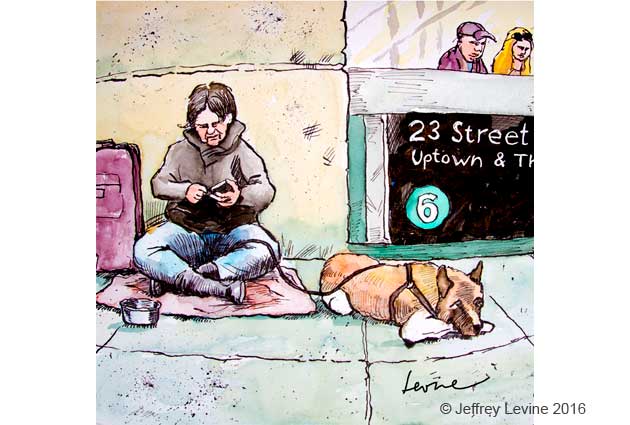 When sketching in the subway I try to be as unobtrusive as possible.  This sketcher below didn't mind that I sketched him over his shoulder.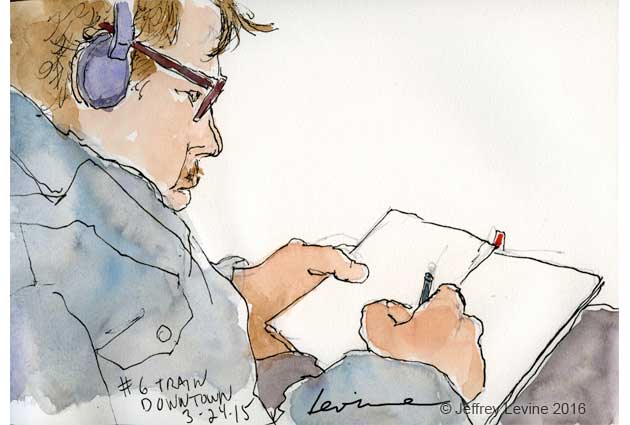 In this scene below, a father and daughter snuggle on the commute downtown.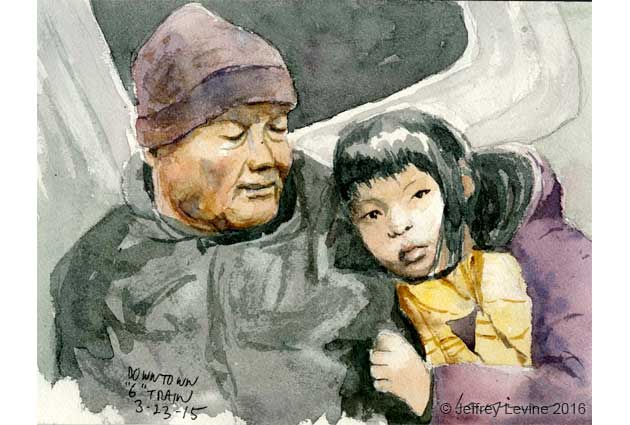 The painting below is a studio piece, on a 24 x 18 inch sheet of watercolor paper.  It depicts the morning rush in the rain at the 86th and Lex station not far from my home.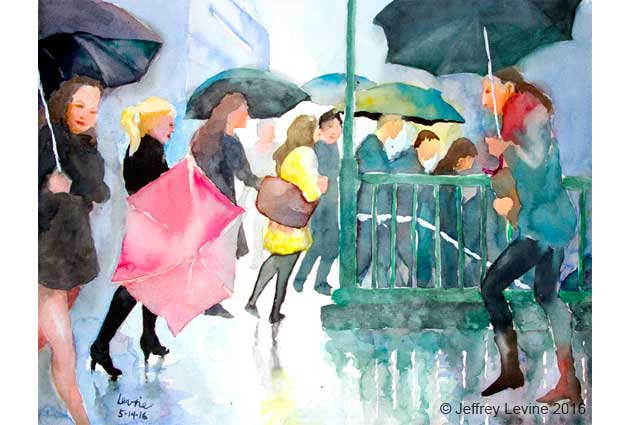 The winter brings people wrapped in layers of warm clothing that make comfy cocoons in which to snooze.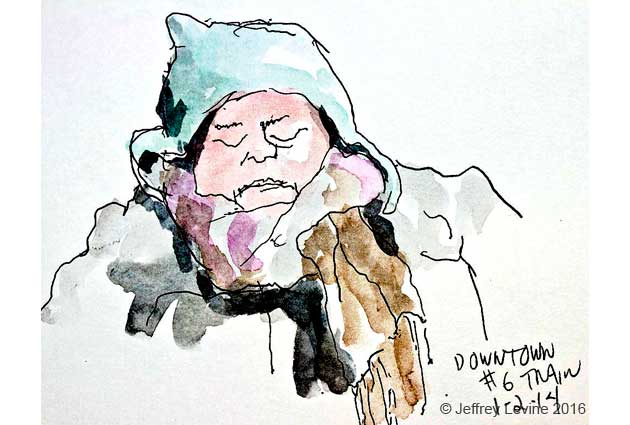 Kids are very difficult subjects to sketch because they move around a lot.  This child was really enjoying his apple juice.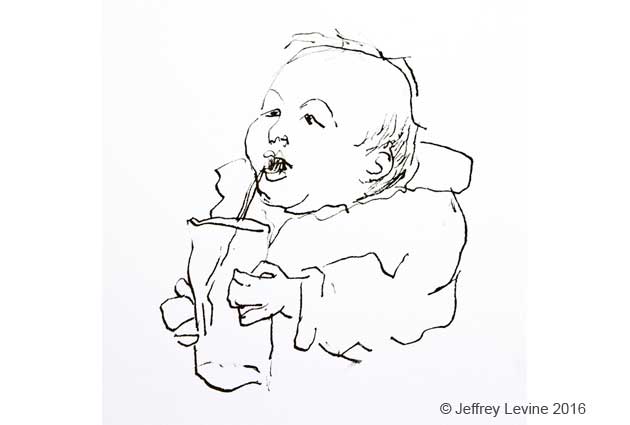 Homeless people on the other hand, don't move a lot.  This man below sat still all the way to the last stop on the R train, probably because he had nowhere to go.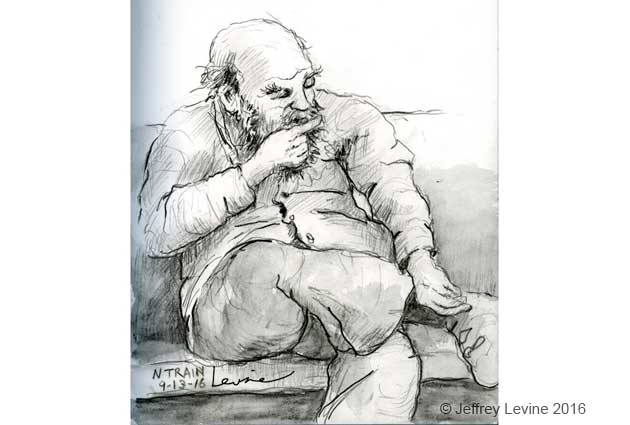 The subway is a place you go only out of necessity.  Its cold in the winter and sweltering in the summer, noisy and uncomfortable, and an element of danger always lurks.  As a die-hard Manhattanite with a sketchbook I've been able to turn each journey into a creative adventure.
* * * * * * * * * * * * * * *
.