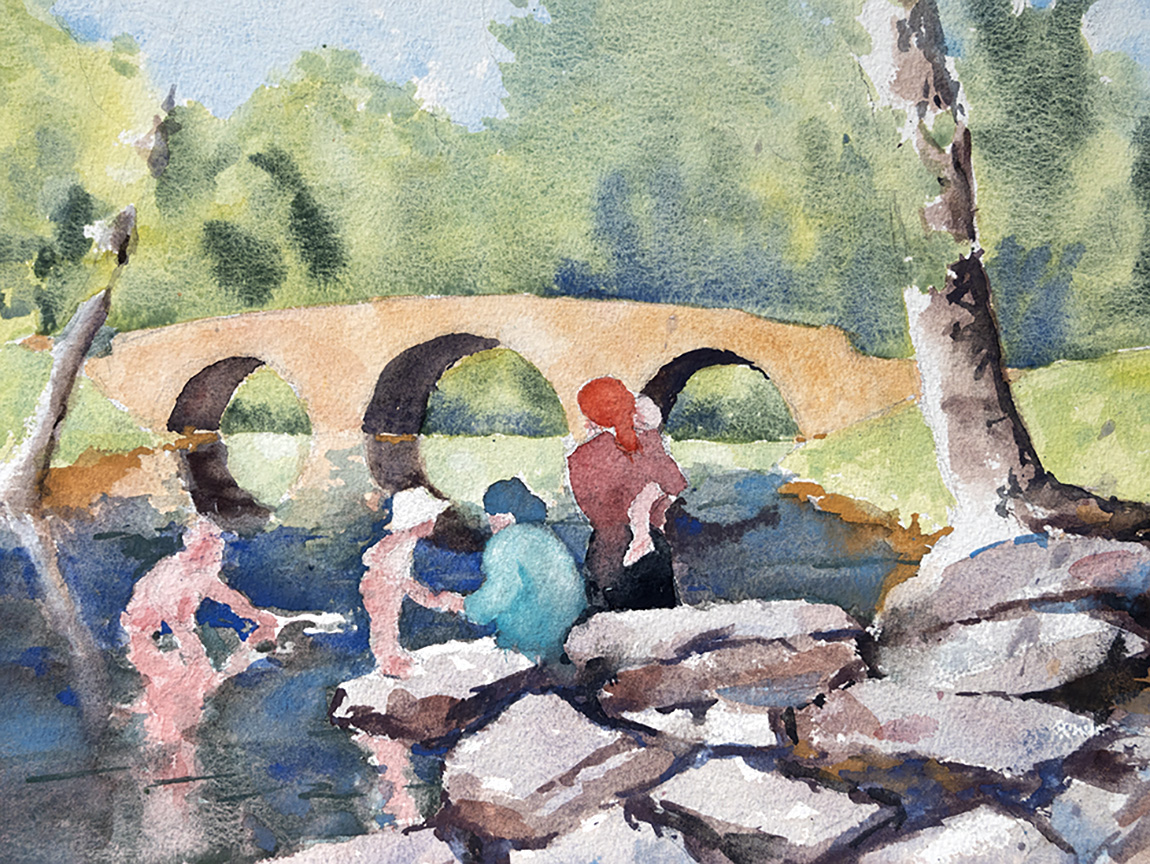 This past weekend I escaped the city heat and drove to the Catskill Mountains to paint a beautiful old structure – Stone Arch Bridge in Sullivan County. It was the second time I painted this bridge, the last time was in late fall when most leaves were brown. Constructed in 1872 by German immigrants, it crosses East Branch Callicoon Creek, a tributary to the Delaware River, and is listed in the National Register of Historic Places. It is also suspected of being haunted.
When I arrived, the sun was high and I was alone with the sound of flowing water and birds singing.  It seemed a perfect afternoon to paint.  But soon after unpacking my easel several families set up a sumptuous picnic lunch and boisterious kids jumped into the crystal clear water.  Taking advantage of the new arrivals, I incorporated them into the painting and transformed what would have been a simple landscape into an idyllic family scene.
Without people the landscape composition was straightforward, but adding kids, mothers and swimmers was a challenge.  I composed the image with the family at lower left, serving as a focal point.  For maximum visual effect I utilized devices that included tonal and complementary color contrasts.  The background with trees and bridge – originally the main subject – was done in simple washes that I didn't touch once they dried.  The figures were designed and posed to express the tenderness of mother and child interactions.
My comfort zone has always been line and wash – something I've been trying to break out of.  Transforming an outline into a shape is not as easy as it seems, particularly when taking into consideration tone, color and composition – all of which bring the image to a new level of complexity.
The paper was Arches Rough 300 lb. cut to 11×15 inches and taped to a board, and paints were Kremer pigments in full pans.  I prefer heavy weight paper because it doesn't buckle no matter how much you soak it, and the thicker weight takes a beating with lifting and scraping.  In addition, the rough paper seems to force you into relying on larger shapes.
It's usually harder to get dark tones with pans as opposed to tubes, but this is not true with Kremer colors which are very dense.  Kremer pigments also tend to granulate, especially with the first wash – something you can see in the background trees. I also find that Kremer pigments each have unique personalities in they way they mix and handle, which makes using them interesting, challenging, and sometimes surprising. 
This bridge achieved infamy as the site of a "hex murder" in 1882.  A man named George Markert, suspected of sorcery, was brutally shot and beaten before being tossed into the water.  Many locals think the bridge is haunted.  This was the second time I painted this bridge.  Each time I filmed my process, and each time the video came out hopelessly out of focus despite all precautions.  Could this be the work of Mr. Markert's ghost?
My watercolor of Stone Arch Bridge on a cold day in late fall is below.  This was painted in a sketchbook handmade in Italy by Lorenzo Santoni with Fabriano paper. I hope you enjoy my plein air paintings of Stone Arch Bridge!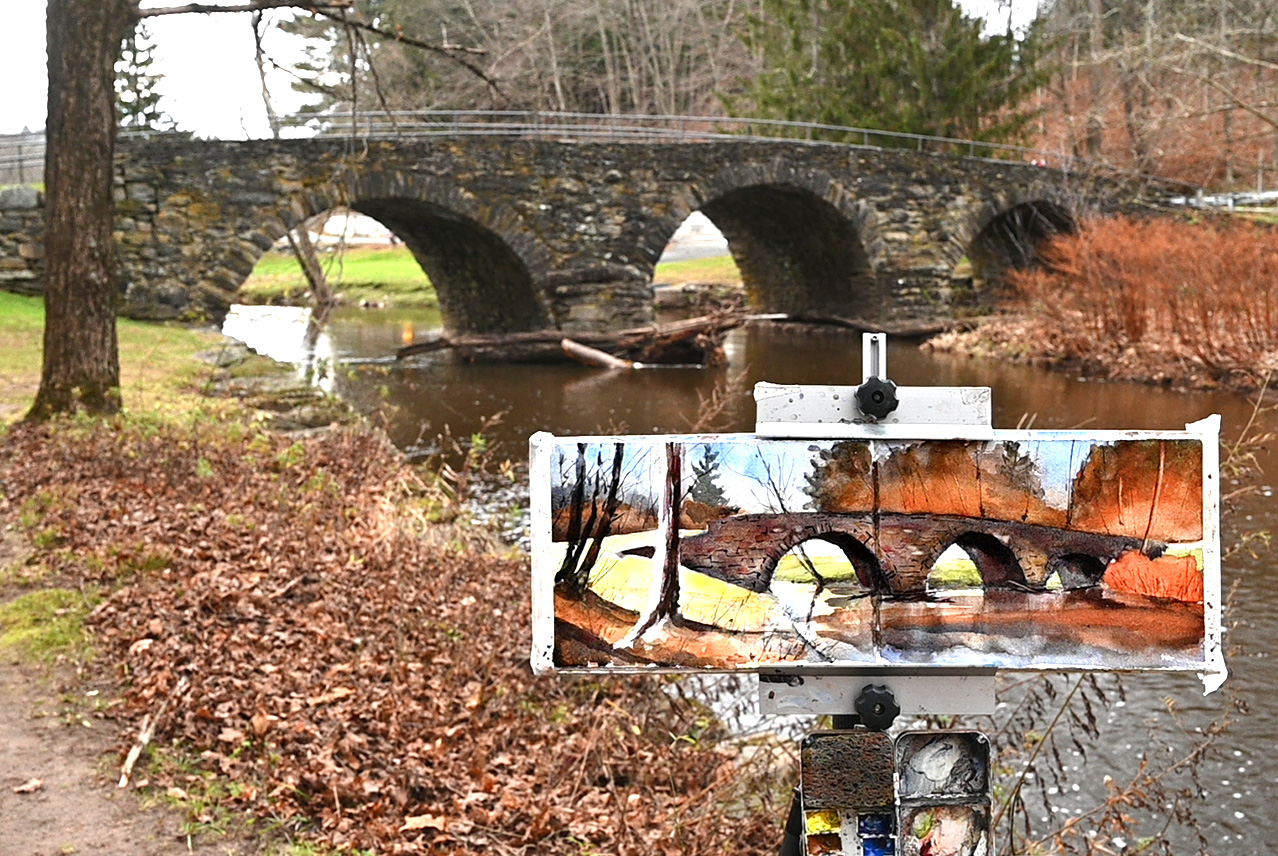 * * * * * * * * * * * * * * * *
Related posts: 
My New Canine Sketch Partner

Rediscovering My Art Supplies in the Arizona Desert
Hospital Closure and the Gift of Time

Art, Dementia, and Elder Abuse:  The Sad Story of Peter Max

Another Art Supply Store Closes

Sketching at the Museo del Prado

Goya's Physician and the Art of Caring

Tradition and Healing at the Santa Fe Indian Market

Venice Beach Sketchbook
Sketching on the Subway and the Disappearance of Time
A Train Graveyard in Thorndike, Maine
An Abandoned Psychiatric Hospital in Tuscany 

Childhood Dreams Under the Pulaski Skyway

Returning to Cow Canyon Trading Post

California Sketching