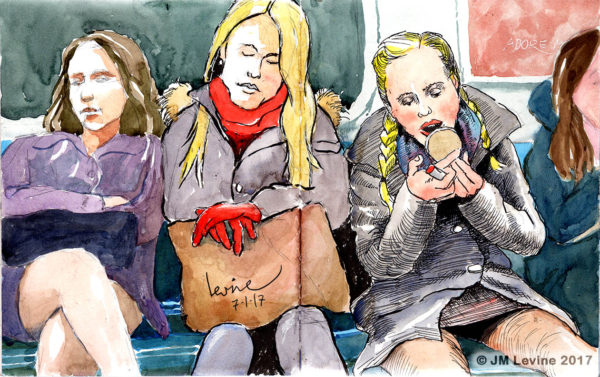 The New York City subway is not the place you'd expect poetry, but I try to capture it in my art.  I carry my sketchbooks every day down under the streets as I commute back and forth to work.  My on-the-spot sketches are done in pencil, fountainpen, ink markers, and occasionally watercolor.
Sometimes I just pick a subway line and go to Brooklyn, Queens, or the Bronx, sketching along the way.  The first three below are examples of sketches completed while sitting incognito in the subway with my sketchbook using a variety of media.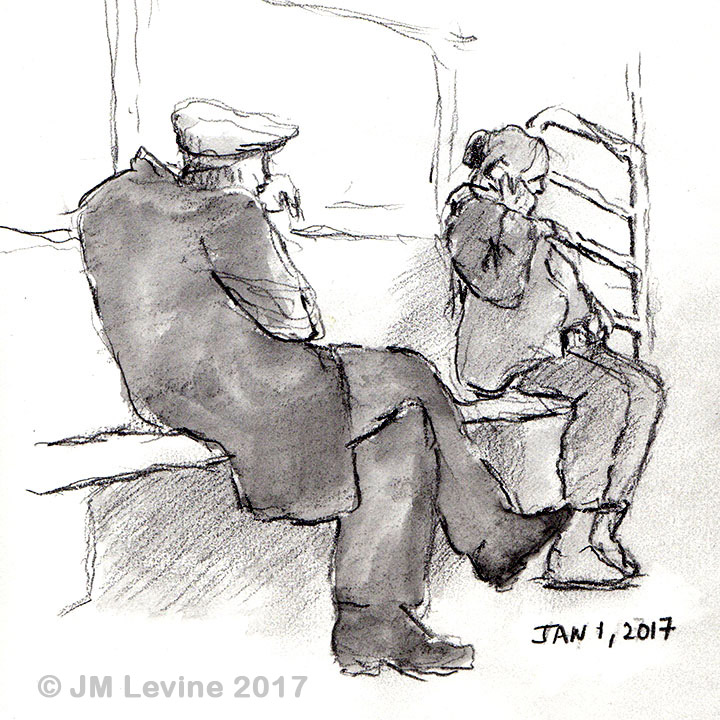 The sketch above uses water soluble pencil wash while the sketch below is fountain pen.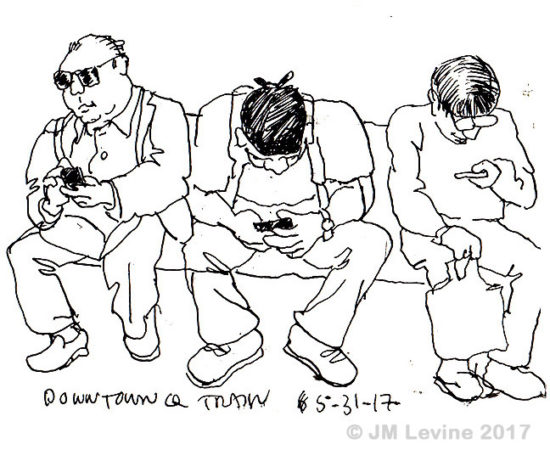 The sketch below is on the way to the Bronx and uses a variety of markers with watercolor and some white gouache.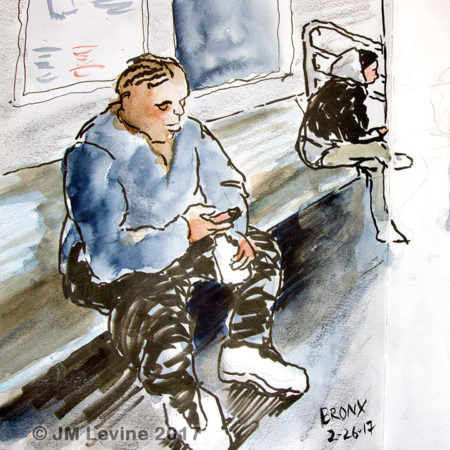 People come and go quickly and are always changing position. So sometimes I start a sketch in the subway, then stop somewhere quiet to embellish the image using watercolor from memory.  This is the case with the sketches below, started in ink and completed in paint.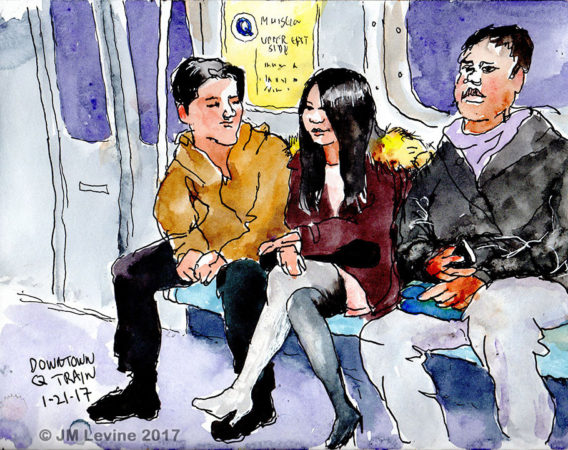 Below a line of young ladies snooze and groom for a day at work in downtown Manhattan.  Sleeping people are easy to sketch because they dont move too much.In the sketch below I painted a 'selfie' in the window reflection.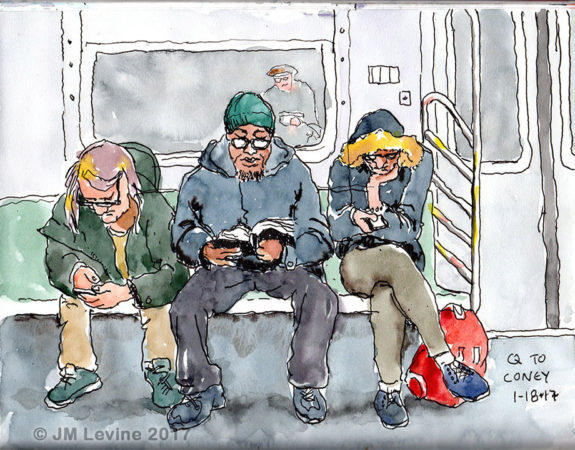 Umbrellas and the patterns they make as they swirl in the rain make interesting rhythms and shapes to paint. For the sketch below I sat in a coffee shop that overlooked the station at 23rd and Seventh, trying to capture the patterns of people as they passed.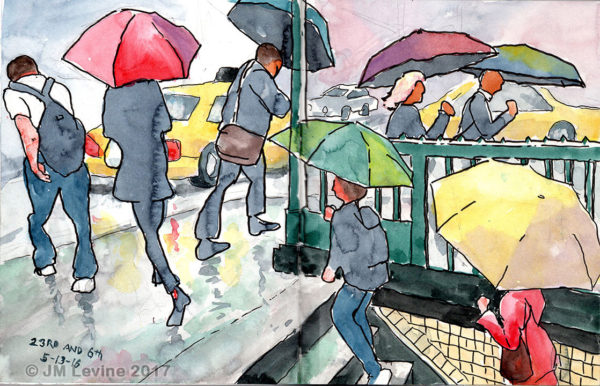 I use the on-the-spot images to make more time consuming paintings back in the studio using different media.  Below are examples completed in gouache, watercolor and casein.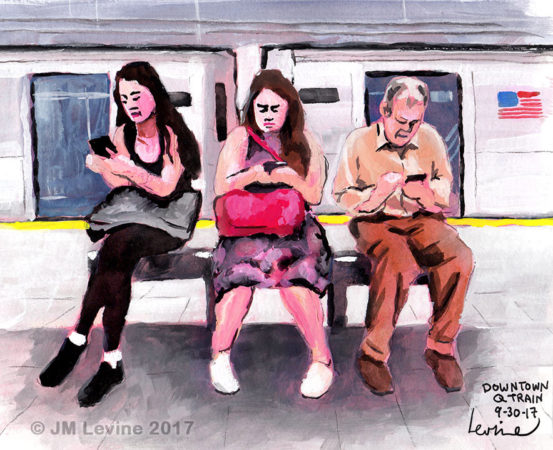 I am fascinated by people constantly distracted by their mobile devices, and even more interested in subway performers.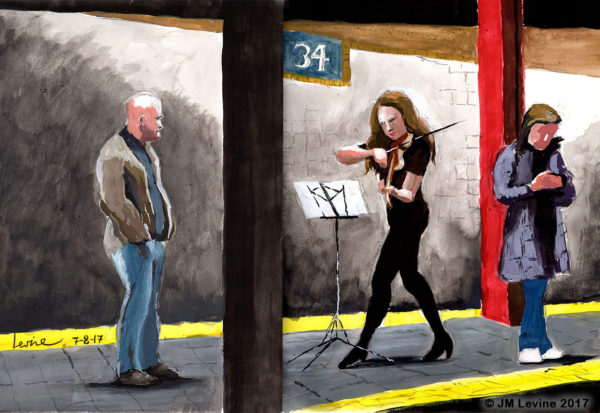 I love the incredible variety of people, and the hairstyles, fashions, and footwear constantly on display.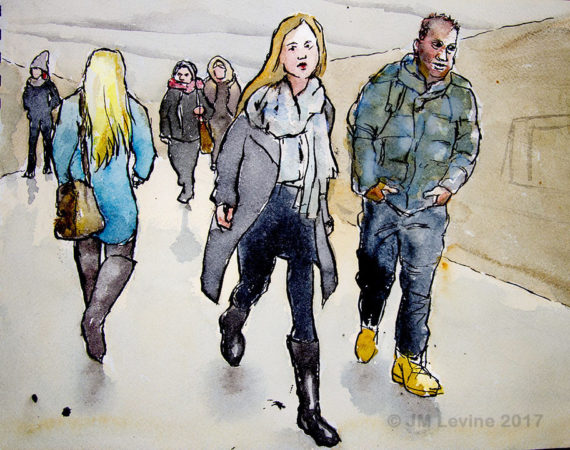 Capturing friends interacting with subtle gestures and expressions is one of the more challenging aspects of sketching in the subway.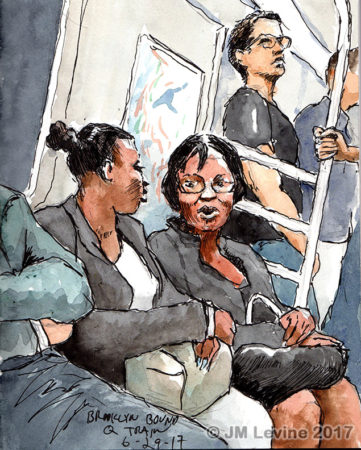 Special thanks to New York Urban Sketchers and the International Urban Sketchers group as they are a continuing source of teaching, inspiration and ideas for technical improvements.
* * * * * * * * * * * * * *