In November 2011 I traveled to India to photograph and spent nearly two weeks there.  My highlight was a city called Benares. Each day at dawn I went to the riverbanks, also called Ghats, and returned with hours of video.  I edited the best clips together to recreate the magic of the Ganga at dawn. 
Benares, also known as Varanasi, is the holiest city in India, and one of the oldest living cities of the world.  It is a place of pilgrimage and home to Shiva, the volatile and compassionate god who is also known as the destroyer of worlds.  In 400 BC, Buddha walked through Benares on his way to Sarnath where he preached his first sermon.  It is in Benares where one can obtain "moksha," when the soul is freed from the cycle of reincarnation through birth and death.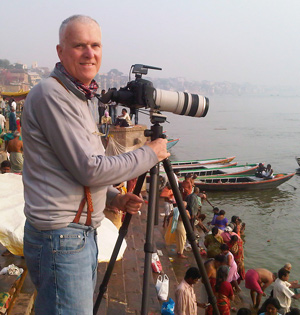 Benares stands on the banks of the most sacred of India's rivers, the Gangese, also known as the Ganga.  Since ancient times, Hindus bathed in its mighty waters that are believed to purify and absolve all sins.  The river is known as the Mother Goddess, giver of life and liberation after death.  Its waters are believed to flow through the hair of Shiva.
To get to the river you need to wind through serpentine alleys only a few feet wide, which are shared with sacred cows that wander freely.  The Ghats along the Ganga are where people gather to bathe, pray, do laundry, and dispose of ashes of the dead.  Dawn yields a panorama of people, animals, and activity – all bathed in the golden light of the rising sun. 
There are more than 100 ghats along the Ganga in Benares.  Most of these clips were shot at Kedar Ghat, which has a well that is known to have special healing properties.  Other shots were taken at Hanuman Ghat where there is a temple dedicated to the monkey-god, and Shivala Ghat which is steps from the Mother Theresa compound for the aged and sick. 
In constructing this short film, I used the image and sound of a young Brahmin priest making the morning puja, or worship ceremony, as the anchor point.  He is using an elaborate lamp with multiple wicks, each using ghee, or clarified butter, as fuel.  While saying the prayers he is ringing a bell with his left hand and swinging the lamp with his right.  There is a second clanging sound coming from his assistant, a young boy who is banging a metal plate in the same rhythm.  Everywhere in Benares you hear the sound of clanging bells coming from hundreds of temple services in all directions. 
I really enjoyed the experience of photographing the dawn on the banks of the Ganges River. The two floating offerings at the end of the video I lit and placed there myself.  I hope that when viewing this video you experience some of that same magic. 
* * * * * * * * * * * * * * * * *