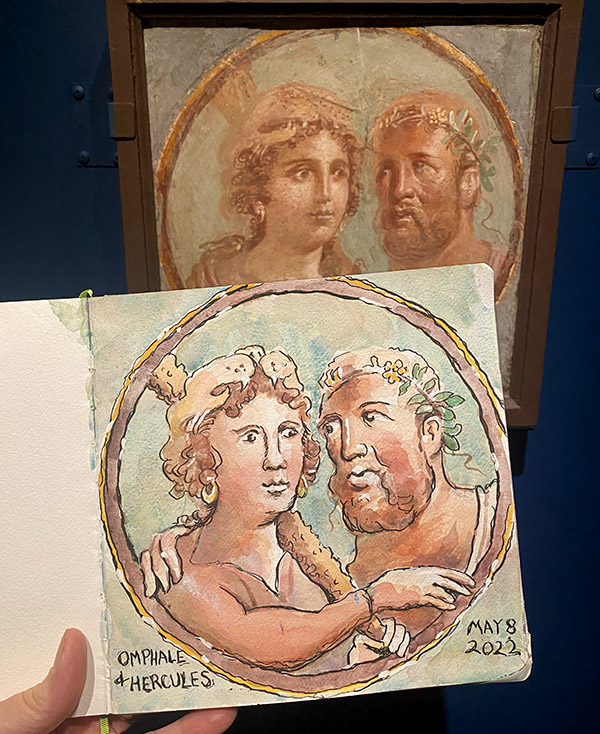 For sketchers and art lovers who enjoy Ancient Rome, there is a delightful gem of an exhibit on the Upper East Side, not far from the Metropolitan Museum.  The NYU Institute for the Study of the Ancient World is showing 35 frescoes from Pompeii rarely seen outside Italy that date from the 1st Century.  On loan from the National Archaeological Museum of Naples, this small but sweet exhibit entitled Pompeii in Color: The Life of Roman Wall Painting is on view at the Institute's galleries on 15 East 84th Street.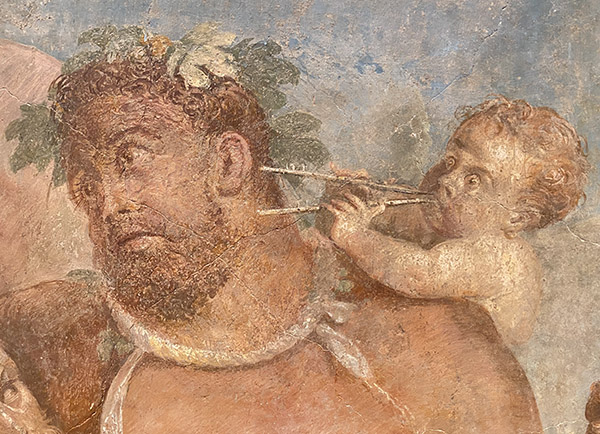 The frescoes once adorned homes and villas in Pompeii, and reflect the aesthetic taste and culture of the times.  Buried under volcanic ash and pumice in AD 79, subjects include banquets, scenes from mythology, portraits, still lifes, and architectural scenes.  On display are also actual pigments used by ancient Roman artists.  One of the frescos depicts an artist at work, found in the House of the Surgeon which is famous for ancient surgical instruments found there.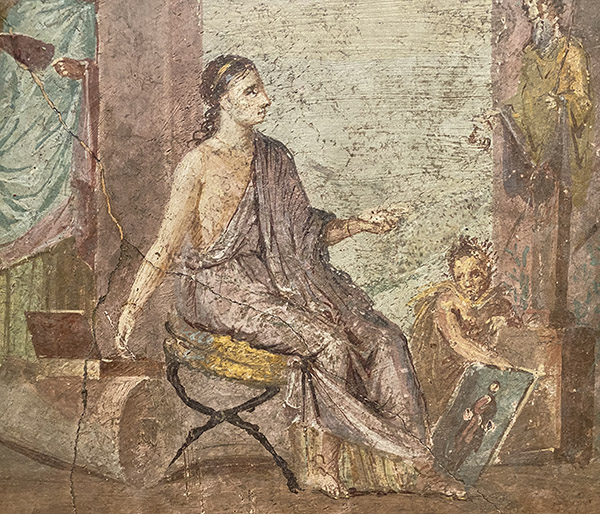 Many of the mythical scenes revolve around the life of Hercules, son of Zeus whose exploits included heavy drinking and waging war.  He appears in wall paintings of wealthy homes possibly because he was worshipped as a god of merchants and traders.  One of the more delightful frescoes is entitled "Mask amid bunches of grapes and vines." This image depicts a face peering placidly out of a garden of leaves, and is somewhat psychedelic and remarkably modern.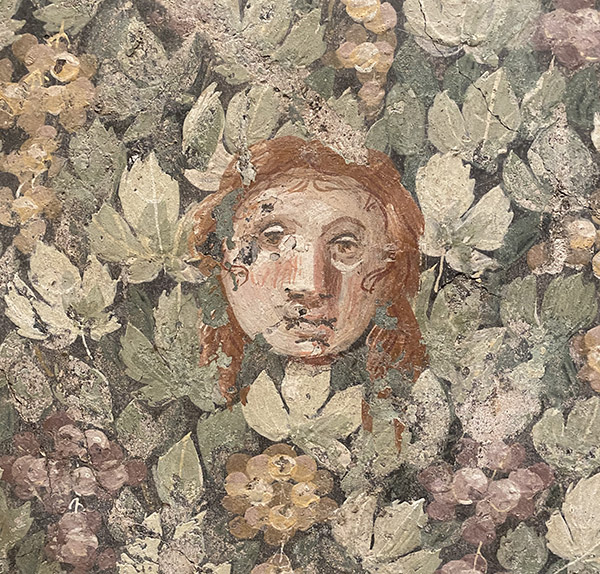 My sketch was started with graphite and fountain pen in the gallery, and finished with watercolor in the studio.  It depicts Omphale and Hercules in tender embrace, gazing at each other.  Omphale bought Hercules as a slave, and humiliated him by wearing his lion skin and holding his club while forcing him to wear her clothes.  He obviously didn't mind this arrangement, because he eventually married her.
Sketching is permitted, and the gallery actually offers chairs.  The exhibit is free, all you need is your proof of vaccination.  It closes soon on May 29th, so you better hurry. 
* * * * * * * * * * * * * *
RELATED POSTS:
Wounds of a Boxer: Medical Secrets from Ancient Rome
Geriatrics, Art, and Ancient Treasure on Lake Titicaca
A Taste of Ancient Peruvian Medicine
Watercolor and Urban Sketching in Italy