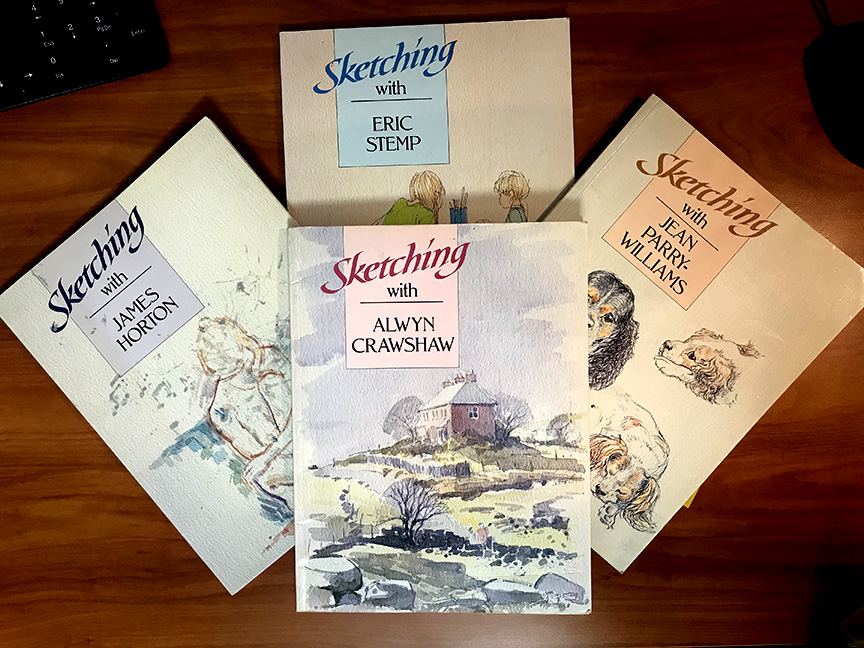 Before the explosion of the Urban Sketchers movement that began in 2007 there was very little published on this topic. On a recent visit to Los Angeles I stopped by my favorite art bookstore, Hennesy & Ingalls, and discovered some treasures I'd like to share.  My find was an out-of-print series of four paperback books published in 1988 in England entitled "Sketching with Artists."  Each book featured an established British artist writing about and showing their sketches.  Here are inspiring quotes from these pioneer sketchers and samples of their work that satisfy the Urban Sketchers Manifesto. I hope you enjoy this as much as I have.
"The sheer joy and satisfaction I get from sketching is indescribable – perhaps it is the fact that I am alone with nature, and I can feel the warmth of the sun, the dampness of an autumn afternoon, or the smell of decaying leaves.  When I am sitting sketching and there is quietness all around I feel privileged to hear and see the wild life going about its daily work.  Even now after sketching for years I get a feeling of elation and satisfaction when I have finished a sketch, knowing that I have recreated the scene in front of me on paper, and that I have it to refer to and remind me of that moment for the rest of my life."
Jean Parry-Williams
"My first attempts at sketching were when I was about five years old.  I had seen some sporting prints and, thus influenced, I had painstakingly sketched a hunting frieze all round the newly painted white bathroom walls of my parents' house!  I can still remember my satisfaction when it was finished, and my dismay when it was received with cries of horror by the 'grown-ups.'  But my father, always my champion, just told me in a kindly manner that one didn't draw on walls, especially newly painted ones, but promised to give me a big sketchbook and some pencils, so that I could draw to my heart's content – and I have been doing so ever since!"
Eric Stemp
"Sketching is all about learning to see and observe.  Learn to look!  We don't use our eyes as much as we should and, consequently we miss a great deal.  Apparently few people look above their eyes when walking along!  Looking at something is not enough, you must really study what you want to sketch, and know what you are looking for.  Whatever you select to sketch, whether it's a tree or a person, the emphasis must be on that object.  The surroundings are secondary.  What you leave out of a sketch can be as important as what you put in, so use your main subject to lend scale and position to the other features."
"It is important to commit yourself very positively in your drawing even if, by taking chances, you risk spoiling the sketch; ultimately you will learn far more this way. This is another valuable aspect of using a sketchbook: because the drawings in it tend to be regarded as 'working' sketches it does not matter if some of them are 'failures.'  In fact, a sketch should never be regarded as a failure in the ordinary sense of the word because such a lot can subsequently be learnt from it.  Every mark that an artist makes is in reality a valid statement about the way he feels at any given time."
Sketching With Artists was published in London by Williams, Collins Sons & Co., Ltd, 1988.
* * * * * * * * * * * * * * *
Related posts: 
My Art Library: Drawing the Head & Figure by Jack Hamm
The Ticket that Got Me Through Medical School
Rediscovering My Art Supplies in the Arizona Desert
The Corpus Callosum, Buddha's Enlightenment, and the Neurologic Basis for Creativity
Sketching in the Subway and the Disappearance of Time
A Taste of Ancient Peruvian Medicine