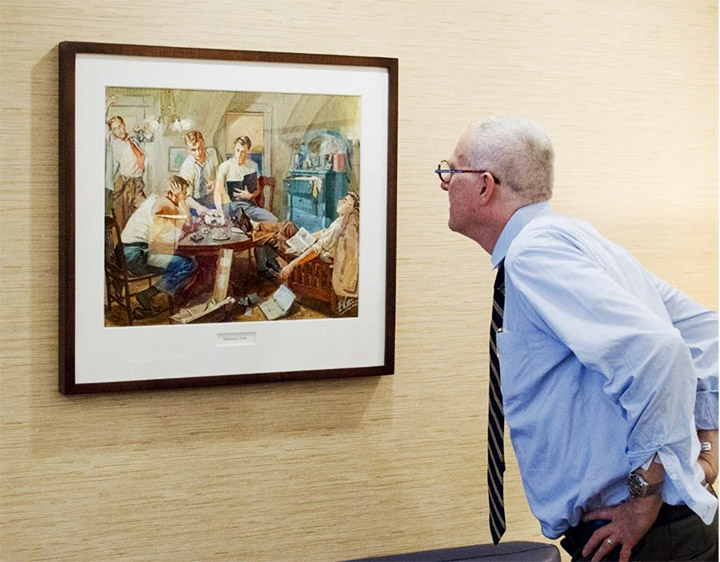 When growing up our family doctor had a set of prints in his waiting room that illustrated scenes from a doctor's life.  Painted by renowned medical illustrator Frank Netter, the scenes included a late night visit by a country doctor, a busy waiting room with anxious patients, an ambulance at a fire disaster, and medical students studying for an exam on bones.  As a child I climbed on a chair to study details which stirred the inspiration that governed my life's direction to pursue both art and medicine. 
Carving out moments to create art during medical training was a challenge but I took advantage of opportunities which kept me grounded.  In medical school I drove into the City for evening sketch classes at the Art Students League, and brought my artistic skills into the dissecting room and hospital wards.   On weekends I joined the itinerant artists of Greenwich Village to exhibit and sell my work.  The street life of Manhattan became part of my blood, and I knew this was where I wanted to live and practice. 
In time I learned that Frank Netter donated his paintings of a doctor's life to New York University where he graduated from medical school, and are displayed in the dean's office.  With these paintings only a few blocks from my office, I went on a pilgrimage to view them.
The photo above shows the painting entitled "Osteology Cram," which depicts medical students studying bones.  The bone box is on the floor and a skull lies on the table. The students are all male which is certainty not reflective of today's class, and they are smoking pipes and cigarettes in the early morning hours.  On viewing the painting, the inspiration rushed back and I was once again a child standing on a chair in my family doctor's office. 
Building a medical career in New York City was a daunting challenge but one I will never regret.  Having the opportunity to impact people's lives, either through treatment or compassion, is something quite different from making art.  Although the technical knowledge required for both medicine and art is extensive, application of this knowledge requires different portions of the left and right brain.  The freedom and energy I get from the solitary process of making art provides symmetry for the people skills and rules of science required for practicing medicine.  Each resonate off the other to provide a continuing source of inspiration.   
* * * * * * * * * * * * * * *
Related posts: