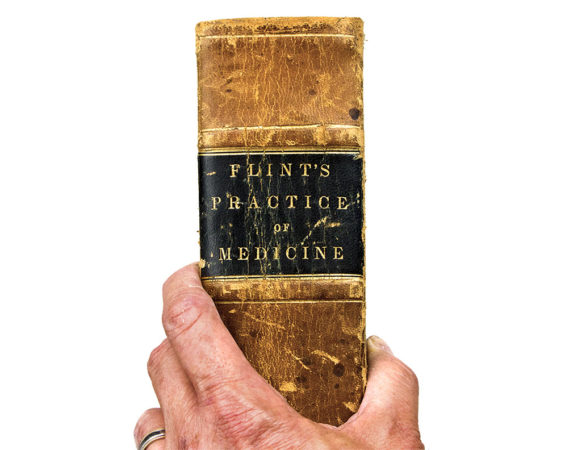 I love the look and feel of old medical textbooks.  Their authorative aura was often enhanced by leather binding. They harken back to a time before the internet, when medical knowledge was priveliged information available to only a few. When I transformed this old medical textbook into a sketchbook I created a bridge between art and medicine.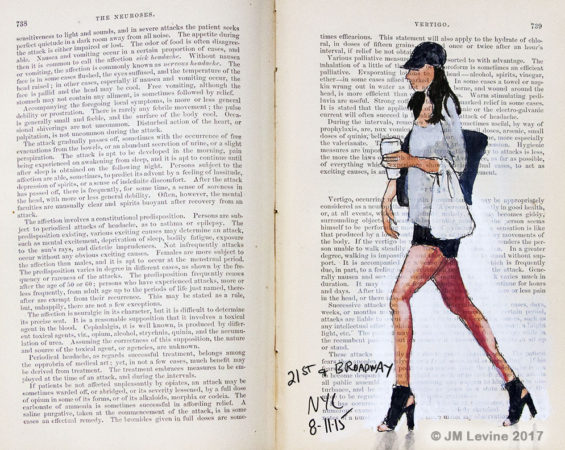 The author of the text was Austin Flint, Sr., a 19th Century American physician who was a gifted clinician and teacher. Dr. Flint's legacy survives today with a heart murmer that bears his name. His leather bound textbook was sitting on my desk for years before I decided to repurpose it as a sketchbook of the people of New York City, like the fashionable lady getting her morning coffee above. The scene below is from a bus stop in Harlem on one of my Sunday morning bike rides.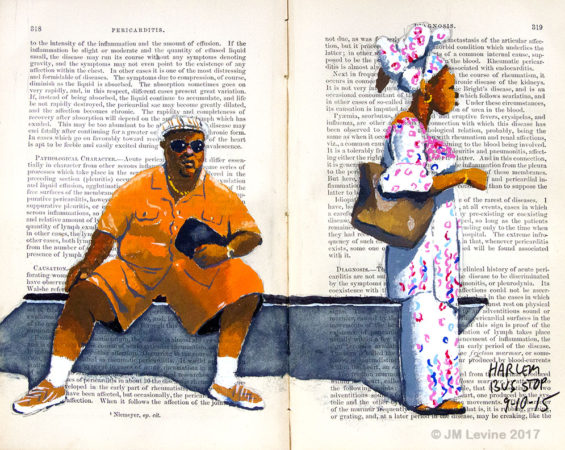 This old textbook was published in 1873, and the ancient paper is surprisingly resilient. There is little texture to the surface and no absorption capability, so the paper lends itself best to gouache – opaque water based pigment thickened with dextrin or gum arabic.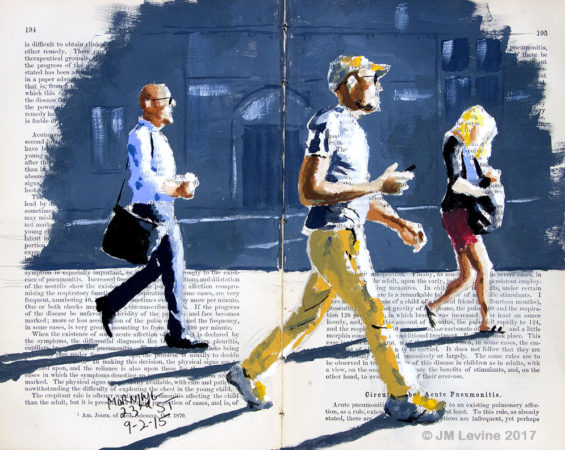 The inspiration for my sketches is primarily the streets of New York City and the endlessly changing kaleidoscope of people.  Some are from memory, and some are helped with images from my iPhone. The image above is based on a memory of 23rd street in the bright morning sunshine, and below a young lady practices a Chinese traditional long-pot tea ceremony in front of a restaurant in Flushing, Queens.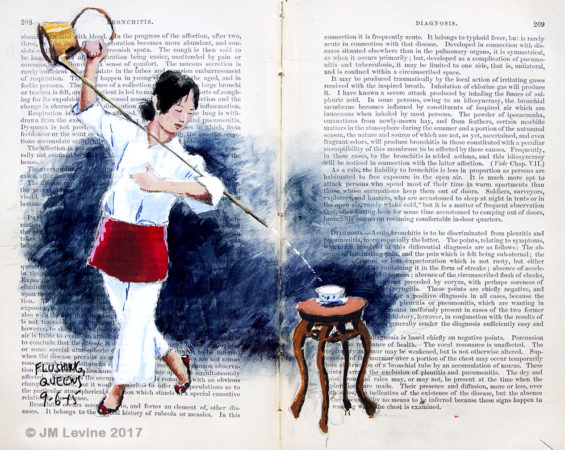 I love Manhattan in the rain and often photograph and sketch the street scenes.  The gouache medium handles much like oil paint but is very light and quick to dry. I like to thin it out and allow the text to take on compositional elements.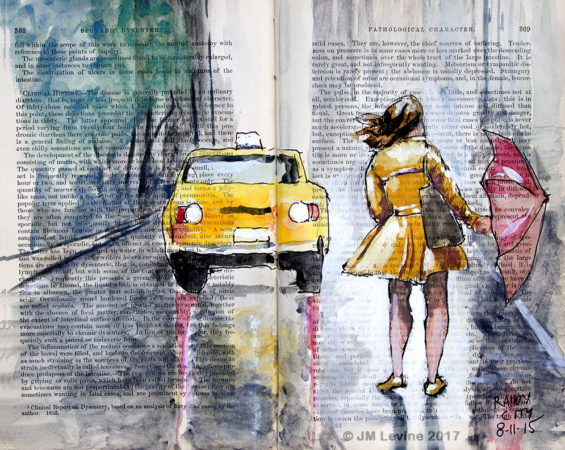 I am in the subway at least twice a day, and it's a wonderful interlude where sketching has few distractions. I am intrigued by the geometry of the subway stations, with vertical support beams that break up the constantly changing scenery of streaming humanity.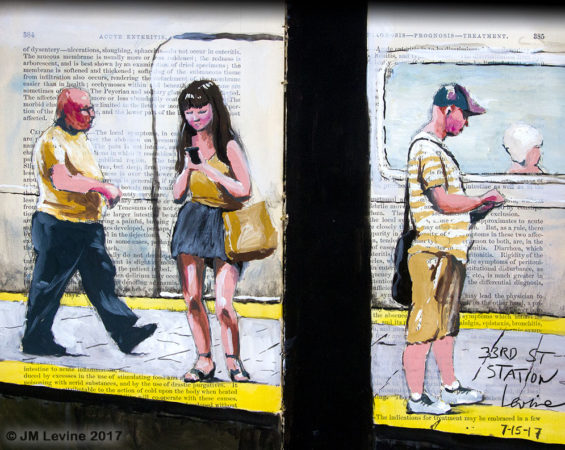 Near my downtown office there was a street festival celebrating Thailand which featured a kickboxing demonstration.  I based the painting below on two fighters.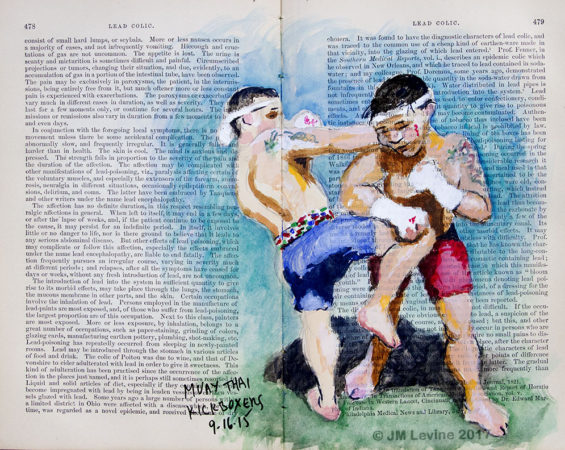 The building boom in Manhattan provides an endless stream of burly construction workers, whose lunch break activities include admiring young women.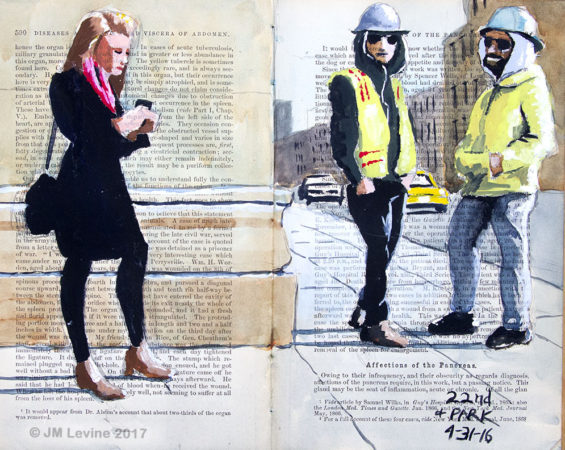 The Second Avenue Subway with the new Q Line is not far from my apartment, and was under construction for years.  I saw these workers below in the morning hours on my way to work.  The old textbook is heavy and fragile, and I certainly can't take it with me when I paint.  Back in the studio the book needs special handling when I open it to work on its pages.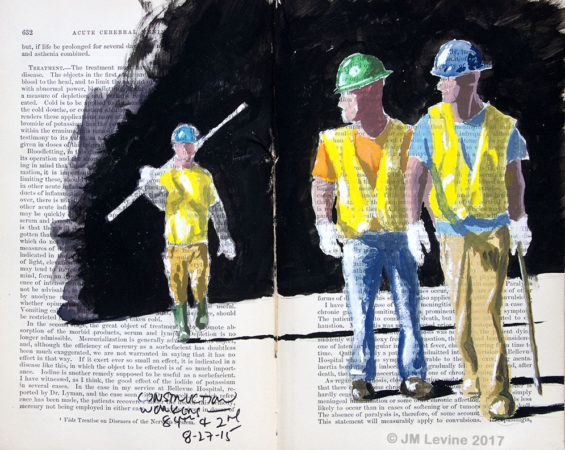 Through my medical career I've been able to insulate my art from the vagaries of commercial taste and the pressure of business dealings. This has prolonged my artistic development but I've got no regrets.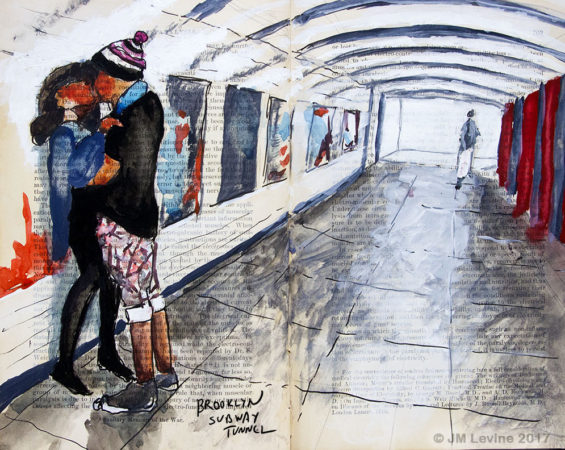 Somewhere deep in Brooklyn I passed this couple, their passion on full display in a nearly deserted subway tunnel.  Below a young woman checks messages – a standard pose anywhere you go which sometimes allows for a quick sketch.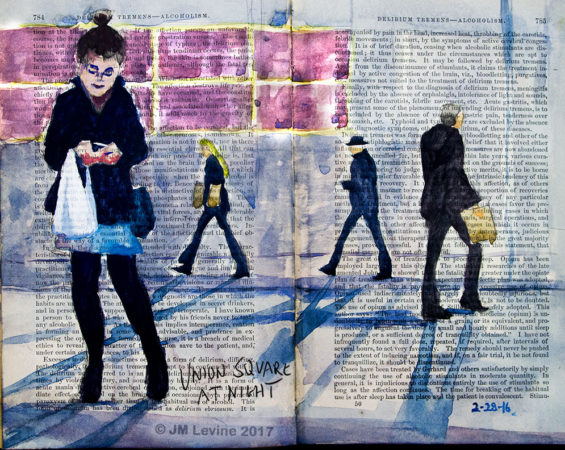 Many of my paintings feature scenes inspired on Union Square, which has long been an area that provided artistic inspiration.  Andy Warhol, Reginald Marsh, and Isabel Bishop all had studios there. In recent decades there has been a mass exit of artists from Manhattan due to rising rents.  I am lucky to be here supporting my art with medicine.  This old textbook-turned-sketchbook is part of my plan for surviving in the City.
* * * * * * * * * * * * * * *
A Sketch of my Nobel Prize Winning Professor
Courtroom Art and NYC History
Digging out my Art Students League Sketchbooks
The Ticket that got me Through Medical School
Revisiting my Medical School Sketchbooks
Photographing Wigstock in Tompkins Square Park