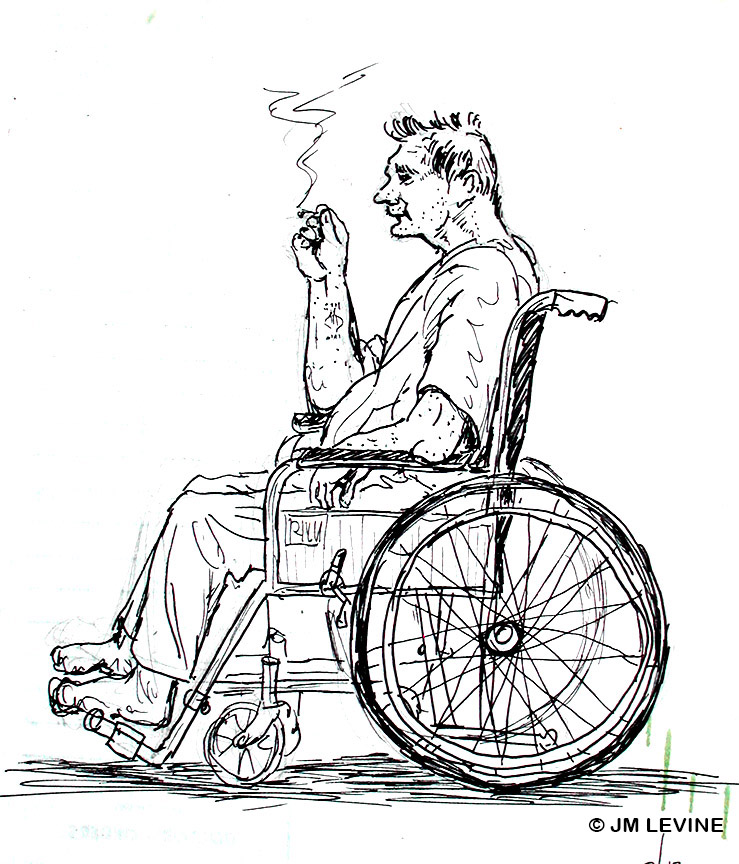 This is one of the sketches I did as a medical student when rotating through the VA Hospital.   It was done with a felt-tip marker, probably a Flair, on the back of a Doctors Order sheet.   It's not dated, but was probably done in 1979.  It shows a scene you won't see in hospitals today – a patient smoking on the wards.
The VA used to be a great place for smokers, as the cigarettes in the PX were less than half price.  There was a lung cancer ward and a ward for vets with head and neck cancer – diseases that were complications from cigarettes.  And still you'd find men puffing away at all hours.  As medical students we never questioned this, and sometimes borrowed a cigarette from an old vet who was always happy to oblige.
You can see that this man's feet look a little short with socks crumpled at the end.  This is because he lost most of his toes from vascular disease related to his tobacco habit.  I did this sketch before the privacy laws (also called HIPAA) went into effect, and a sketch like this would not be possible today without a few consent signatures.
I loved working with the veterans, who were always very appreciative of the doctors.  It was here I first became interested in Geriatrics because of the challenge of older folks with multiple complex illnesses – the kind that fits the skill set of geriatricians.
Not long after graduation I put most of my art supplies in storage.  I rediscovered them after a few decades, and my felt-tip pens were dry.  No matter, there were plenty of new ones at Blick!  Follow my FB page, Instagram account and blog as my artistic journey continues to unfold from where I left off.
* * * * * * * * * * * * * * *
Instagram #LevineARTstudio
Related posts:
The Ticket That Got Me Through Medical School
Rediscovering My Art Supplies in the Arizona Desert
Sketching the Subway and the Disapearance of Time
The Corpus Callosum, Buddha's Enlightenment, and the Neurologic Basis for Creativity