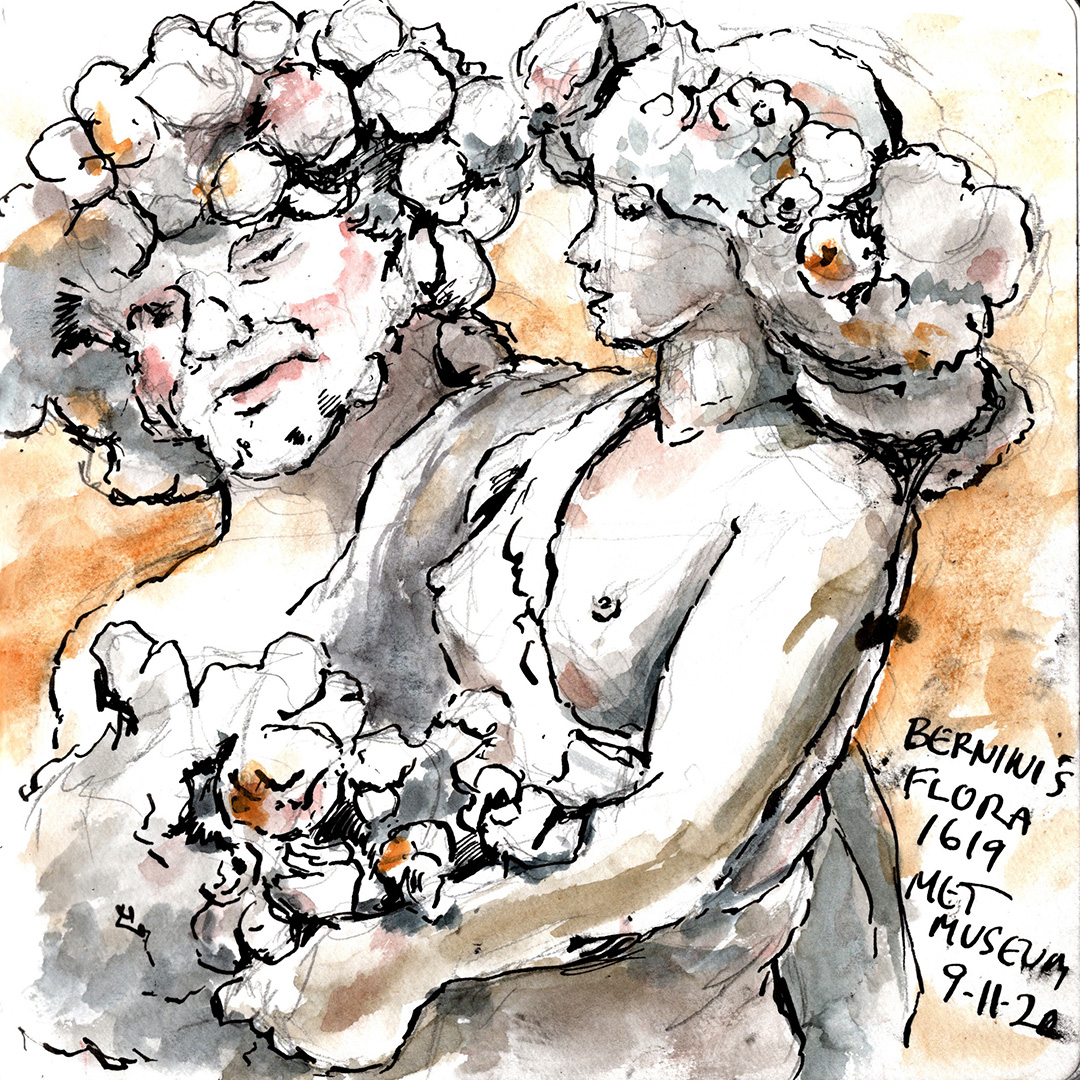 When I learned that the Met had reopened I made online reservations, grabbed my sketch equipment, and revisited this icon of Manhattan's art scene.  Eager to start sketching, I ducked into the first gallery I encountered after passing through the main entrance. I had been to the Met hundreds of times but after five months of Covid-related closure this visit seemed extra special.
I was always intrigued by a pair of marble sculptures in this gallery, which represent the Roman deities Flora and Priapus.  They were carved by Pietro Bernini (1562-1629) in 1616 with assistance of his son Gian Lorenzo (1598-1680), who went on to become one of the most famous artists of the Italian Renaissance, founding the Baroque style of sculpture while working for generations of Popes.
After unfolding my portable stool I sketched Flora lightly in graphite with a mechanical pencil.  Next I rendered her in ink using fountain pen with water insoluble ink, then switched to waterbrush to model the figure.  Satisfied with the sketch, I wrote the name of the figure with location and date in the lower right.
But then I noticed the large space remaining on the page and decided to add the face of her sculpted partner Priapus.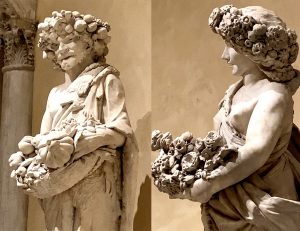 The marble figures have an interesting if not peripatetic history.  In the early 17th Century, Cardinal Scipione Borghese converted his vineyard into a vast and elaborate garden.  Borghese commissioned Pietro Bernini to create the pair, likely because of their association with blossoms, fruits, and fertility.  In the late 19th Century these sculptures were sold to Luther Kountze, an American banker and a founder of the Metropolitan Opera House. Kountze brought the pair to his property in Morristown, New Jersey, which became part of St. Mary's Abbey, a Benedictine monastery, in 1925.  Flora and Priapus remained on the monastery grounds until brought to the Metropolitan Museum in 1977.
Flora, the goddess of flowering plants, had her own temple in ancient Rome along with a spring festival celebrating the renewal of life.  Priapus was the god of fall fruits, protector of flocks, and also associated with fertility.  As a child, he was abandoned by his mother because of his ugliness and raised by a shepherd.  His image in antiquity often displays his oversized phallus, not present in the Met sculpture.
I enjoyed the way my sketch unfolded.  Flora appears young and delicate, bedecked with garlands of flowers and breast exposed.  Priapus was rendered as he was sculped, an older man with broad nose, scraggly beard, and rough features.  In my sketch he was an unplanned addition and appears to be leering at Flora – a feature unintended as I executed the drawing.  Given the history of Priapus this glance is perhaps appropriate.
Priapus you see, is the namesake for a urologic condition known as priapism, a persistent erection of the penis caused by disordered blood flow.  Delving into Roman mythology, Priapus and Flora had no relationship or interaction.  They were brought together by Cardinal Borghese through the talent of Pietro Bernini, and have remained a pair since their creation 400 years ago.  They continue to live together in Gallery 534 at the Metropolitan Museum of Art, and on the pages of my sketchbook.
* * * * * * * * * * * * * * *
Related posts:
Jean Martin Charcot: Physician and Urban Sketcher
Goya's Physician and the Art of Caring
History of Pressure Injury Treatment at the New York Academy of Medicine
A Geriatrician Reviews Cicero's "On Old Age"
Jewish History in Vesalius's Fabrica
Wounds of a Boxer: Medical Secrets from Ancient Rome
Tradition and Healing at the Santa Fe Indian Market
Celebrating Old Age at the Burning Ghats in Benares
Aging & Spirituality on the Covers of The Gerontologist
Geriatrics, Art, and Ancient Treasure on Lake Titicaca