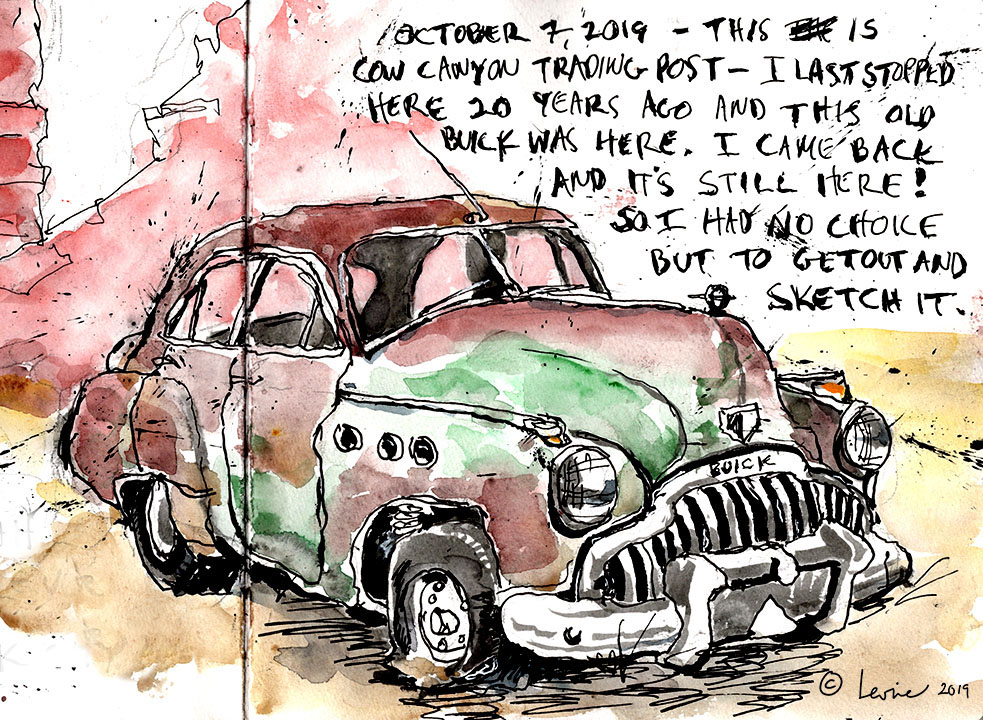 My relationship with making art has been complicated, mainly because of my day job as a medical doctor in New York City.  Years ago I maintained a painting studio, but gave up the medium when I moved into a small Manhattan apartment to pursue my training.  But the will to make art persisted and I bought used camera equipment and built a darkroom in my bathroom and developed film in my sink.
I left my paints in storage and photographed for the next two decades.  I pursued several themes, dovetailing the subject matter with my medical career and life in New York City. I documented skin problems in my patients and photographed healthy aging around the globe which were published in medical magazines and textbooks.   I photographed the streets of Manhattan as the city gentrified, and developed a portfolio of roadside America.
In 2002 I traveled to Navajo Nation in Arizona to photograph Native American elders.  As I drove through the southern Utah desert I noticed an old car near a store that sold tribal art.  This was Cow Canyon Trading Post outside the town of Bluff.  The proprietor was a tall man named Jim whose lined face echoed the surrounding mesas.  While we chatted, a grumpy dog named Grover waddled about the premises.  Grover sat in the sun by the old Buick as I snapped a shot with my Olympus SLR, then headed south to Canyon De Chelly.
By 2010 the healthcare privacy laws sharply curtailed my medical photography, and the explosive growth of digital media shut down the photo labs that once thrived in the shadow of the Flatiron Building where I processed my color film.
In 2012 I retrieved boxes of stored art supplies that were a time capsule of a past life.  Several bottles of ink were bone dry and some brushes were caked and unusable, but several tubes of oil paint were good as new.  Plus there were dozens of pencils and dip pens that I once treasured.  Soon I was painting again with a new interest in sketching and painting outdoors. I joined up with New York City Urban Sketchers – a group of talented people who were eager to share tips on supplies and techniques.
In October of 2019 I returned to Utah to paint the Red Rock canyons, and drove down Highway 191, formerly known as Route 666 or the Devil's Highway.  I completely forgot about Cow Canyon Trading Post until I saw it from the corner of my eye, and to my amazement the 1949 Buick Super was still there.
I might have left tire marks as I braked and pulled a quick U-turn and parked in front of the old building.  I learned that Grover and Jim had long passed, and his wife Liza was running the store.  Her aging eyes twinkled when we talked of her husband and old Grover. I was able to download the photo of Grover and the old car from my website, and Liza's face beamed as she saw the picture of her beloved dog.  I pulled up a creaking chair and sketched the Buick that I photographed decades earlier.
So back to my complicated relationship with making art.  Long ago I passed this spot with a camera, and now I passed the same spot with my paints.  Although the mediums are quite different, many processes are the same.  Both require having the tools, the will, the time, and the ability to be there.  Managing a career as a medical doctor, time has been a major limiting factor.  Driving down Highway 191 I felt lucky that I continue to make the opportunity to explore the world through my art, whether with a camera or a paintbrush.
* * * * * * * * * * * * * *
Related posts: 
The Thrill of Watching Paint Dry

The Ticket That Got Me Through Medical School

Rediscovering My Art Supplies in the Arizona Desert

Medical School Memories

Digging Out My Art Students League Sketchbooks
A Glimpse of Manhattan After 9/11

More Vanished Signs of New York

The Meat Packing District Before the High Line