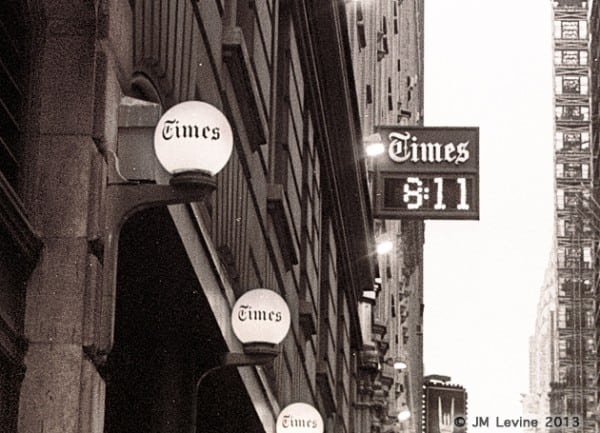 This is a portion of my visual journal of changing New York City. In recent decades, development has erased many signs of the City's storied and gritty past. I've been photographing the old signs of Manhattan and surrounding boroughs since I moved here in 1984, many of which have vanished. 
Above you see the old New York Times headquarters on West 43rd Street, Manhattan.  I was thrilled to get a shot of the facade of the old New York Times headquarters just days before they took the old lamps down.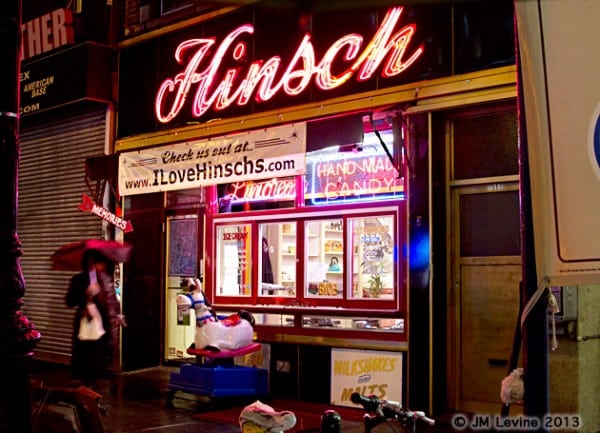 Hinches Ice Cream Parlor, Bay Ridge, Brooklyn.  When I learned that this historic ice cream parlor with its old neon sign was closing I took the subway to Brooklyn to photograph it.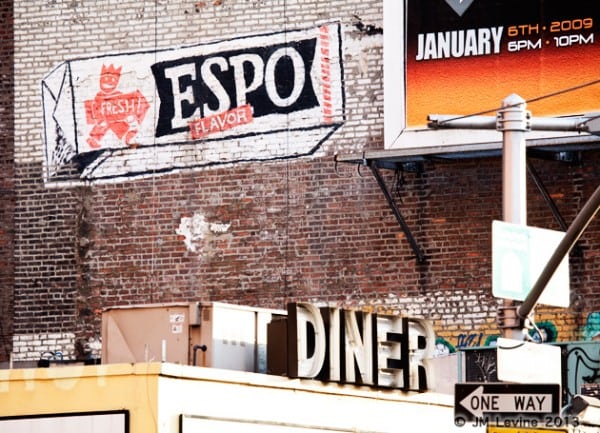 Espo Gum, near the Port Authority Bus Terminal, Midtown Manhattan.  This is not a commercial sign, but rather it is grafitti by an artist named Stephen Powers.  Last I looked the Espo sign was still visible but the old Diner sign had come down.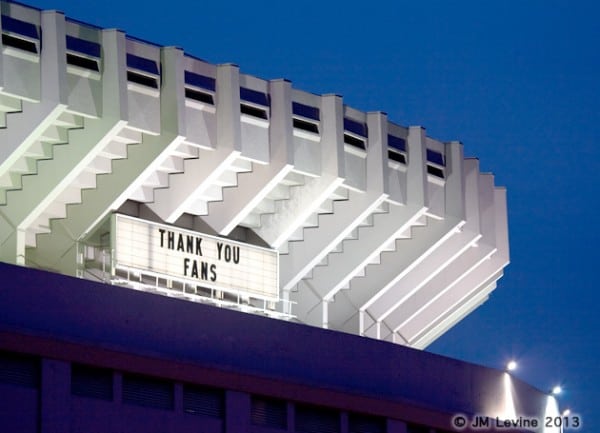 Old Yankee Stadium, Bronx.  This view was taken weeks before demolition of the old stadium.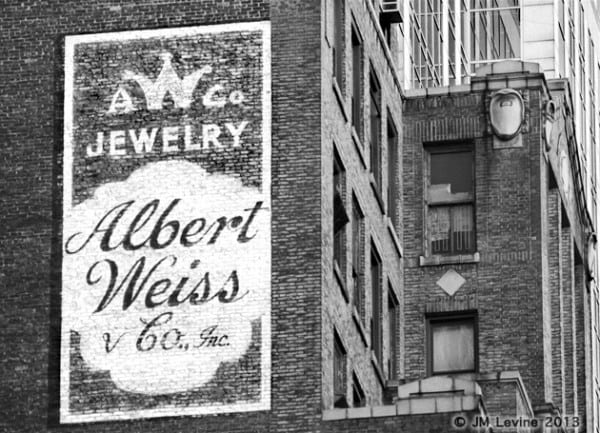 Albert Weiss Jewelry, 37th Street in Midtown Manhattan.  Only a small part of this sign is now seen peeking from a new hotel built on an adjacent parking lot.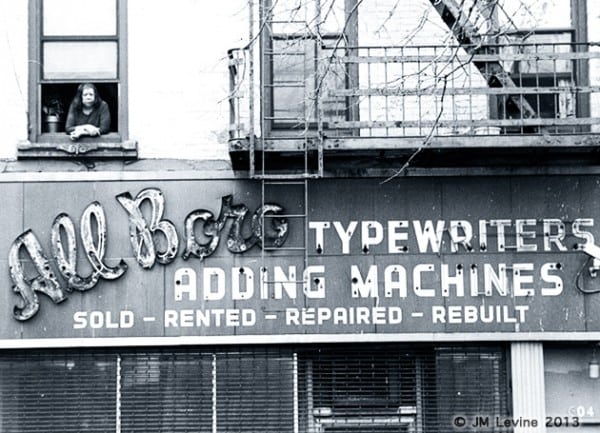 All Boro Typewriters and Adding Machines, Williamsburg, Brooklyn.  Back when I owned a care in Manhattan I found this sign in Williamsburg.  I don't know if it's still there.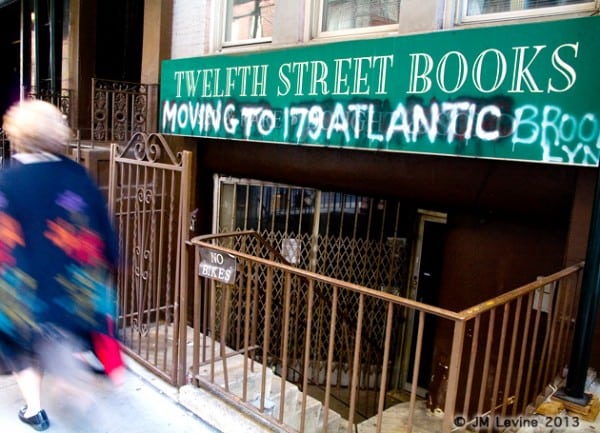 Twelfth Street Books, Greenwich Village, Manhattan.  A silent witness to the many bookstores that once offered hours of quiet browsing in Manhattan.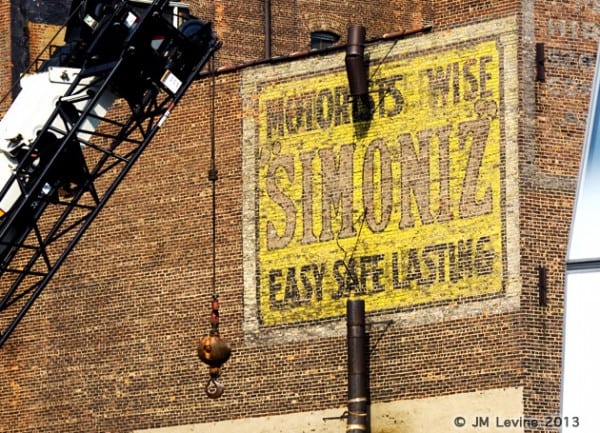 Motorists Wise Simoniz, West Chelsea, Manhattan.  Another remnant of Manhattan's gritty past, now covered by a luxury high-rise near the West Side Highway in Chelsea.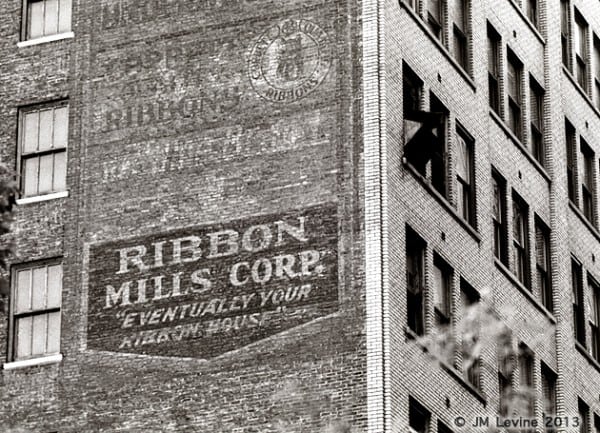 Ribbon Mills Corp, 29th Street, Manhattan.  This old factory building is next door to the Little Church Around the Corner, and once had dozens of signs advertising the businesses inside.  The signs were covered by a huge high rise luxury building.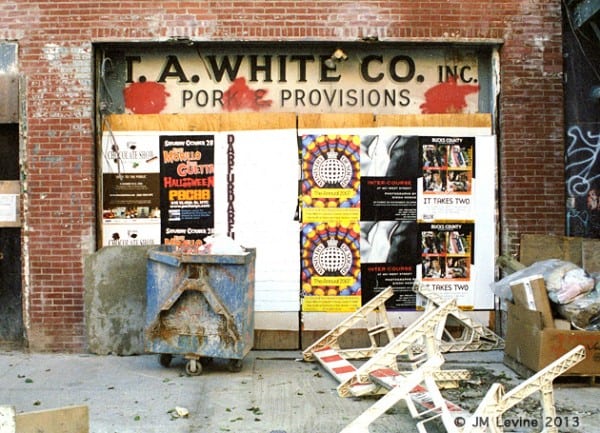 Pork & Provisions, West 14th Street in Meat Packing District, Manhattan.  I took this shot as the Meat Packing district gave way to designer shops.  This gritty area is now an international tourist destination.
Stay tuned for more images as I go through my old files and proofsheets.  Many of my negatives are still waiting to be scanned.  
* * * * * * * * * * * * * * 
Related posts:
An Abandoned Psychiatric Hospital in Tuscany
Childhood Dreams Under the Pulaski Skyway
Manhattan After the Hurricane
Photographing Letchworth Village
Returning to Cow Canyon Trading Post
The Meatpacking District Before the High Line
.