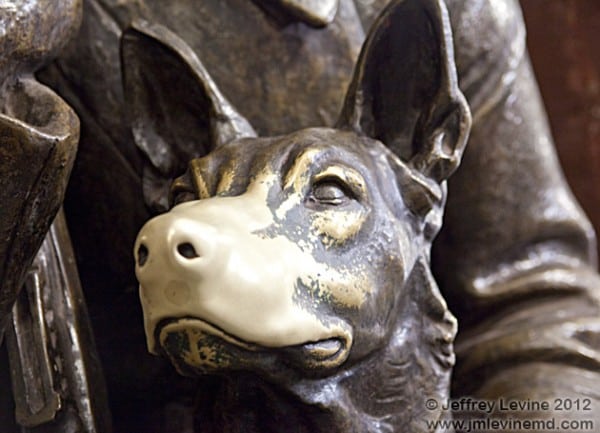 As a New York City resident I found riding the underground railway of Moscow a sublime and surprising experience, particularly as a fan of canines. Built by Stalin in the 1930's, the stations are constructed with marble and granite and many are adorned with chandeliers and elaborate sconces. The sparkling chrome-clad trains run every three to five minutes and there are no delays between stations. Workers roam the stations scraping chewing gum from the floors and graffiti is nonexistent.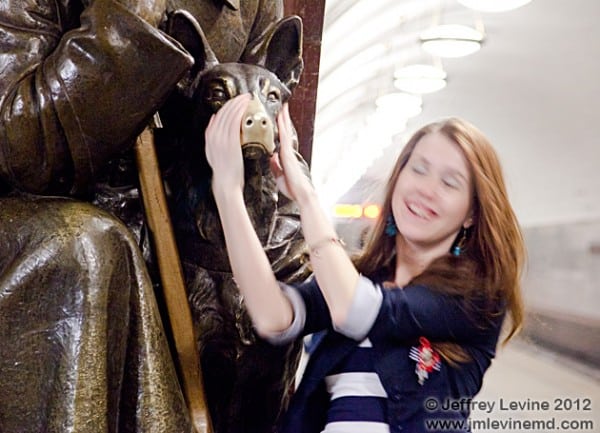 I was on my way to Red Square and got off at the Ploschat Revolutsii stop.  The tracks were lined with granite archways, each adorned with larger than lifesize bronze sculptures. The statues were in the Socialist Realist style designed to reflect communist ideals and achievements, and depicted heroic-looking workers, farmers, and military people from Russian history.  Each statue was dramatically posed with far away gazes that scanned future horizons. In New York City, Mayor Bloomberg would frown upon statues of people lurking with guns in the subway, but this is quite natural in Moscow as many carried formidable weapons.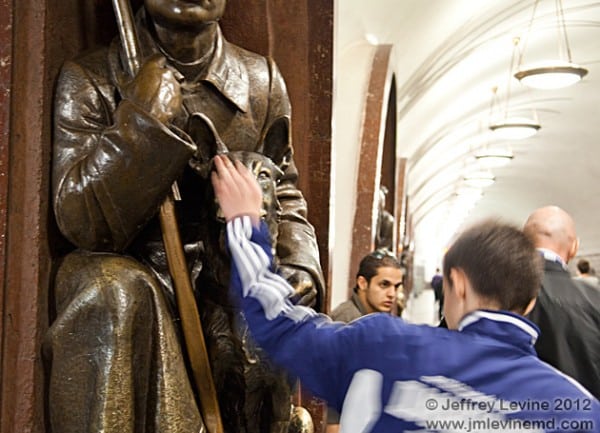 As I wandered among the arches and statues I noticed an unusual activity around one of the figures. The bronze depicted a crouching soldier with a huge overcoat, a bolt-action rifle, and a faithful dog at his side. To my amazement, passing commuters were reaching out and touching the dog's nose.  Curious, I approached and noticed that the deep bronze patina of the snout was buffed away, and the metal actually appeared worn down.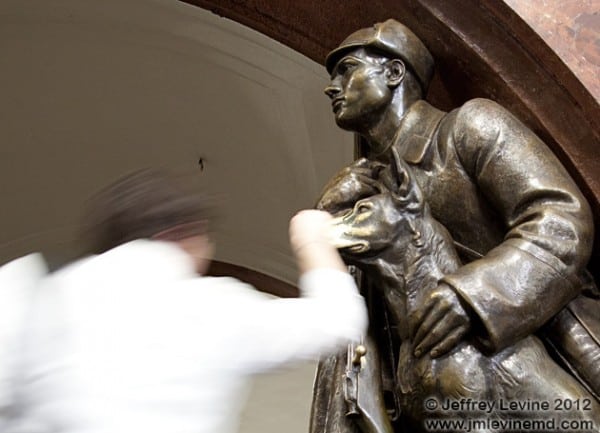 I was fascinated and watched this activity for several minutes. Children laughed and young girls giggled, rubbing the dog's nose as trains rumbled in and out of the station. I counted one in every three commuters touching the dog's nose. Most casually lifted their arms and touched briefly, others stopped and stroked it, and some grabbed it with two hands. Many people took pictures of friends and family doing the same.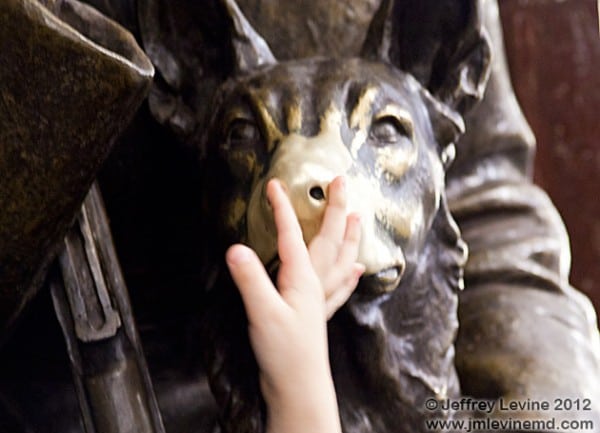 Puzzled, I asked several people why they were doing this. Approaching strangers in the subway is not the most prudent activity in a foreign city, and I almost abandoned my quest when an elderly lady said something to me in Russian that didn't sound friendly.  Finally I found a well dressed businessman who understood my English. He seemed surprised at my question about what seemed such a natural activity, but puffed himself up and said with a big smile, "It brings luck!"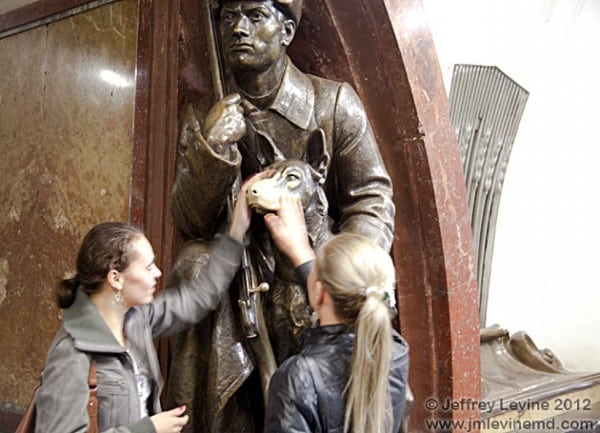 Foreign travel holds many delights, and I find the best things are often not in museums or restaurants, but rather the unexpected surprises that lift the spirits – like my experience with the lucky dogs of the Moscow Metro.
* * * * * * * * * * * * * *