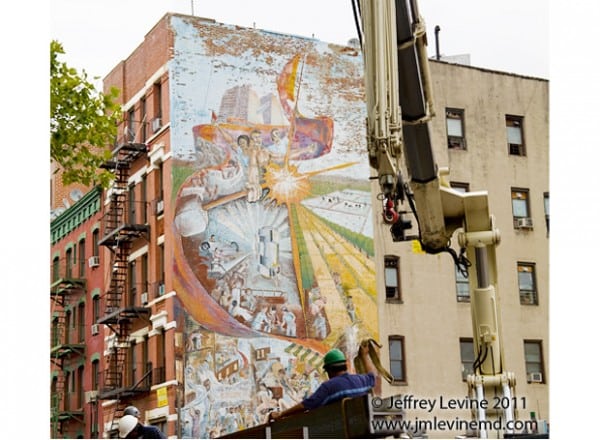 It was quirky, and not even that pretty, but I liked it and now its gone.  So many of Manhattan's artistic landmarks have been obliterated in the past decade, knocked down or covered up by drab glass walled buildings, and this is one of them. I photogaphed it in 2008 when condo construction began, and again recently after it was covered up.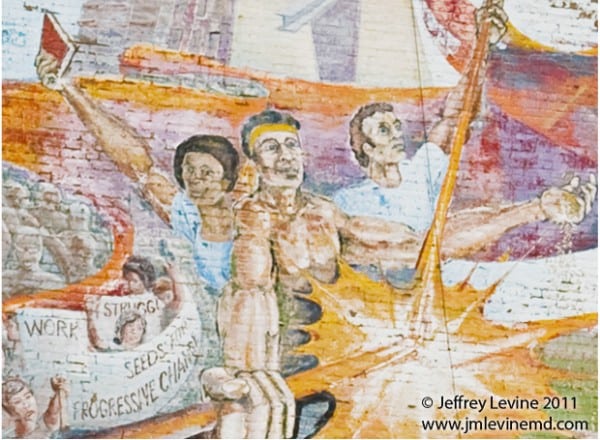 I am talking about the mural entitled "Work, Education and Struggle: Seeds for Progressive Change."  Painted in 1975 by Alan Okada and sponsored by Cityarts Workshop, this mural was formerly visible on the northeast corner of Delancey and Forsyth Street on the Lower East Side.
It was covered by a luxury 20-story condominium tower.  After three years of construction, the scaffolding recently came down to reveal another undistinguished building that looks out of place in scale and appearance given its location on the historic Lower East Side.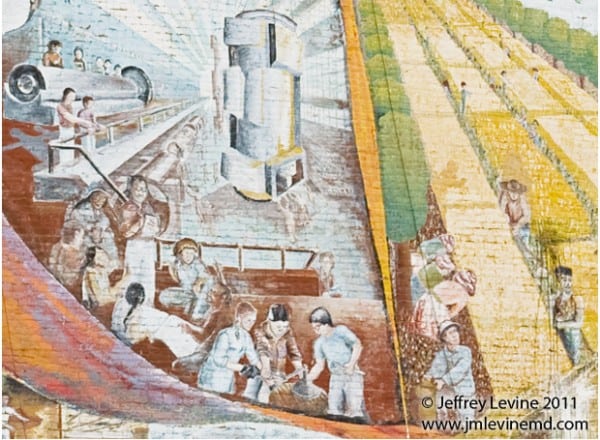 This mural features imagery inspired by Chinese illustration, and illustrates Latino struggle.  It presents a story of overcoming poverty and oppression with the founding of Puerto Rican statehood.  The focal point is three triumphant figures including one holding up a book and a bare-chested man swinging a mallet.  From a group of workers and demonstrators in the lower left, a huge flag is constructed which unfurls above and holds the composition together.
In an ironic and perhaps foreboding twist, the mural features a high-rise building being constructed using beams similar to the ones I photographed in 2008 that would eventually cover it up. In one of my photos, the man with the mallet seems to struggle in vain against the crane that would eventually conceal him forever.
The mural's creator knew of the temporary nature of community murals.  Okada was quoted in "On the Wall: Four Decades of Community Murals in New York City."  He said,
"Community murals were created for particular communities to address specific concerns…  Outdoor murals are a temporary art form. It's sad to lose them, but they served their purpose."
All that remains today is a fading patch of painted blue sky, and a few inches of exposed paint that gives no hint of the mural's former glory.
* * * * * * * * * * * * * * *
The reference I used for this post, On the Wall: Four Decades of Community Murals in New York City by Janet Braun-Reinitz and Jane Weissman can be found here.
.