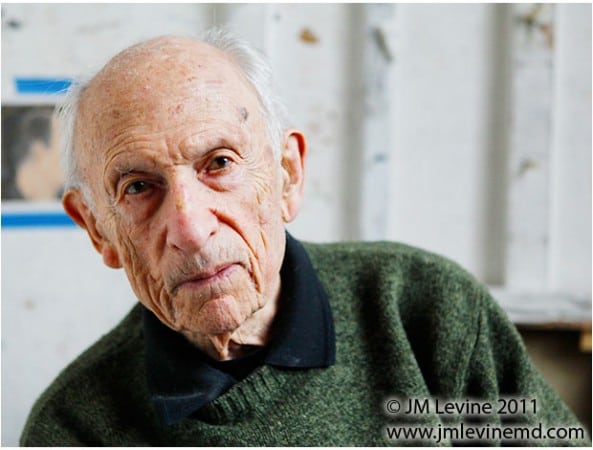 Will Barnet passed away on November 25, 2012 at age 101.  I had the opportunity to photograph him at age 100 in his home and studio in the National Arts Club in Gramercy Park.  His paintings and drawings are in every major museum in the United States, and he was still making art when I visited him.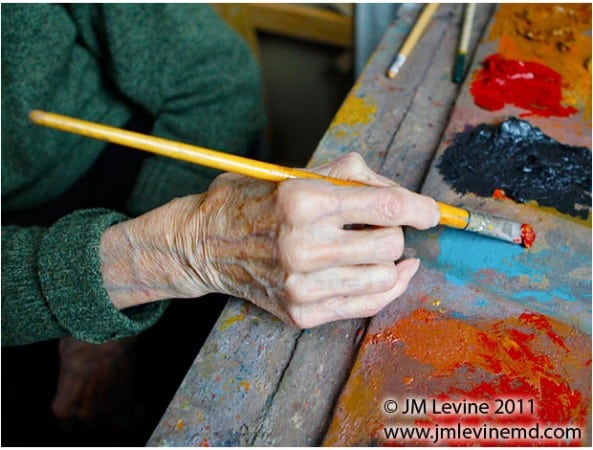 Experts have studied the mysteries of artistic creativity in old age.  Some artists blossom in their early years then fade away into oblivion, while others reach their peak of creativity in mid life.   Still others begin strong, and maintain their creativity well into old age.  Will Barnet is in the latter group. As life expectancy increases, the number of these artists will only get larger.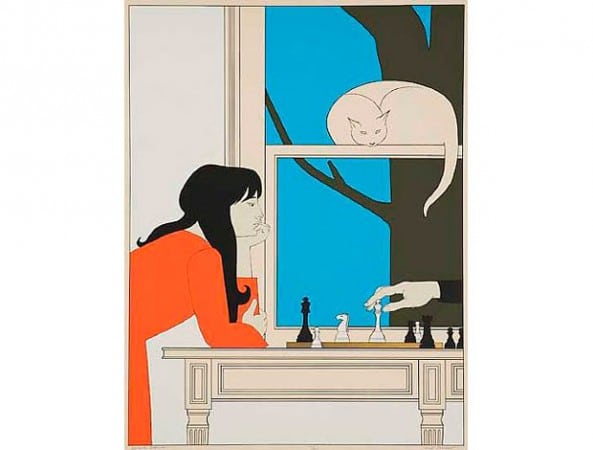 Born in 1911 in Beverly, Massachusetts, he decided to be an artist at age ten.  His subjects include his wife and family, including the family pets.  When the abstract expressionist movement rose, he followed the fashion but later returned to representational figures.  He watched the rise and fall of Pop Art without joining the movement.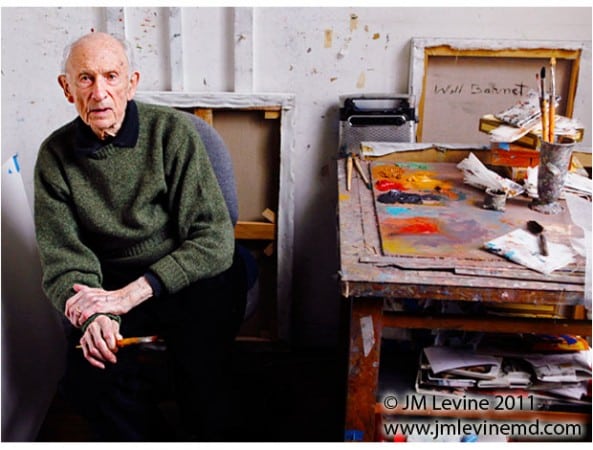 My connection to Mr. Barnet was through the National Arts Club, where I am a member.  He lived there, and I saw him on several occasions and it took a while to summon the nerve to ask him for a portrait sitting.  When I called him to ask for an appointment to photograph him, he responded by saying, "Let me look at my schedule."  He invited me into his neatly cluttered studio and showed me some recent paintings.  Mr. Barnet told the New York Times that he painted three to four hours per day, despite being unable to stand.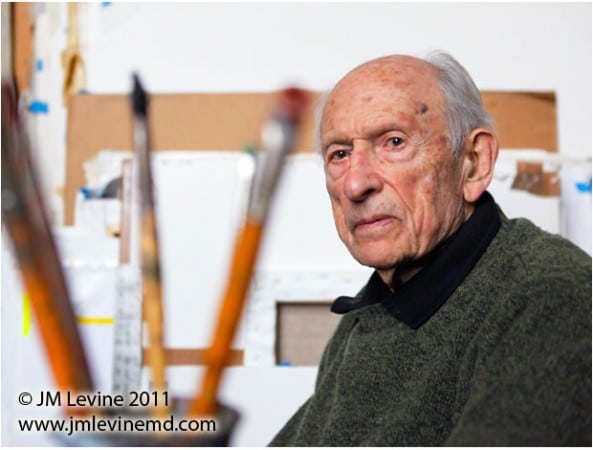 Creativity is now recognized as a component of healthy aging.  One study has shown that people over 65 who are involved in the arts have fewer doctors visits and take less medication.  The Center on Aging, Health, and the Humanities at George Washington University, founded by Dr. Gene Cohen, has made creativity and aging a major focus.  Arts programs for elders are blossoming across America with the goal of maintaining independence and reducing dependency. 
As I photographed Will Barnet, I was impressed by his intensity and level of concentration.   When I asked to photograph his hand holding a brush, he said, "These hands have been painting for over eighty years."  As he sat for me I felt completely humbled as I fumbled with my equipment, while he looked so content and serene.  When you look at his hand you can see that the brush he holds is very much an extension of his body, reflecting not just a life well lived, but a life that was creative and full. 
 * * * * * * * * * * * * * * * *
For the National Center for Creative Aging site click here. 
For a recent book on aging artists:  Lastingness: the Art of Old Age by Nicholas Delbanco.