The first sunny weekend in June I set out to do plein air oil painting in Central Park.  My equipment included my Open Box M easel, a basic array of primary colors, and one of my home-made panels surfaced with primed cotton.  The park gets really crowded with tourists, so I chose an out-of-the-way spot on the bank of The Lake right next to Oak Bridge, looking south.  There was a lovely open view framed by trees left and right, with towers from Billionaire's Row on 57th Street reflecting off the water.  I got there early before any rowboats took to the water and started blocking in the darks.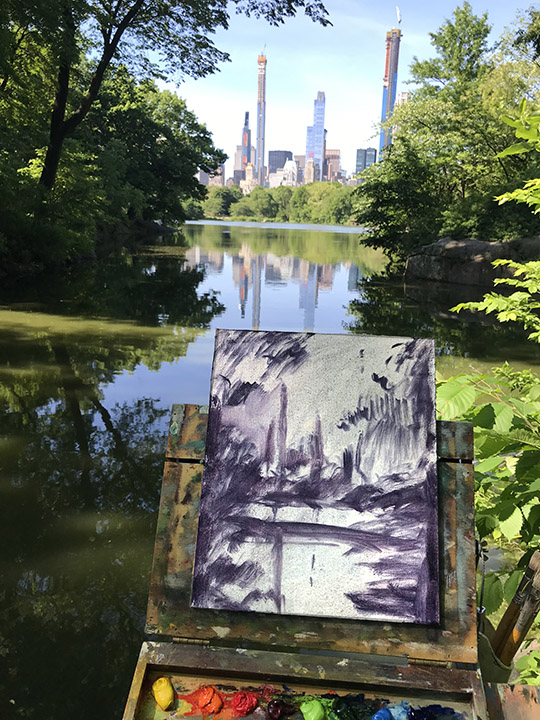 Once the values were defined I started to add blocks of color into the big shapes.  At this stage I kept the paint thin with lots of medium. As the painting developed, The Doors album Absolutely Live gave me an extra energy boost through my earbuds. Break on through!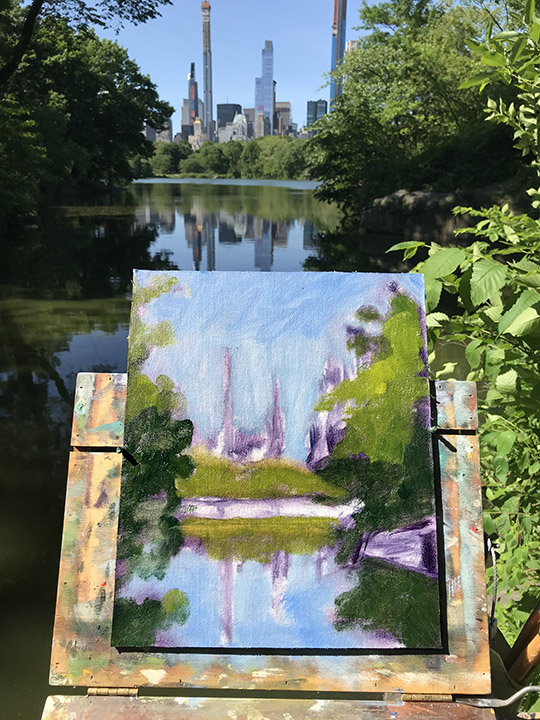 Next I built up color and detail, becoming more painterly with the brush.  One of the most challenging things is establishing atmospheric perspective, pushing the buildings into the distance.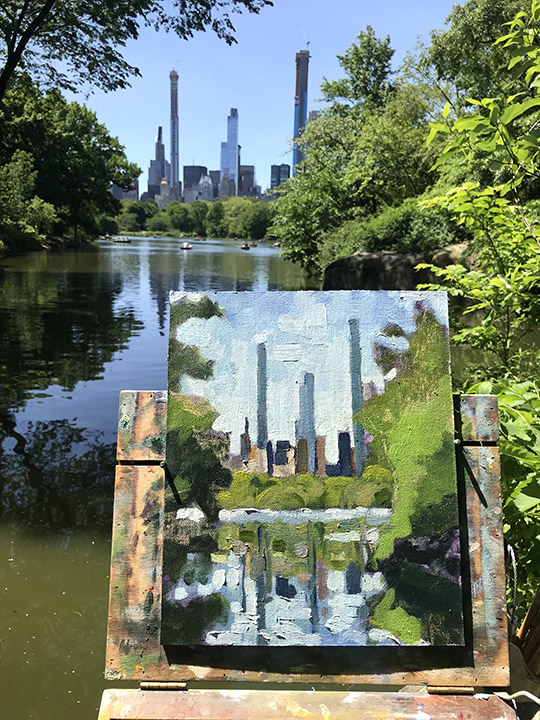 By this time the paint was getting thicker and the rowers were out.  So the last step was adding a rowboat, trying to capture the reflections and the glint of light off the rower and the oars.  The finished version is in the first image above, photographed back in the studio.  Total time from set-up to completion was 3 hours.  I need to thank my teacher, the amazing Garin Baker, for providing me with basic techniques – including enthusiasm and philosophy – for plein air oil painting.
* * * * * * * * * * * * * * * *
Related posts:
Video on Plein Air in Old Car City
Video on Plein Air Watercolor on the Esopus River
Video on Plein Air Oil Painting in the Catskills with Winslow
Rediscovering my Art Supplies in the Arizona Desert
Preparing for Plein Air Painting in Castine, Maine