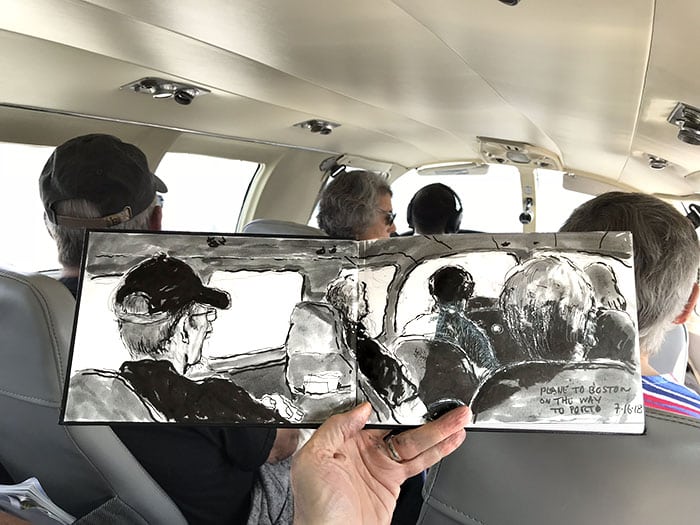 Getting to Portugal for the international Urban Sketchers Symposium was not difficult, but demanded some tricky connections as I started off from Maine.  So I took a ride on an 8 seater Cessna from Rockland to Boston where I caught a flight to Madrid.  I was able to knock off a quick sketch on the plane but my pen did major leaking from the change in pressure causing a mini-emergency.  Lucky I had a rag in my kit along with white gouache for quick cover-up!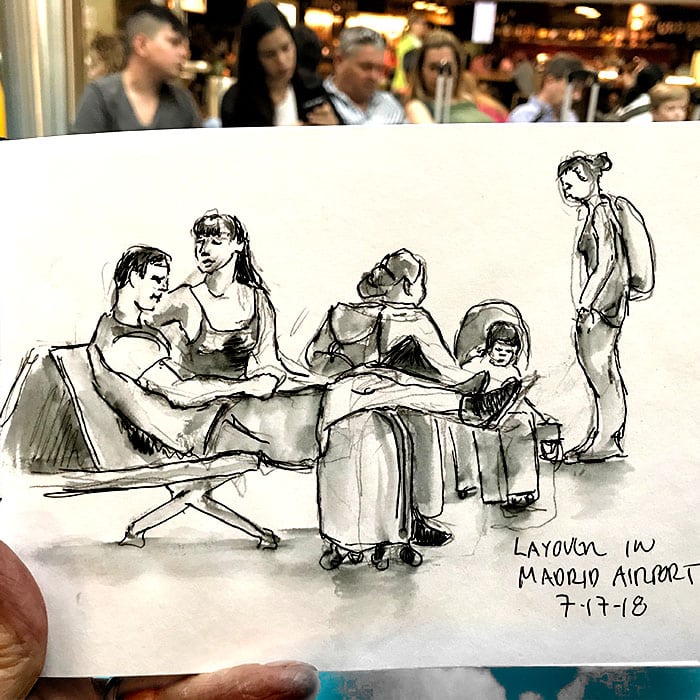 Had a layover in Madrid where I was able to knock off a few airport sketches.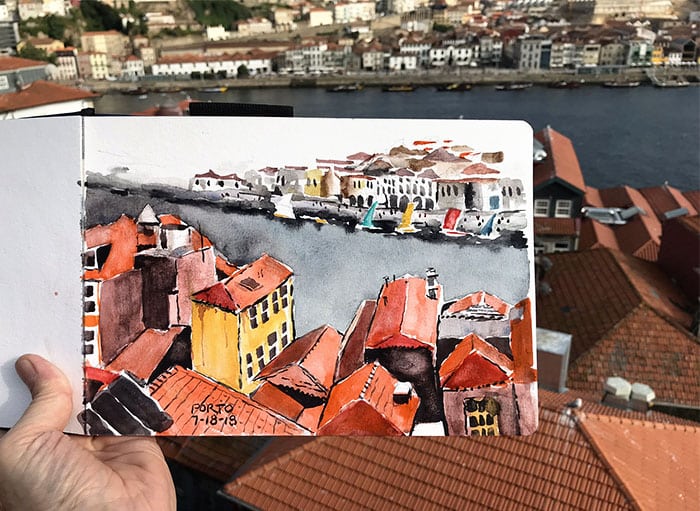 Got to Porto and arrived at my hotel to greet an eye-popping view of the Doura River that runs through the center of this hisoric city.  My first day I couldn't leave my room because of the breathtaking scene and did a quick watercolor. What a great way to get over jet lag!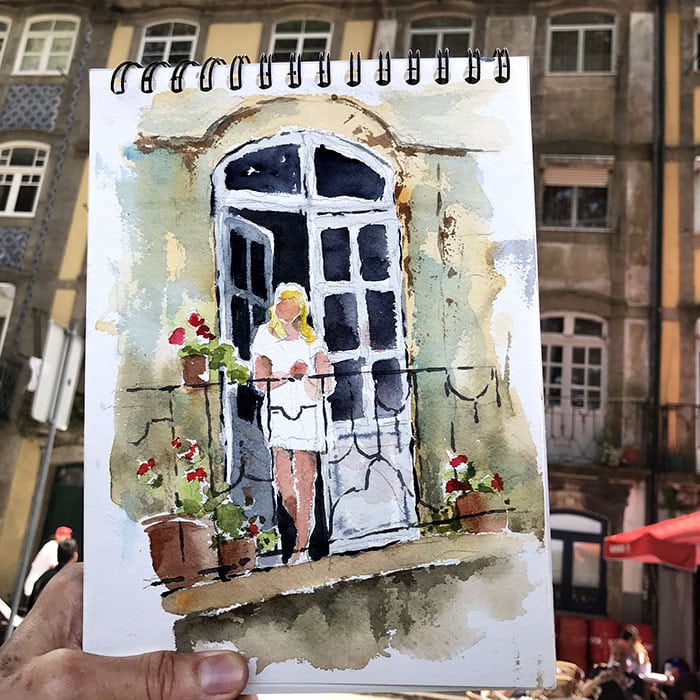 My first workshop was with the amazingly talented Hong Kong artist Paul Wang, who taught an interesting workshop on how to do windows.  I was able to catch this young lady who fleetingly appeared on her balcony.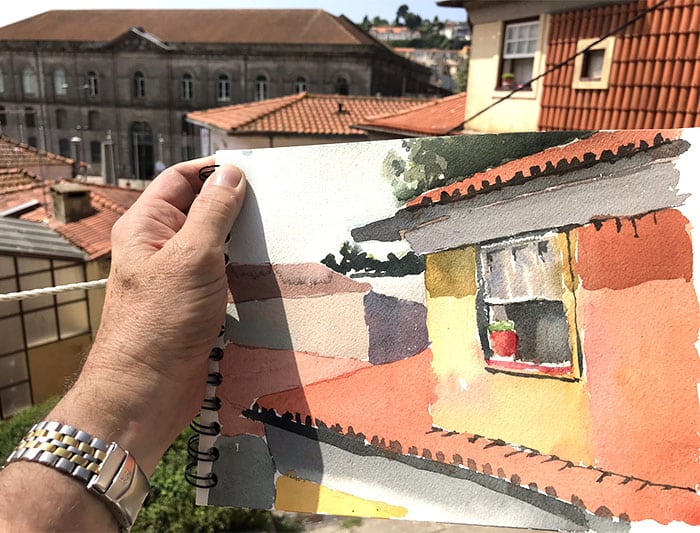 I was really looking forward to Shari Blaukoph's watercolor workshop.  Shari is a true rock star artist whose engaging smile complements her huge talent.  Her workshop was splended, concentrating on juicy washes and shadows.  Above is my sketch from her workshop.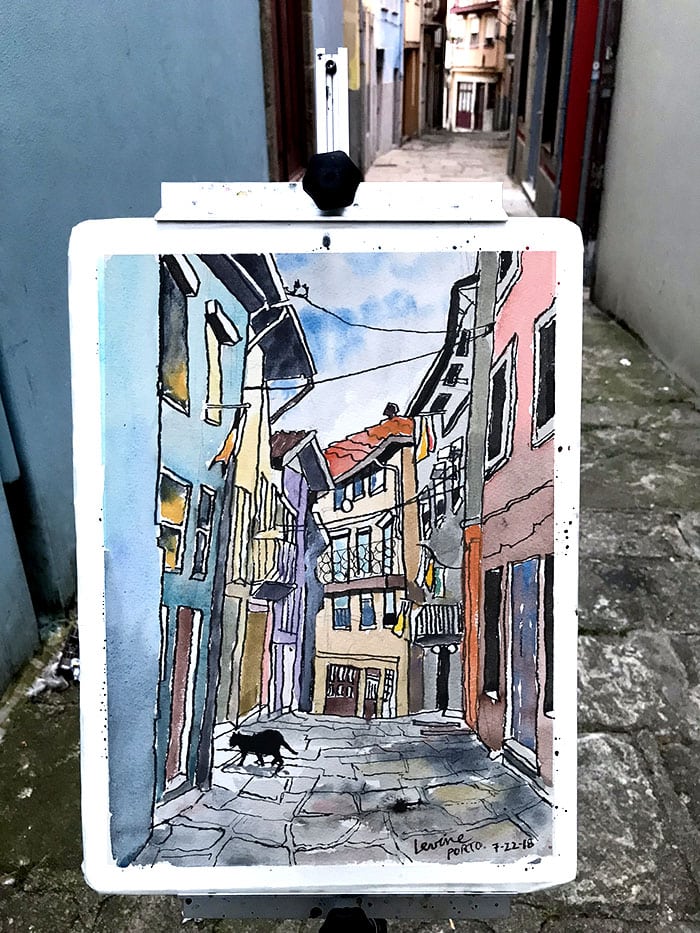 I had a free afternoon after the workshops, and spent it doing this large watercolor with bamboo pen, bulletproof Rohrer Sketch Ink, and my Kremer pigments painted with my custom mofidied watercolor palette.  Was lucky to record this black cat who walked across the alley just as I was finishing.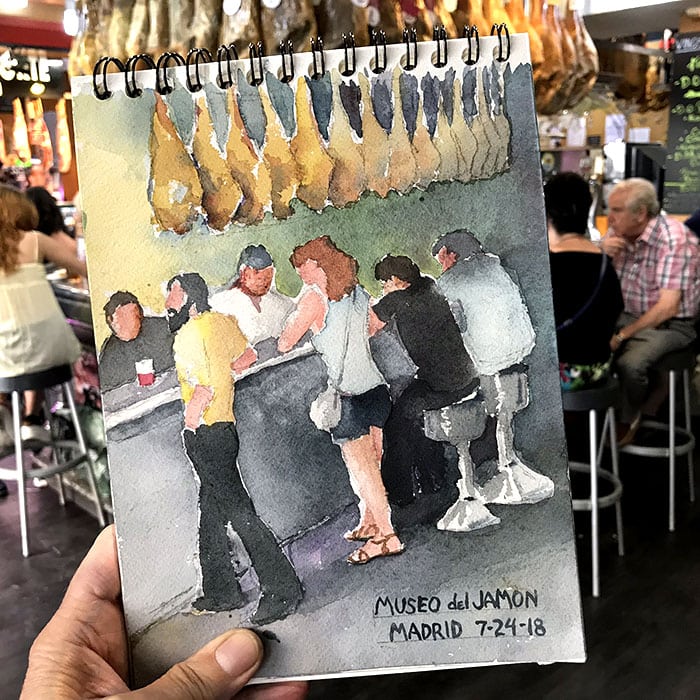 After my Porto adventure, I spent a few days in Madrid where I sketched in the Prado and various places around this beautiful historic city.  There is a chain of cafes called Museo del Jamon with incredible hams hanging from the ceiling and people gather to watch soccer on the TV.  I sat for a few hours practicing my watercolor skills.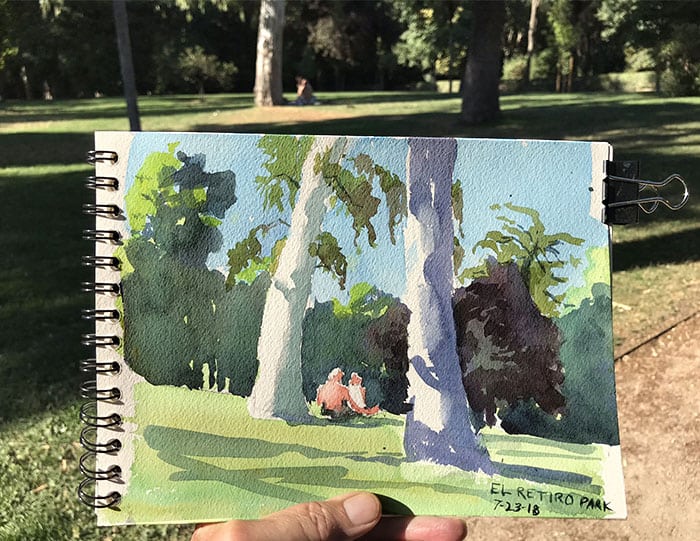 The days in Madrid were super-hot and I was sweaty walking all over the city, so I stopped in El Retiro Park for another shot at watercolor.  I caught this couple relaxing in the shade of one of the huge trees.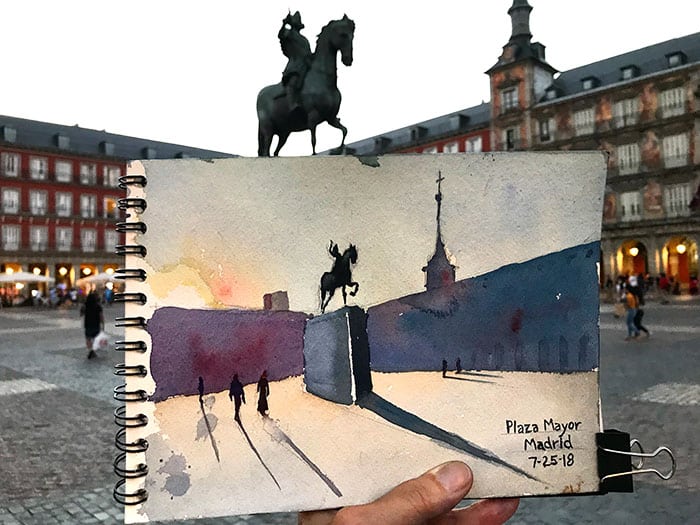 My last night in Madrid I met my friend and fellow sketch artist Mel Barranco whose family lives there.  We sat in Plaza Mayor having beers and sketching as the sun went down.  Thank you Urban Sketchers for a great, art-filled adventure learning and practicing in Portugal and Spain!
* * * * * * * * * * * * * * *
To see how I customized my watercolor palette click here.
To view my watercolor video from Porto click here.  
For my entire Porto and Madrid portfolio click here.
For my Maine portfolio click here.
For my post from my day at the Prado click here.