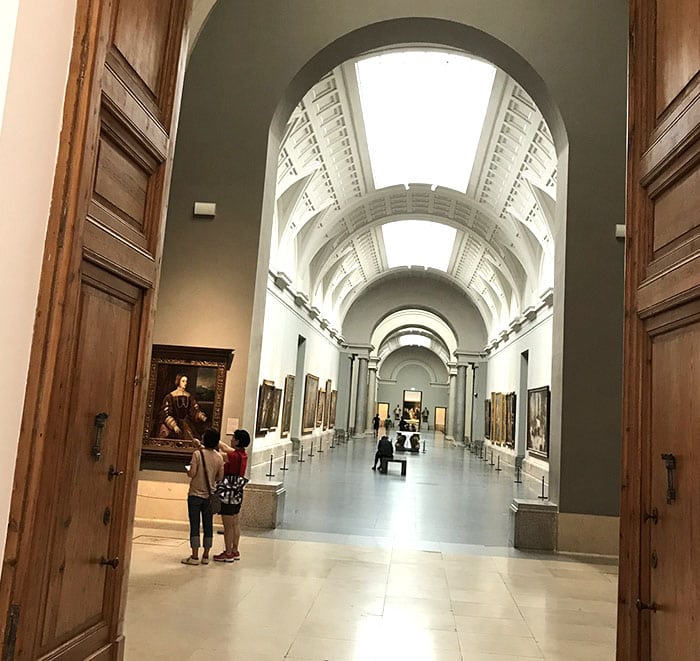 This past summer after the Urban Sketchers Symposium in Porto I flew to Madrid where I spent time sketching in the Museo del Prado.  This amazing world-class museum is bursting with gems of art history and Spanish culture, along with a strict policy that bans photography but encourages sketching.  When I raised my iPhone to snap the pic above, a guard jumped out of his chair to stop me.  However they allowed me to sketch as much as I wanted, even while sitting in portable stool in front of the masterpieces.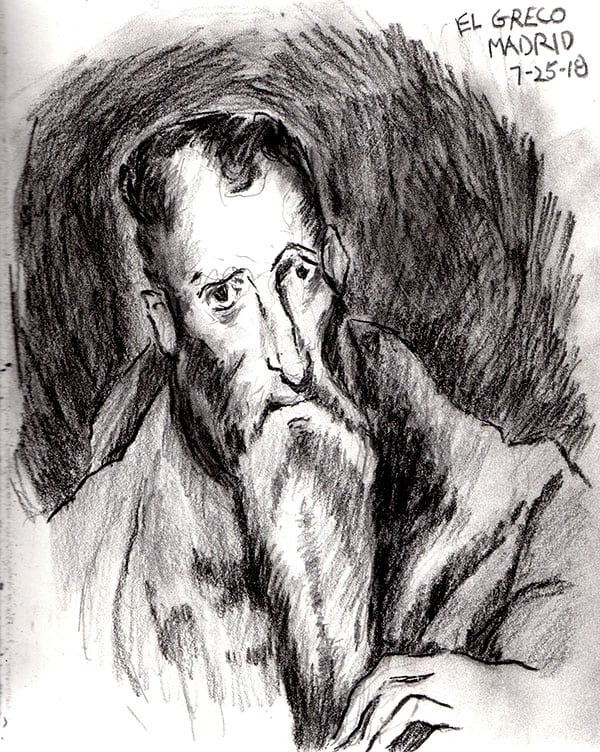 After entering the Prado I was taken by this portrait of St. Bartholemew holding a huge bible, painted in Spain by El Greco in the early 1600s.  St. Bartholemew was one of the original 12 Apostles, who died a martyr after being flayed alive.  I stood in front of it and sketched his face in various pencils, concentrating on the peaceful, spiritual expression on his aging face.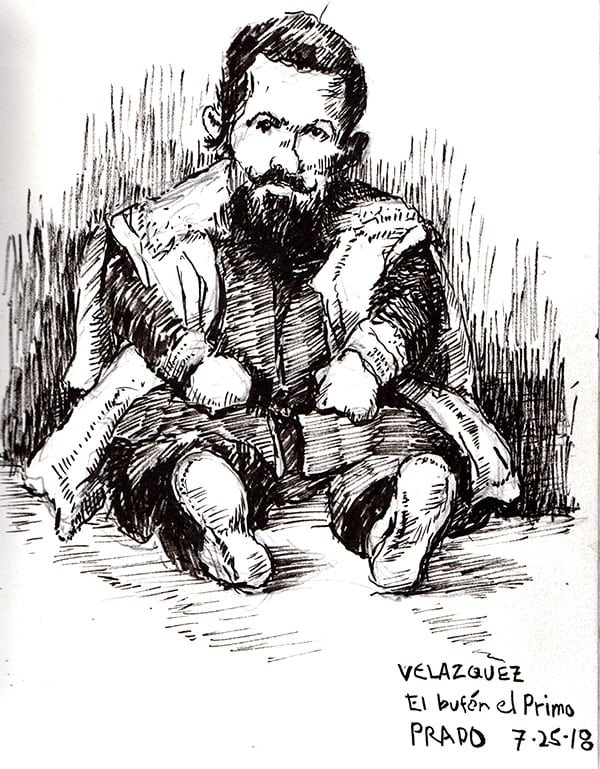 Diego Velázquez was a court painter for King Philip IV in the mid 17th Century, which gave him access to this dwarf, Sebastián de Morra, also known as El Bufón el Primo. For this sketch I used fountain pen with Rohrer ink I bought in Porto. I chose this to sketch because of the facial expression of resignation captured so well by this master portraitist. Court dwarfs were kept by the king to make him appear much larger, and were often the target of mockery.  Sebastián sits with his feet directly forward, emphasizing their small size which were likely a source of ridicule.  He is wearing a royal scarlet robe and his hands are balled into tight fists, perhaps in angry defiance of his position as a source of entertainment for the court.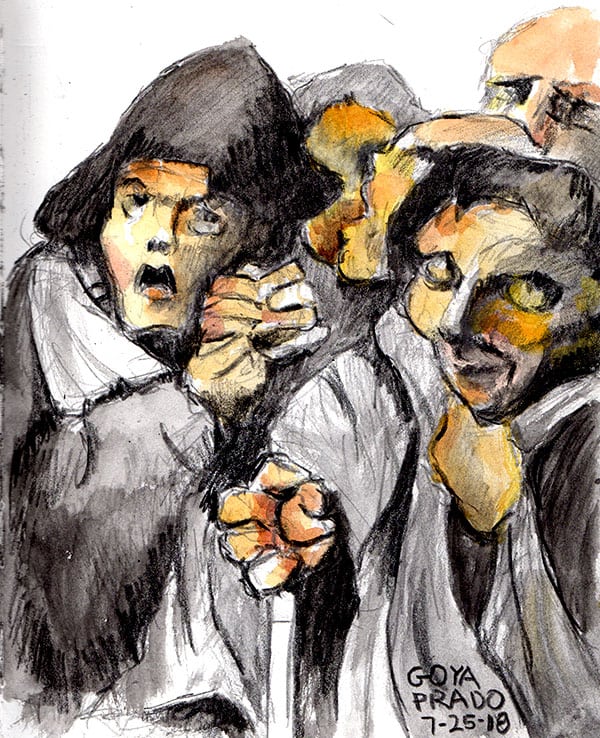 The great painter Francisco de Goya completed huge paintings on the walls of his Madrid farmhouse with scenes of blood, satanic ritual, and nightmares which became known as the Black Paintings.  These paintings now occupy a whole room at the Prado.  I scanned the paintings for an interesting snippet I could sketch, and settled on this group of people participating in the Pilgrimage of San Isidro.  Painted in somber dark tones, it captures the piety and awe of the occasion that I tried to capture.
I sat in front of this painting on my portable stool and sketched it in various pencils along with soluble graphite and a touch of watercolor applied with a waterbrush.  As I finished up the sketch, some in the crowded room viewed me as another tourist attraction, craning over my shoulder and commenting in different languages.  Such is the experience of an urban sketcher abroad.  
* * * * * * * * * * * * *
For my entire Porto & Madrid portfolio click here.
Related posts:
End of an Era: Pearl Paint Closes

Remembering 5Pointz

Rediscovering My Art Supplies in the Arizona Desert

Wounds of a Boxer: Medical Secrets from Ancient Rome

Hospital Closure and the Gift of Time

Remembering Susan Perl – Illustrator

My Art Library:  Drawing the Head & Figure, by Jack Hamm

Life and Art at the Bowery Gallery

At, Dementia, and Elder Abuse:  The Sad Story of Peter Max

Another Art Supply Store Closes

Jean Martin Charcot: Physician and Urban Sketcher

Goya's Physician and the Art of Caring

Tradition and Healing at the Santa Fe Indian Market

Courtroom Art and NYC History