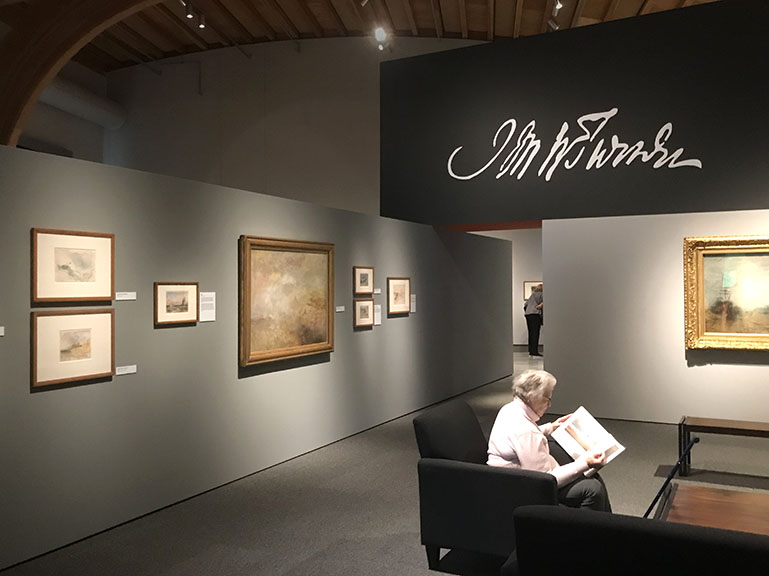 I've long been a fan of J.M.W. Turner's huge luminous oils that hang in many museums including the Metropolitan Museum of Art in my hometown of Manhattan. However I was unaware of his watercolors, and when I learned about the exhibit at the Mystic Seaport Museum I had to make a trip before it closes in February.
James Mallord William Turner (1775 – 1851) was a British landscape painter who depicted landscapes and the sea with amazing depth and drama.  He was a master at evoking light and space, and when looking at his oils you can feel almost blinded by the sun.  There are a few oils in the Turner exhibit which evoke an abstract quality that is brought into sharper focus in his watercolors.
My morning in the Mystic Seaport Museum was delightful.  The cold weather and the early hour brought few visitors, so I had the opportunity to commune with the works in serene peacefulness without the crowds that blockbuster exhibits usually bring.  I was able to closely examine his expressive brushstrokes and tried to decode his work-process as it unfolded throughout his life.
In the intimate setting of the Mystic Museum you can get up close to this master's use of simple brush strokes and desaturated color to render the peacefulness of a pastoral landscape or the weather's fury at sea.  Some of these paintings reveal his methods, with pencil underdrawings clearly visible.  One of the works still has marks from tape at the edges to hold the paper down.
Turner's career was marked by huge success and acceptance by the British artistic establishment.  He had an eccentric private life, spending most of his time by the English coast, employed his father as a studio assistant, and fathering several illegitimate children.  He was buried in St. Paul's Cathedral and left part of his fortune to a charity establishing an almshouse for "decayed artists," which unfortunately never happened due to family squabbles.  When he died, his last words were, "The Sun is God."
Some of his watercolors are simple and contemporary, evoking abstract expressionism.  Others show vast breadth and detail, evoking the landscapes of Pieter Breughel, a Flemish Renaissance painter from the 1500's.  Turner had the genius of placing a small figure of a person or animal that transforms a few simple strokes of paint into a vast landscape or seascape.
Turner is known mostly for his grand oils, but his watercolors are rarely acknowledged although he completed thousands of them.  It is probably the fragility of the paper and tendency for watercolor to fade that limits their public exhibition.  Therefore this may be a once-in-a-lifetime opportunity to see these works in America.
The inclusion of selected oil paintings in the Mystic show allows you to directly visualize the connection between Turner's watercolors and oils, especially in understanding the abstract qualities in his compositions.  Try for example to find the horizon lines – most of the time you cannot.  This is pretty amazing because it's definitely there but you can't find it if you look for it!
Turner was an incredibly prolific artist.  His bequest to the Tate was the largest art donation ever made to the National Gallery in England.  It was comprised of nearly 300 oil paintings, around 30,000 sketches and watercolors, and 300 sketchbooks.  As an Urban Sketcher, you can see sharp parallels in his technique combining pen and ink with watercolor to make a spontaneous masterpiece.
History tells us that Turner drank eight pints of rum and milk a day, but despite these habits he lived to the ripe age of 76.  There is a legend that he had himself tied to the mast of a tall ship during a storm to experience its fury and better translate it into his paintings.  The simplicity of these watercolors effortlessly translates nature's drama onto paper.
J.M.W. Turner Watercolors from Tate at the Mystic Seaport Museum will run until February 23rd, 2020.  It's close enough to Manhattan that you can make it a day trip from New York City, but there are not many trains so need to check the schedule.  The Museum is a brisk half mile walk from the Amtrak station.  There are only a few hotels in Mystic so best to plan and make reservations early if you want to stay overnight.  If you stay for the day there is plenty to sketch at the Mystic Seaport Village.  You can sketch on the grounds but they don't allow tripods or easels.
* * * * * * * * * * * * * * *
Related posts:
Wounds of a Boxer: Medical Secrets from Ancient Rome

Hospital Closure and the Gift of Time

Remembering Susan Perl – Illustrator

My Art Library:  Drawing the Head & Figure, by Jack Hamm

Life and Art at the Bowery Gallery

Art, Dementia, and Elder Abuse:  The Sad Story of Peter Max

Another Art Supply Store Closes

Sketching at the Museo del Prado

Jean Martin Charcot: Physician and Urban Sketcher

Goya's Physician and the Art of Caring

Tradition and Healing at the Santa Fe Indian Market

Courtroom Art and NYC History