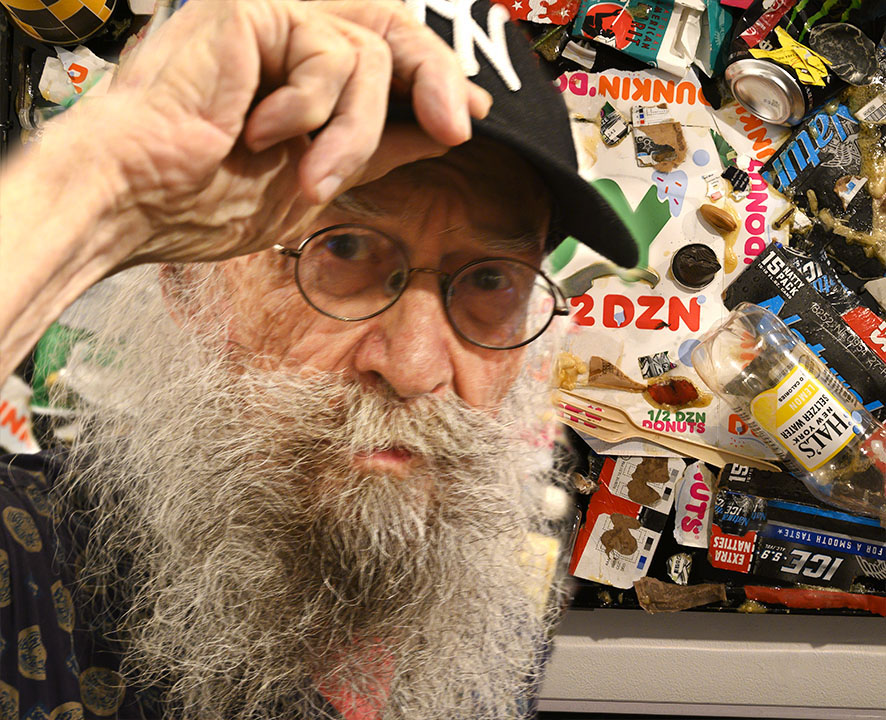 Philip Sherrod shows off his collage of found objects.  
In my years as a physician at St. Vincent's Hospital in the West Village I became friends with many artists who lived and worked in this neighborhood, and getting to know them opened up new worlds for me.  Remnants of the pre-gentrification generation, these artists gravitated to Manhattan in the mid-20th Century when it was a center for painters and poets.  Many were members of the Federation of Modern Painters & Sculptors, currently showing in a group exhibit at the Bowery Gallery on West 25th Street.  I went to the opening on June 20th and had the pleasure of meeting some of the artists and admired their work.   In this post I am presenting three individuals who intrigued me.
The first artist is Philip Lawrence Sherrod, a prolific composer, painter, and poet known for his raw and earthy forms of expression.  His life has been immersed in art, and his 'found objects' paintings reflect his enthusiasm for elevating common items into the spiritual realm.  When looking back at his long and productive life, Philip told me, "I don't do anything that is not art."
Otto Neals entitled this painting, Melancholy of Departure.
I really enjoyed the paintings of Otto Neals, a painter and sculptor living in New York for over 80 years.  Originally from South Carolina, he moved to Manhattan to pursue his dreams as an artist.  He works in a variety of styles, and when asked to define his work he told me he "wants to give others love rather than hate."
Richard Sloat shows his symbolic abstractions.
Richard Sloat has spent his life as an artist, traveling between New York City and Taiwan with his wife, also an artist.  He told me he could have been a stockbroker, but chose art instead.  Much of his earlier work was woodcut and etching inspired by Manhattan's streets, bridges and alleys.  His current work is symbolic abstraction, and he explained that this art form goes back to the Neolithic era and is the oldest art style in human history.  Richard has written inspiring words about his art, as quoted from his retrospective at The Old Print Shop in New York City:
"If done well this gives clarity to the phantasmagoria of viewing the world, and brings us to its visual essence, which is so satisfying, the world seen afresh. Beyond the lovely feeling of visual pleasure, if we are not cynics, we attain and confirm meaning to our being. Our world is larger, more interesting, of deeper feeling and yes even more beautiful."
Thank you Bowery Gallery for sponsoring this wonderful show.  I am sorry I didnt have room for more artists in this group, but maybe in another blog post!
* * * * * * * * * * * * * * *
For more info about the Federation of Modern Painters & Sculptors click here.
For more info on the Bowery Gallery click here.
For Otto Neals' website click here
Related posts:
Manhattan Loses an Artistic Landmark
Photographing Aging Bikers at Sturgis
Will Barnet: Artist and Centenarian
The Sinking of St. Vincent's Hospital in Manhattan
Tears and Anger at St. Vincent's Hospital