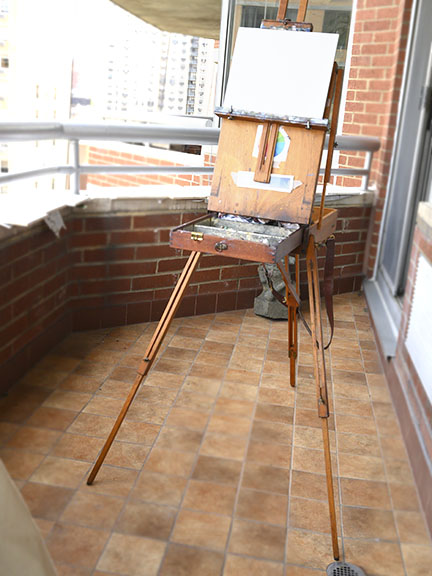 I'm a big fan of vintage art supplies.  Seems that much of the stuff you get today feels like cheap knock-offs.  Plus its kind of a spiritual experience using good quality materials that were used and enjoyed by another artist.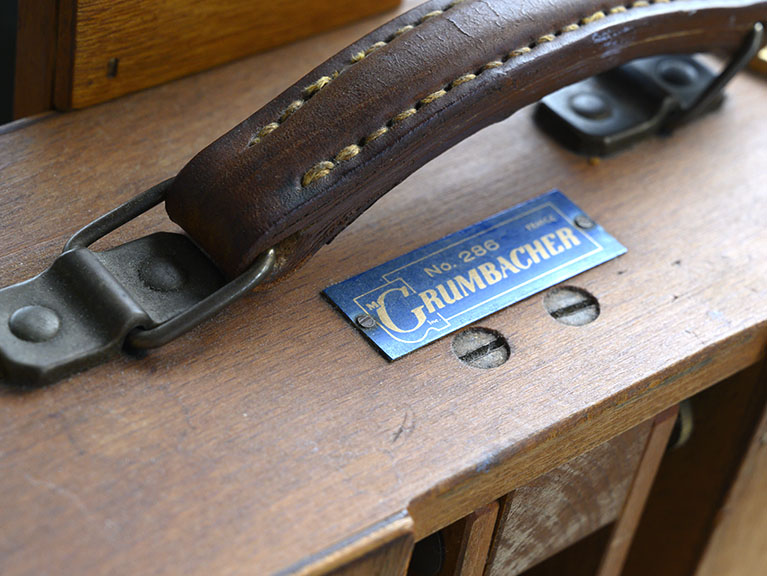 I always admired the romance of the French easel.  Growing up I looked at these at Pearl Paint but they were too expensive for me.  One day I saw a vintage Grumbacher #286 on eBay.  When I examined the photos there was a nice patina and not too much wear, so I took the plunge and made a last-minute bid.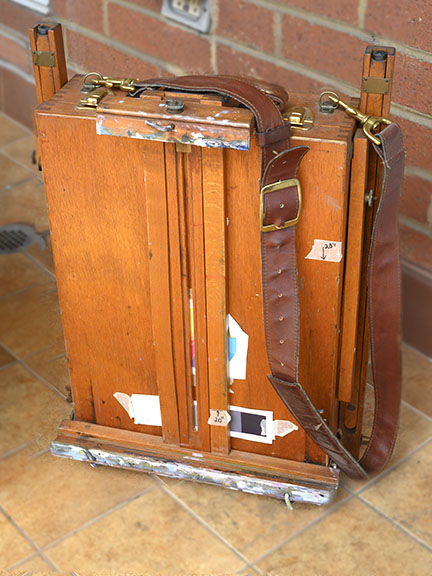 When I unpacked it I was thrilled.  It had the original leather handle, as well as a barely legible impressed stamp that said "Made in France."  The carrying area for paint tubes and brushes was made of tin – something you don't see in French easels on the market today.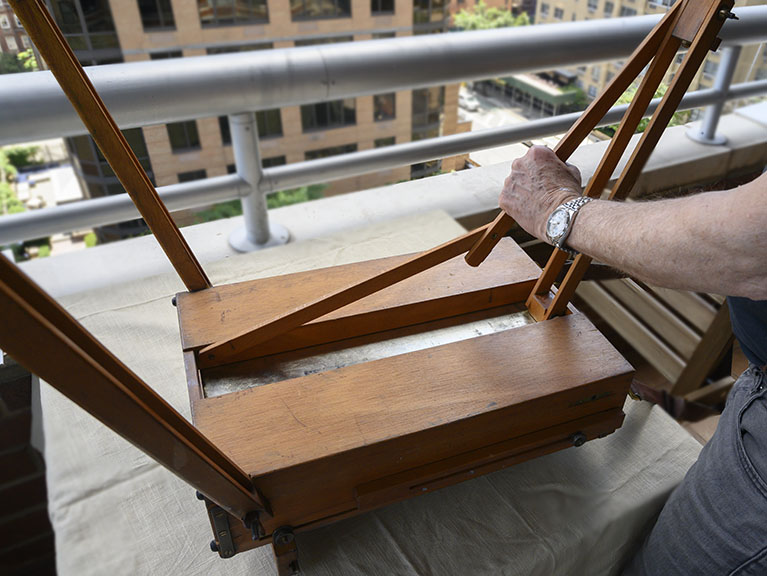 Everything was in good working condition, but there were cobwebs inside, the wood was very dry, and it smelled like someone's attic.  So I got some rags, and bought a package of light-duty steel wool and a canister of tung oil and went to work.  Tung oil, from the Asian tung tree, is an environmentally safe rehabilitation treatment for woods that leaves a glowing water-resistant veneer.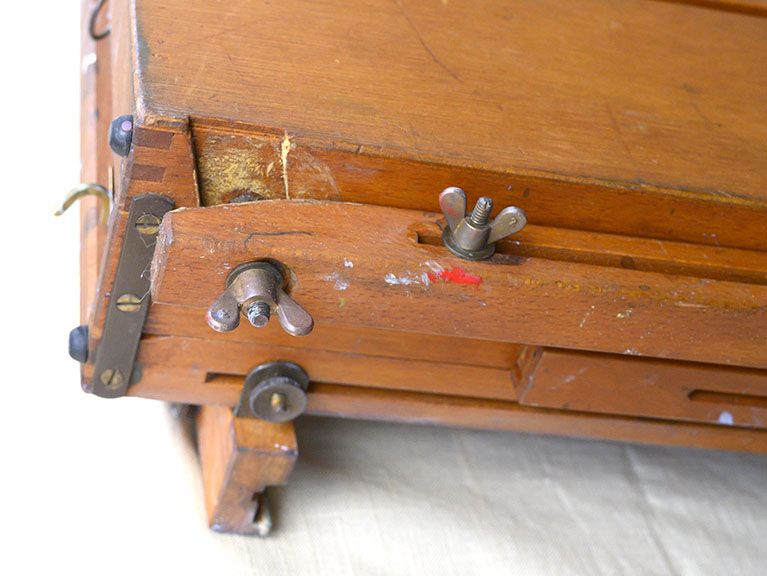 First I wiped the easel down and got rid of the dust and cobwebs, then lightly steel wooled all surfaces.  I applied at least five coats of tung oil, allowing it to sink deeply into the wood.  The rubber feet were dry and rotted so I found small rubber bumpers on-line and replaced them.  All the hardware needed oiling down as well. When it was done I added a leather carrying strap from an old duffel bag.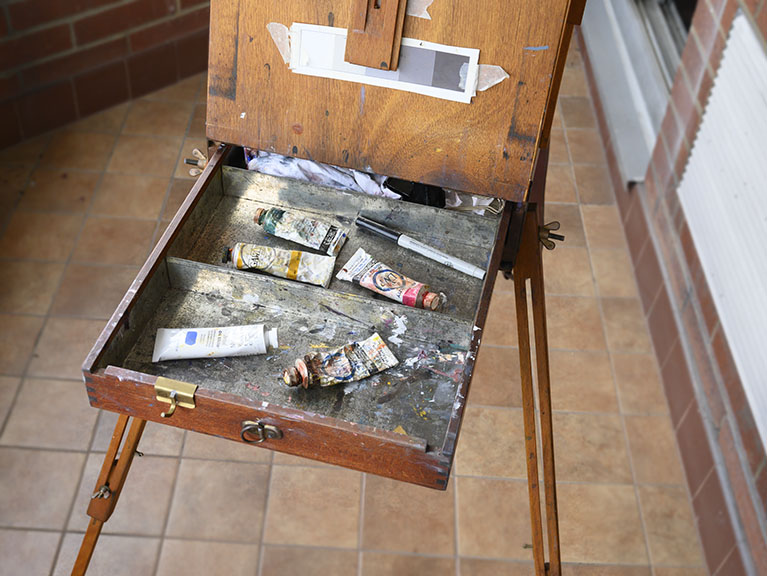 Set-up in the studio was just fine, but taking this easel out into the field was another matter.  As elegant as it looks, it is heavy and clunky to carry around.  It's also ponderous to set up, and if any of the multiple thumb screws is not completely tightened you have a potential disaster on your hands.  The French easel is simply no match for a good field kit like the Open Box M.  What was once the state-of-the-art now seems like an idiosyncratic holdover.  Still, many plein air artists use easels with this design.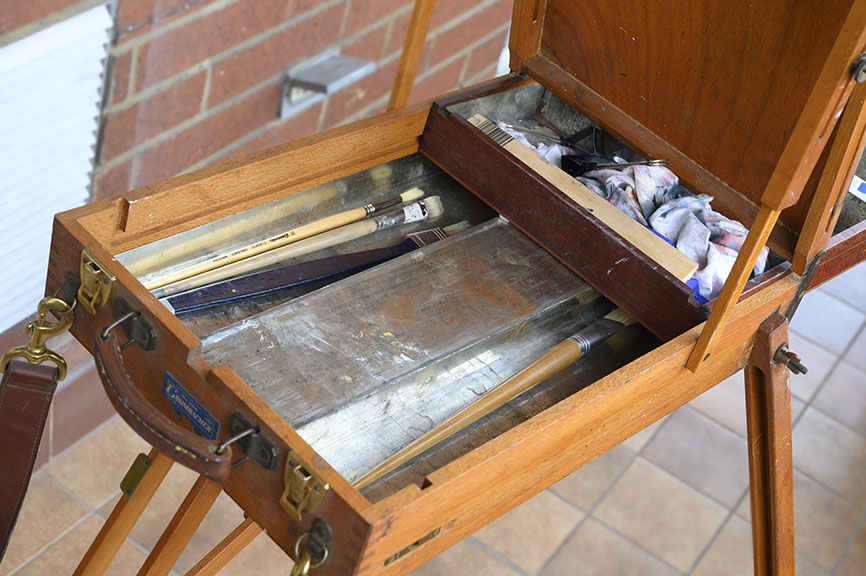 But just because it's clunky and impractical in the field doesn't stop me from loving this item.  For a Manhattan apartment where space is a premium, it makes an excellent studio easel I can put up and take down with ease, so that's what I use it for.  I also use it for photoshoots to document my art.  Now this vintage Grumbacher #286 that likely sat in storage for who-knows-how-many years is a well-loved, and well-used item in my studio.
* * * * * * * * * * * * * *
Related posts:
Plein Air Watercolor on the Esopus River
A Plein Air Setup for Large-Scale Urban Sketching
Plein Air in the Catskills with Winslow
How to Make a Custom Plein Air Palette from an Old Metal Box
End of an Era: Pearl Paint Closes
Review of a Vintage Winsor Newton Travel Palette