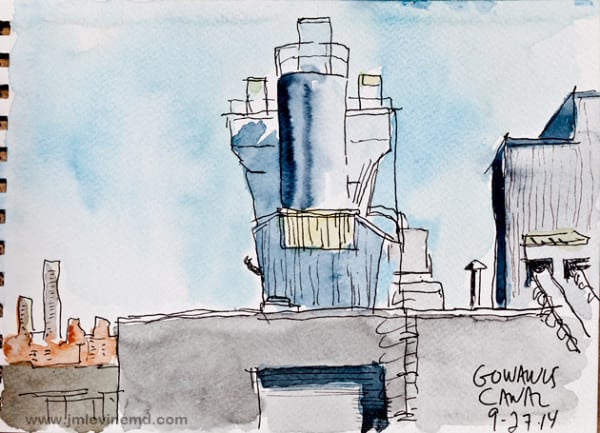 I was always intrigued by the Gowanus Canal in Brooklyn. I read so much about it, with its pollution and notorious odors, situated in one of the most rapidly gentrifying areas of the City. Then by a gesture of fate I learned that the New York City Urban Sketchers were spending a Sunday there. I had no choice but to go and check it out.  It was my first time with the Sketchers.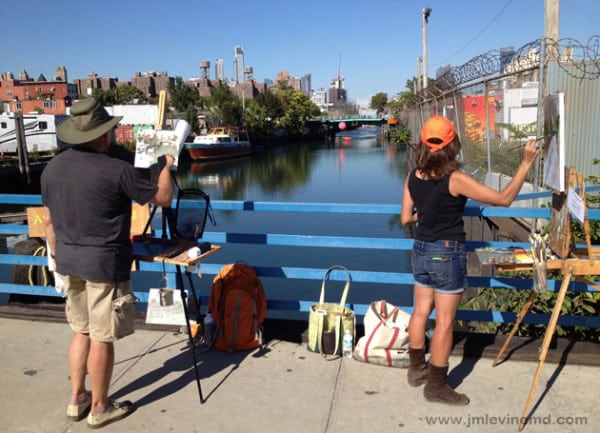 The Urban Sketchers are an international organization dedicated to capturing the moment by drawing on location. I knew about them for years, having been introduced by a sales person at New York Central Art Supply who recommended their book, The Art of Urban Sketching. This book shows a great compilation of sketches from all over the world by a variety of artists in a variety of drawing mediums, with suggestions for materials and techniques. I drank up every page and took it on one of my trips to Venice Beach for inspiration.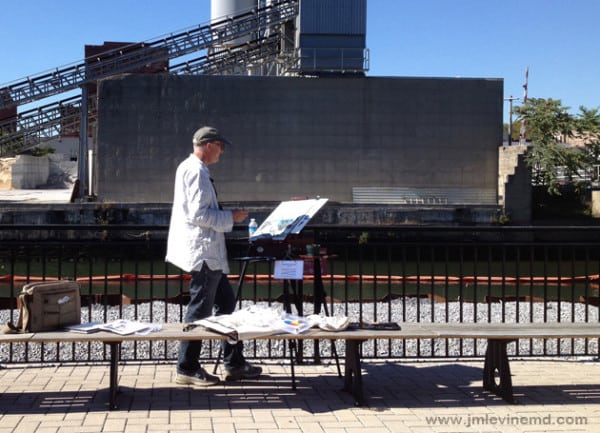 About a month ago I got an email from Mark Leibowitz, the organizer of the New York City chapter of the Sketchers, inviting me to join. I was flattered and a bit intimidated, having seen samples of the talent in the group. Mark told me that the Gowanus Canal was the site for the next sketch meeting, and I was on board. Not knowing what to expect, I overpacked on materials with two bags of stuff, several sketchbooks, and a portable easel.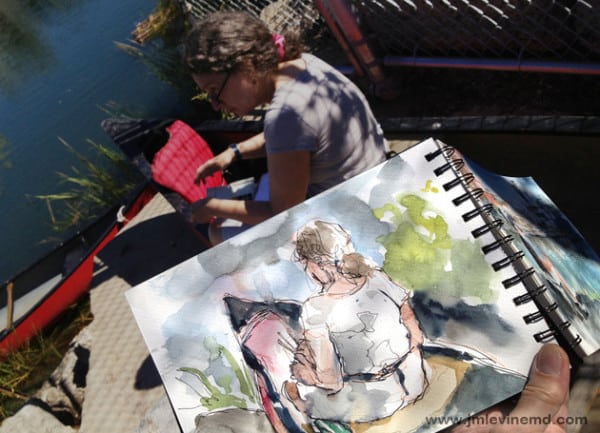 So it turned out that this event was sponsored by the Gowanus Canal Conservancy to celebrate "Plein Air on the Canal" and raise visibility for the organization working to improve the Brooklyn waterway. Joining the Urban Sketchers was a group of plein air painters from Oil Painters of America, who brought some serious equipment to match their serious talent.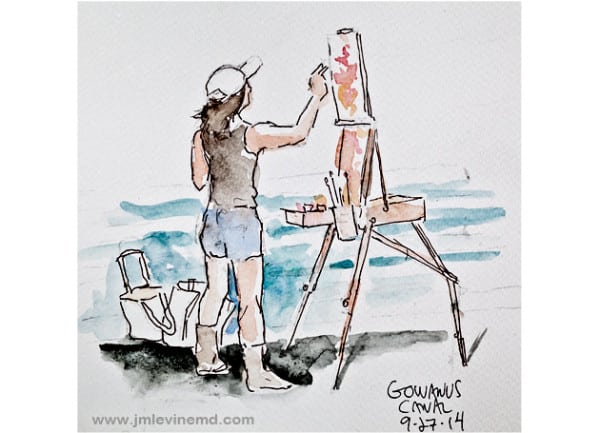 The Gowanus Canal is a very polluted place from decades of industrial dumping and sewage, and was designated a Superfund site for major investment in cleanup. I did some web searching and found an interesting report from the Department of Health that gives findings from water samples that included benzene, chloroform, and naphthalene – the ingredient of mothballs. Other toxins included arsenic, chromium, thallium, cobalt, and vanadium – something I didn't learn about in college chemistry. There were also a variety of carcinogens and fecal coliform bacteria which I did learn about in medical school.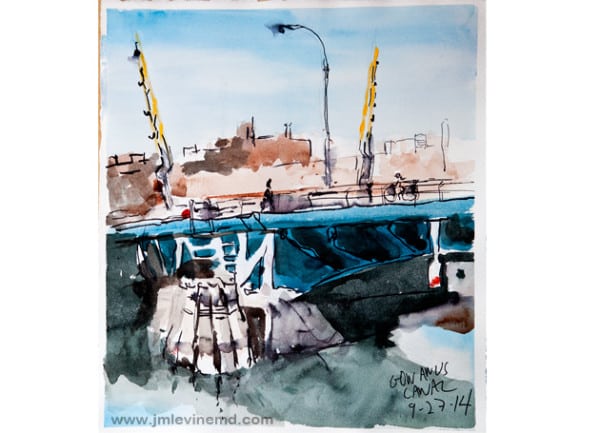 It was a hot Sunday but none of the Sketchers took a dip to cool off. There was a distinct odor, but the scenery was fantastic and not a cloud in the sky. Quaint little drawbridges and industrial landscape galore, surrounded by quiet tree lined streets with lovely townhouses. And the Sketchers were out in full force, including many from the local art community. My intimidation faded as soon as I started to sketch. Afterwards we met at a local pub called the Lavendar Lake where we had beers and looked at each other's work.
So this experience got me hooked. Check out the NYC Urban Sketchers website and enjoy the talent!
* * * * * * * * * * * * * * *
Capturing the Bolivian Sunlight in Watercolor
Sketching the Subway and the Disappearance of Time
Sketching at the Museo del Prado
Urban Sketching in Portland, Oregon
Watercolor and Urban Sketching in Italy
Urban Sketching in Porto and Madrid