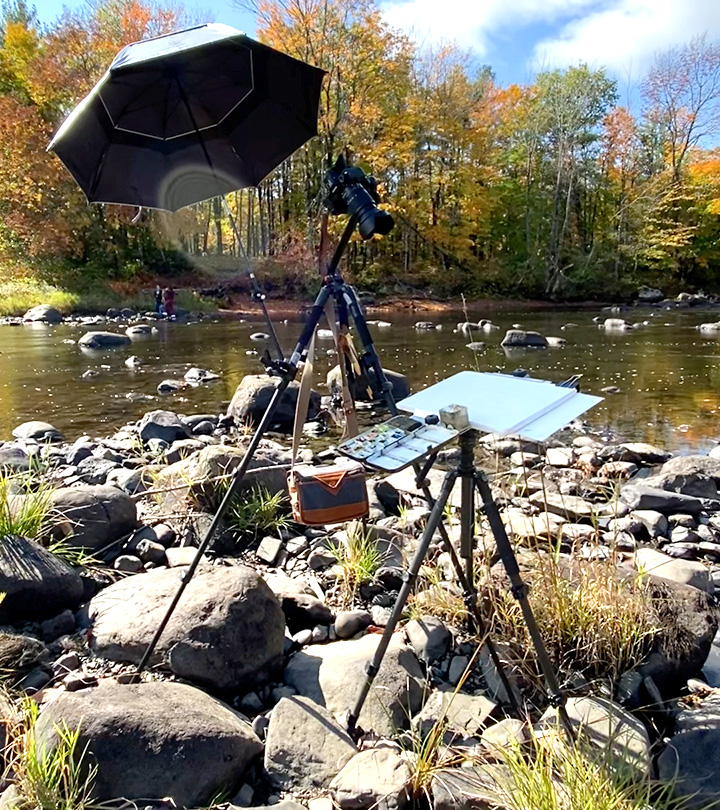 This post is for those interested in technical specs for video and easel setup for painting Lowes Covered Bridge in Guilford, Maine. The camera is a Nikon Z6 mounted on a Vanguard tripod with a tilt arm that hovers over the painting, but needs counterweight using a bag filled with rocks so it doesnt tip over. Any plein air painting requires protection from glaring sunlight particularly when shooting video, and I use a Best Brella fixed to the tripod with a LumoPro Clamp.  Hopefully the rock-filled bag will stop the umbrella from blowing away dragging the tripod and camera with it, but there are no guarantees.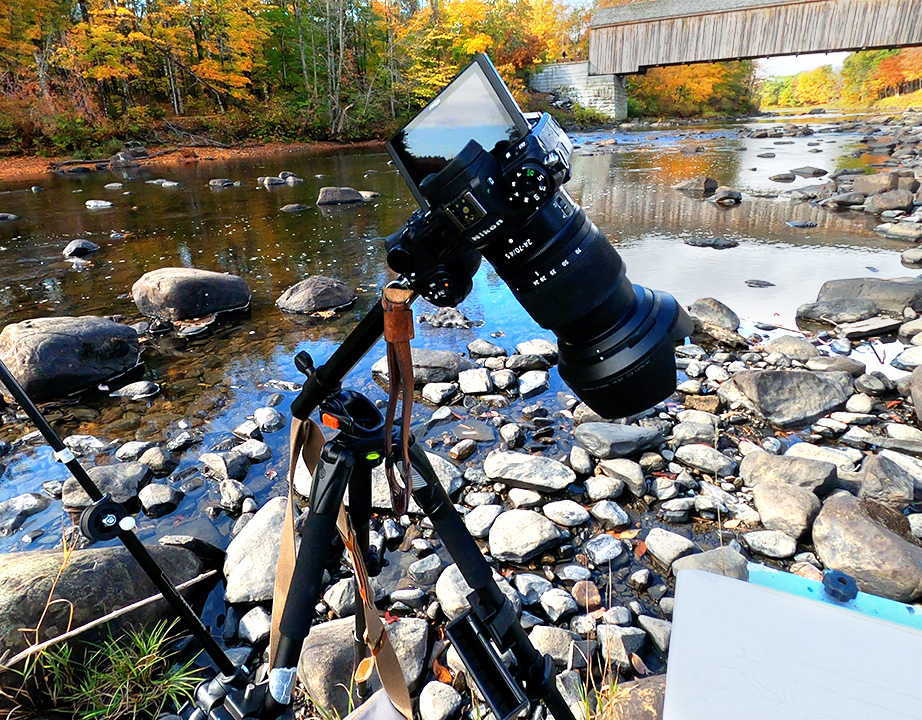 This photo shows the camera with tilted tripod arm counterbalanced with a bag holding rocks.  The camera contains a 64 GB formatted memory card, and the lens is a 24-70 f/2.8 standard zoom lens.  Any video needs several batteries and I carry at least 2 fully charged spares.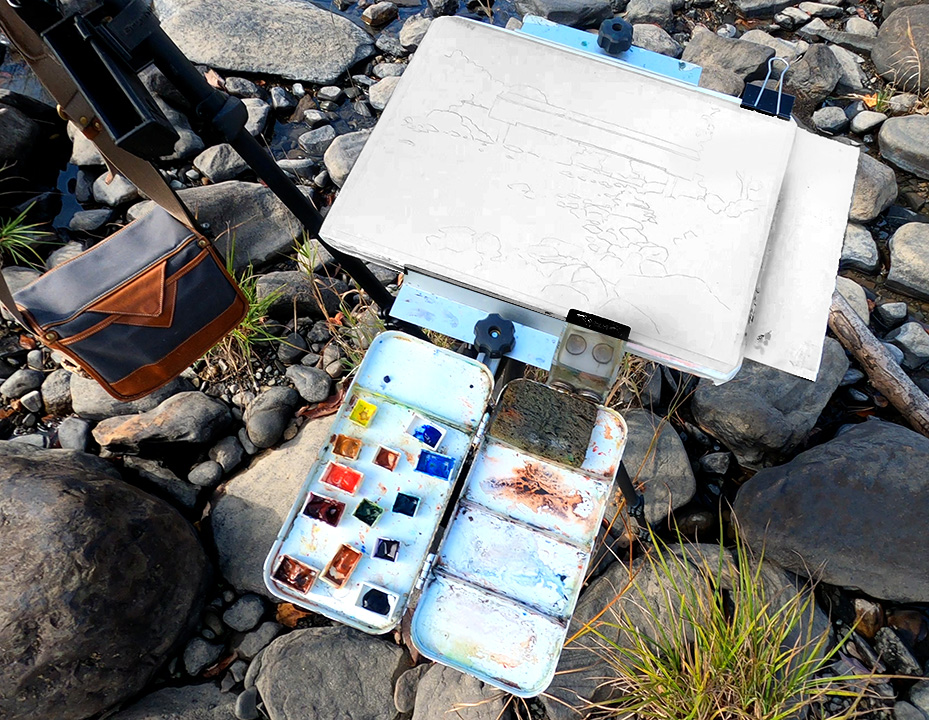 For this painting I used Fabriano Artistico 300 gsm paper cut to 11×15 inches and taped to a foam-core board.  The tape is Japanese Nichiban that is getting harder to find.  The brace holding the foam-core was sold by Geurilla Painter but I dont think they sell this model any more. The brace is fastened to a sturdy Sirui ET-2204 Carbon Fiber Tripod.
The palette is home-made using an old drill box bought in a junk store, and attached to the easel with clamp and magnets.  The water cup is attached with magnets, as is each paint well.  My tube paints included Hansa Yellow Light (DS), Raw Siena (DS), Cadmium Red (WN), Light Red (HWC), Permanent Alizarine Crimson (WN), Burnt Siena (WN), French Ultramarine (WN), Cobalt Blue (WN),  Winsor Violet (WN), Sap Green (WN), Winsor Green Blue Shade (WN), and Mayan Dark Blue (DS) which makes for creamy deep darks.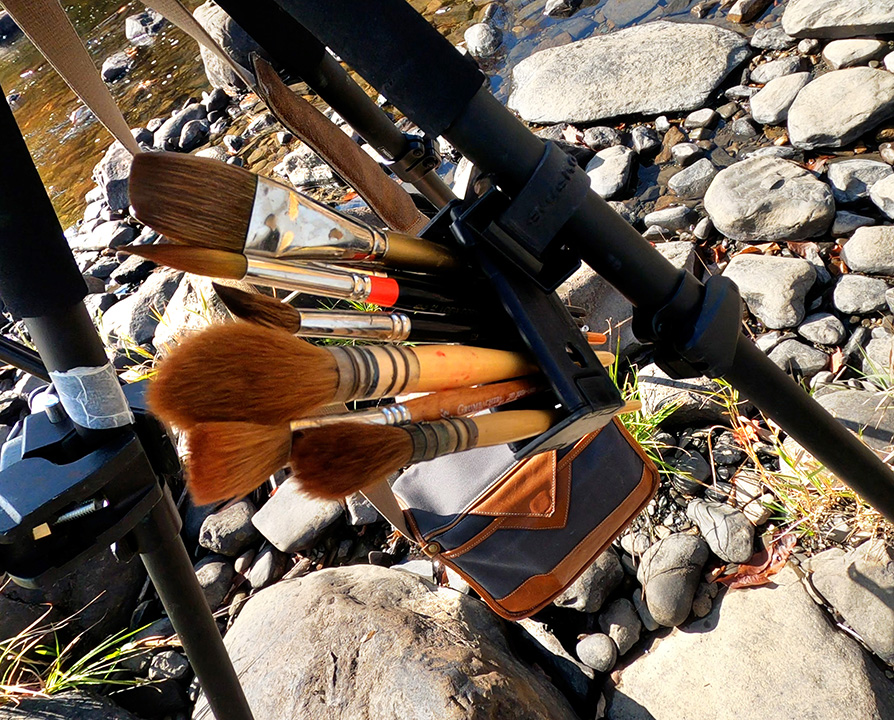 For handy brush access I use a Brush Grip Rotating Brush Holder attached to a tripod leg. The brushes include vintage Grumbacher Kolinsky flats, several sizes of Kolinsky mops, a da Vinci quill, a Raphael Martre Kolinsky size 12, a Lowe-Cornell synthetic round size 12, and an old worn bristle brush for scrubbing out mistakes and blurring edges.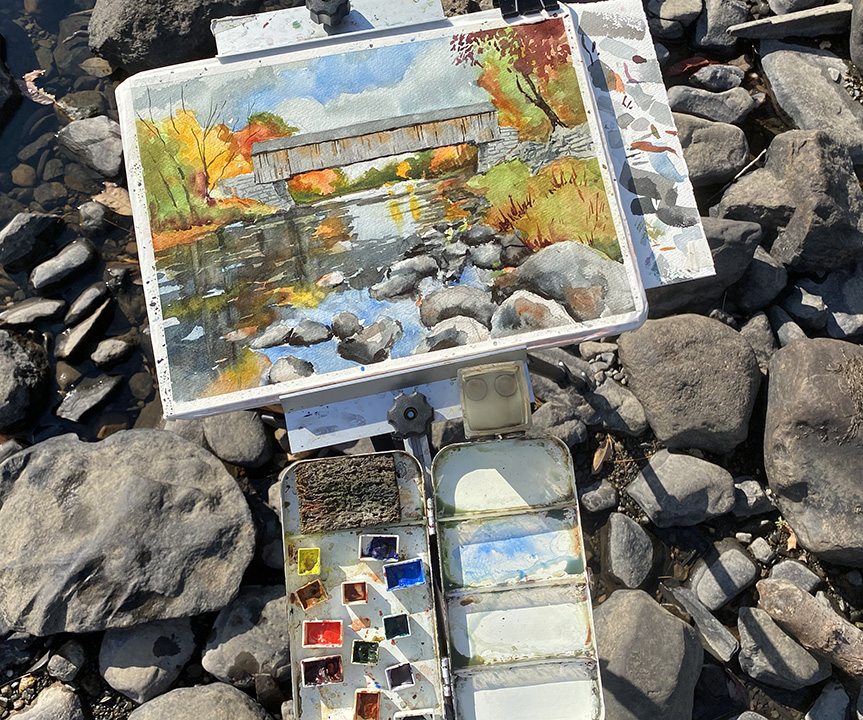 Total weight of all gear is over 30 pounds, making transport a challenge especially when going down steep embankments. The photo above shows the painting after two and a half hours of work, not including getting there and setup.  I was  so thankful for the cooperative Maine weather!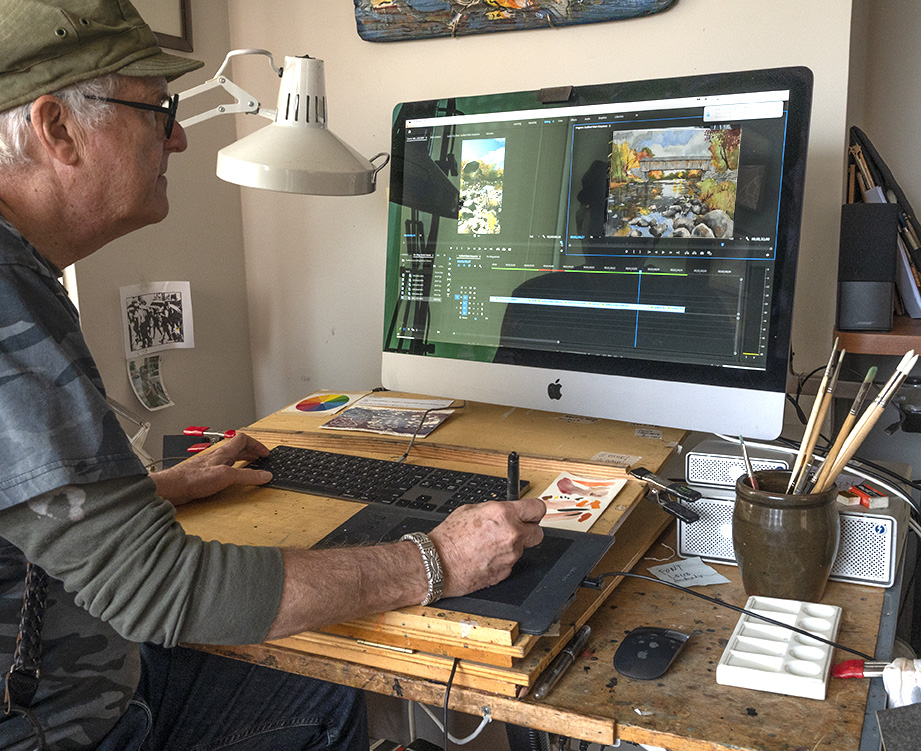 Back in the studio, raw videos were uploaded to an external hard drive, and post-production editing used Adobe Premiere Pro on an iMac Pro with 32 GB of RAM and a Wacom Tablet.  This system has proven pretty seamless for handling basic HD video production with output to both FaceBook and YouTube.  
So gear-heads, I hope you enjoyed this technical exploration of my plein air video.  Please enjoy my other posts and videos below. If you have any questions or comments feel free to post them or email me.
* * * * * * * * * * * * * *
Related posts:
Painting the Historic Bridges of the Catskill Mountains
Capturing A Moment of Inspiration in Maine's North Woods
The Thrill of Watching Paint Dry
A Plein Air Setup for Large-Scale Urban Sketching
Rediscovering my Art Supplies in the Arizona Desert
The Corpus Callosum, Buddha's Enlightenment, and the Neurologic Basis for Creativity
Related videos:
Painting Lowes Covered Bridge in Guilford, Maine
Plein Air Watercolor on the Esopus River
Painting Turtles in Central Park
Plein Air Painting the Hankins Stone Arch Bridge
Painting a Medieval Bridge on the Italian Riviera
Painting the Abandoned Maine Central Railroad
How to Make a Custom Plein Air Palette from an Old Metal Box