When I first started sketching I was overwhelmed with sketchbook choices. I remember going into New York Central Art Supply and getting totally confused with the variety of books with different size, thickness, color of paper, binding, textures, recommended usage, and paper composition.  Since then I've tried a number of brands and these are the ones I used most.  In describing them I will give practical information for urban sketching on the go. 

Strathmore 400 Series Watercolor Sketchbook
Strathmore is an American company that makes a wide array of quality products.  I use the 400 series watercolor softcover book that has 300 gsm (140 lb) paper that is 100% cotton.  The size I use is portrait 7.75 x 9.75 inches and lays flat when opened with a velvety soft black cover.  This is a portable size that is great for quick sketches in the field or heavily rendered studio work.  I also like this book for testing swatches of color.  This is the sketchbook I took to Italy and had a wonderful time doing watercolors on the Appian Way on the outskirts of Rome. 
There are 48 pages in the book, and I have one major beef.  Each page has different surfaces on each side, one rough and the other smooth.  Watercolor behaves much differently on each surface, and on the smooth side the paint tends to sit on the surface and clump up.  For sticklers about paper surfaces, this will reduce usable pages by half.  That said, the books have a good feel and I really like the rough surfaced pages.
For more info on the Strathmore 400 Series Watercolor Sketchbook click here.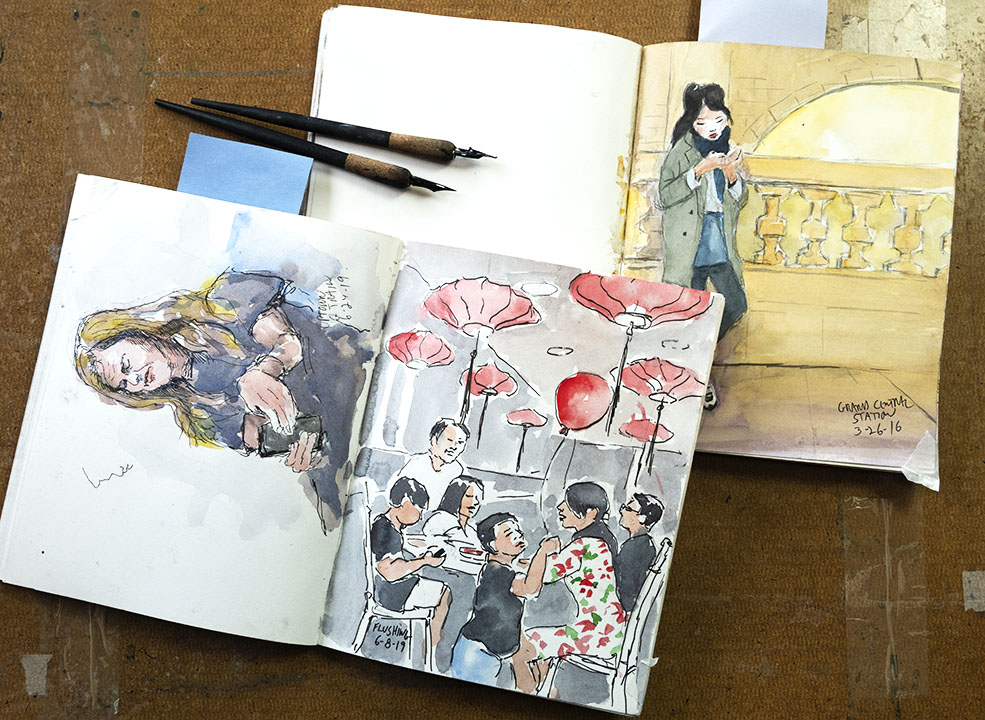 Strathmore 500 Series Mixed Media Sketchbook
This was my original go-to street-sketching sketchbook for years.  The paper is 190 gsm (90 lb), smooth and made from 100% wood pulp.  Although the paper is light-weight it holds up extremely well when wet with no crinkling. This paper takes dry and mildly wet media well including pencil, charcoal, markers, ink, light watercolor, and gouache. I use the portrait-oriented soft cover art journal 7.75 x 9.75 inches, that has a black cover with a lovely soft feel and contains 64 pages. If you like soft cover sketchbooks I highly recommend this one for all around rough use.
For more info on the Strathmore 500 Series Sketchbook click here.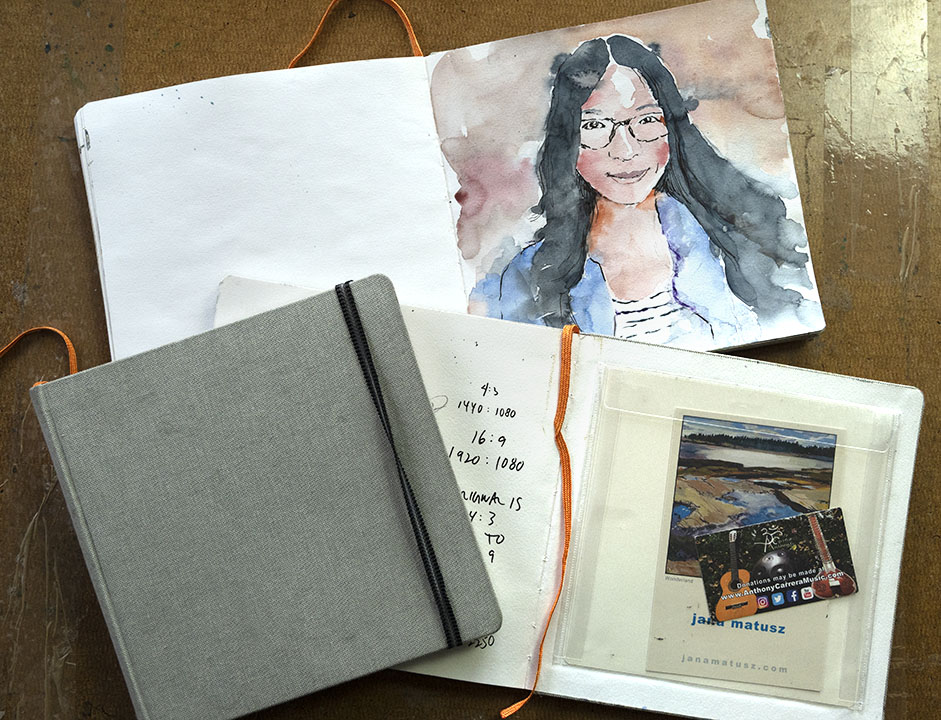 Hand Book Co. Travelogue Watercolor, by Two Hands Paperie
This durable sketchbook is made by a small company in Colorado.  There are several shapes and sizes and the one I use is square 8.25 x 8.25 inches. The paper is cold press with 60 pages of hand-sewn 200 gsm (100 lb) paper.  The cover is attractive gray woven linen that gives it a rustic feel and there is an orange place-holder ribbon and an elastic band to keep the book closed when not in use or stored in your backpack.  A super great feature is the clear envelope affixed to the inside back cover paste-down that is convenient for business cards, receipts, train tickets, and any other ephemera that you need to keep. 
The paper takes ink from markers and fountain pens very well and doesn't warp or crinkle getting wet.  The smooth cellulose surface takes thin washes best, but doesn't take kindly to layering multiple washes.  With all its features and its strong paper, this sketchbook has become one of my favorites for all around use particularly for quick sketches on the go. 
For more information on this Travelogue Hand Book click here.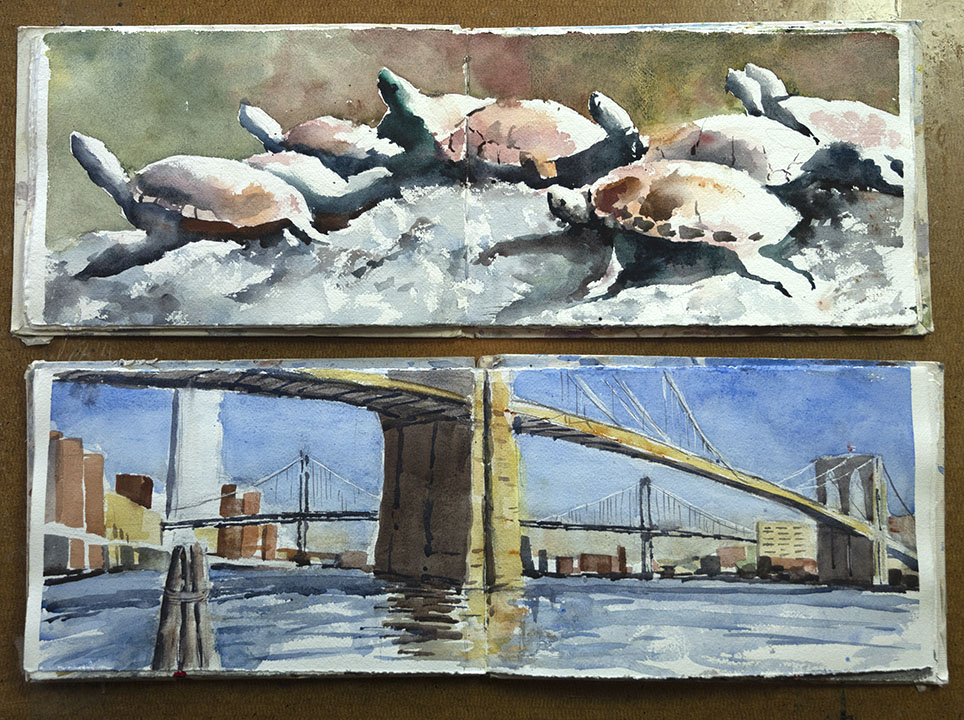 Lorenzo Santoni Watercolor Sketchbook
This book is purely for watercolor, and is an absolute joy to use.  Completely handmade in Italy, the Fabriano paper has all sides with deckle edges.  There are 18 pages plus paste-downs on inside covers front and back that you can paint on.  Lorenzo makes several sizes and I use the landscape 8 x 11.25 inch hardcover book.  The cover is textured cloth available in off-white or pinkish, and the book has an earthy hand-made feel. 
The paper is 300 gsm and 100% cotton with rough texture that holds brushwork and washes just fine, and is great for dry-brush effects.  Because of its thickness it really takes a beating with scrubbing and gouging.  Open it up and the book lays nice and flat.  Like any quality cold-press watercolor paper with rough surface it doesnt take fountain pen or markers well.  This is my favorite watercolor travel sketchbook, and the book sings to me when I paint on it.
Those that don't like small imperfections that come with handmade sketchbooks should stay away.  Also be aware that shipping from Italy is about triple the cost of the sketchbook!  I would consider this is a specialized item and would think twice before recommending for entry level sketchers, but if you can get ahold of one, go enjoy!
You can contact Lorenzo through Facebook but be aware that stock may be limited.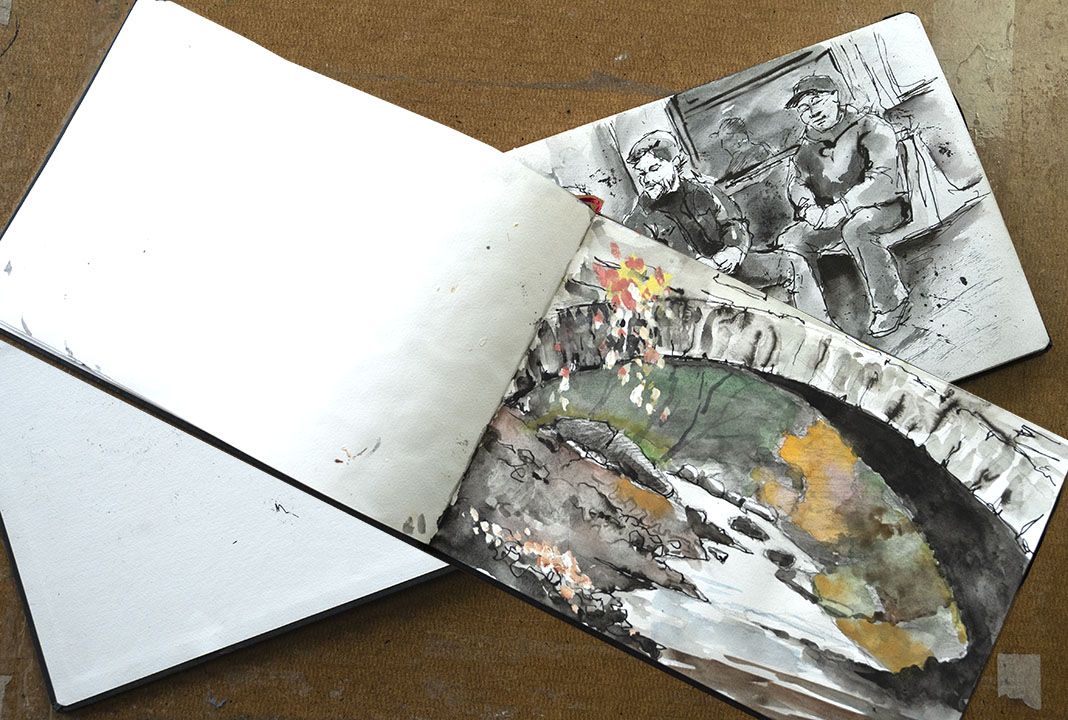 Hahnemühle Watercolor Book
The Hahnemühle Watercolor sketchbook I tested was landscape format 8.5 x 12 inches, which corresponds to standard A4 international paper size.  Hahnemühle is a German company that's been around since the 16th Century.  There are 60 pages (30 sheets) of 200 gsm (100 pound) fine grained paper that is 100% cellulose and contains no cotton and has rounded corners.  This paper composition might be a deal-breaker for traditional watercolorists.  The cover is durable, slightly shiney, fine-woven black cloth and there is an elastic band to hold the book closed when not in use, and an orange ribbon placeholder. 
This is a well built sketchbook that will take serious abuse on the road, and very similar to the Fabriano Sketchbook described below.  The 200 gsm paper is smooth and reminiscent of hot-press, but tends to buckle underneath with moderate washes.  I find that the finely woven cover and rounded edges give this book a high-end factory feel that sometimes is uncomfortable when doing practice sketches, as you think there is pressure to up your game when using it.  
Click here for more info on the Hahnemühle sketchbook.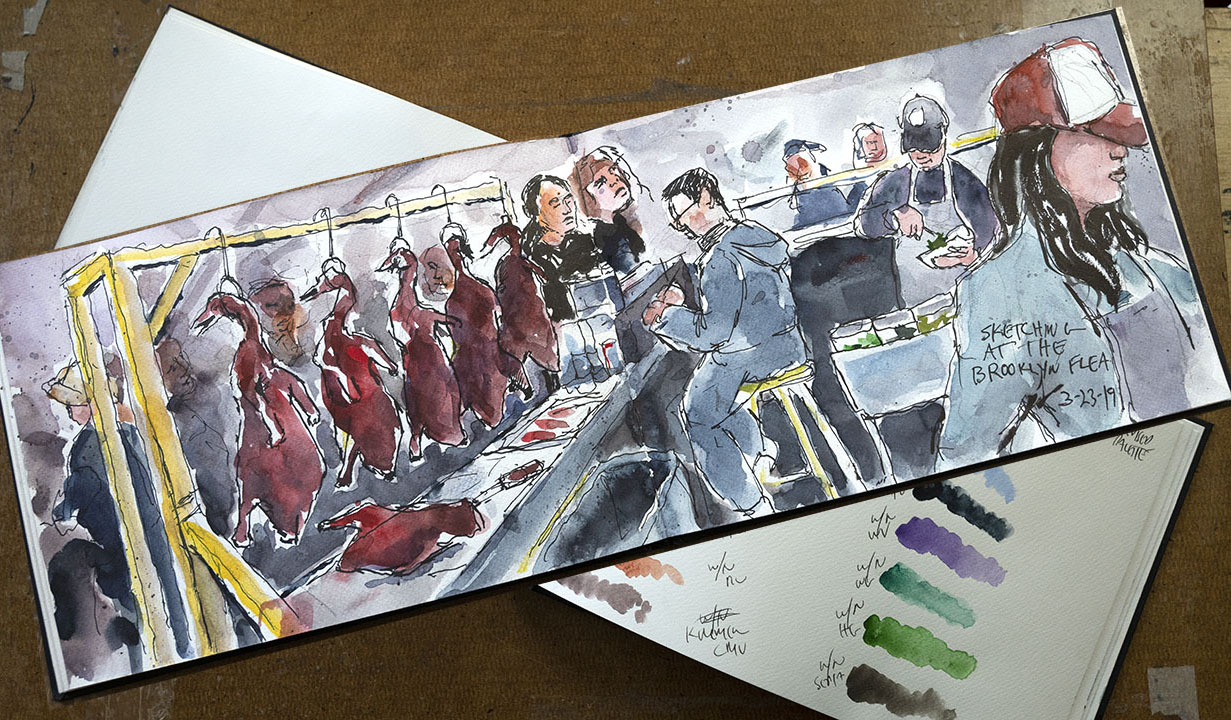 Fabriano Watercolor Sketchbook
Fabriano watercolor sketchbooks are available in spiral bound or thread sewn construction.  The spiral bound paper is 300 gsm (140 lb) and the thread sewn paper is 200 gsm (100 lb).  I tested the 21 x 29.7 cm (8.26 x 11.7 inches) which has 60 pages (30 sheets), and is about the same size as the Hahnemühle book but feels more down-to-earth. There is no elastic band or ribbon placeholder.
This paper is slightly textured and made with 75% cellulose and 25% cotton, and feels and behaves very similar to the Hahnemühle paper.  I  couldnt tell much difference in handling with the additional cotton. Just like the Hahnemühle, the paper buckles a bit with a wash.  This book is a great all-around sketchbook that holds up to wear, and takes ink, fountain pen, and gouache extremely well. 
For more information on this Fabriano sketchbook click here.  
* * * * * * * * * * * * * * *
Related posts:
Capturing the Bolivian Sunlight in Watercolor
Sketching the Subway and the Disappearance of Time
Sketching at the Museo del Prado
Urban Sketching in Portland, Oregon
Watercolor and Urban Sketching in Italy
Urban Sketching in Porto and Madrid