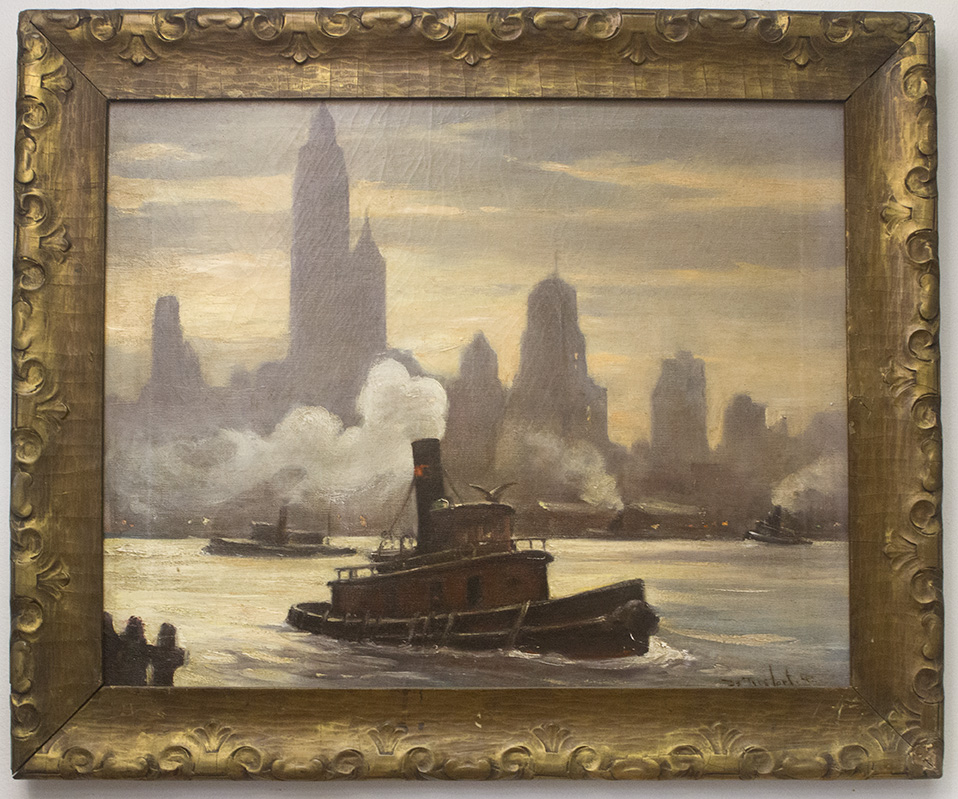 Years ago while browsing a second-hand store I became entranced by a moody oil painting of a tugboat with a silhouette of lower Manhattan in the background. The painting was covered in grime and might have decorated a smoky bar that served longshoremen who worked the waterfront. It was beyond my budget but I offered a credit card and carried it to my office where it's been hanging ever since. The date appeared to be 1942, but I couldn't recognize the signature that was partially hidden by the frame, and never identified the artist… until now.
While searching the web for images of New York City I recognized the artist's style and matched the signature with the painting. The name was Bela de Tirefort, an artist once part of the Greenwich Village scene but now forgotten. My thrill of identifying the painter was tempered by the nearly complete lack of information about his life after searching the internet for hours.

Bela de Tirefort was an immigrant from either Austria or Eastern Europe – both are mentioned in various bios. Born in 1894, he painted Manhattan street scenes from the 1930s to the 1950s. Subjects include iconic locations such as Washington Square Park, the Flatiron building, elevated subways, the Brooklyn Bridge, and the riverfront.  His paintings were executed in muted tones, and reflect the sensibilities of the Ashcan School that flourished in the late 19th and early 20th Century. His views of the river and lonely streets might have been influenced by Reginald Marsh and Edward Hopper who painted New York City in the 1930's.
An article in the Brooklyn Daily Eagle published October 12, 1932, in the midst of the Great Depression, provides a rare photograph of de Tirefort at an open air art market in Grand Army Plaza. The article reveals that he was an organizer of the show, where prices ranged from one dollar to $15.00.
In 1966 de Tirefort retired to St. Petersburg, Florida where he died in 1993 at the age of 99. His one-paragraph obituary in the Tampa Bay Times reveals no details about his life, and nothing about surviving family or paintings that remained in his estate. It does provide a grainy photograph of a frail looking man of advanced age, and credits him with organizing the first Greenwich Village art fair.  If true, the year was 1931 and he might have exhibited alongside a struggling Jackson Pollack and Willem DeKooning, both of whom would achieve fame that eluded de Tirefort. 
I recently had the painting cleaned hoping to bring out the colors, but de Tirefort's tones were so muted that there wasn't much difference. There were however hints of warm tones in the sky that might reflect fugitive colors that faded with exposure and the passage of decades.
One can only imagine who Bela de Tirefort was, where he lived, and what his life was like. Did he rent a drafty garret where he shivered through New York winters while laboring at his paintings? Did he struggle to buy food and new brushes? Did he live sparingly, allowing him to save enough money to retire comfortably in Florida, or did he suffer from poverty in his old age?  How many other artists like him struggled for success in New York City but were forgotten? These are the questions I ponder while admiring de Tirefort's skillful brush strokes – full of expression – that capture the Manhattan skyline of the 1940s.
* * * * * * * * * * * * * * * * *
Related posts:
Remembering Susan Perl – Illustrator 
The Ticket That Got Me Through Medical School
Sketching the Subway and the Disappearance of Time
The Corpus Callosum, Buddha's Enlightenment, and the Neurologic Basis for Creativity