Last May I spent time in Rome and Tuscany, eating wonderful food, drinking wine, and sketching the city and countryside where opportunities to make and view art abound.  These are my choices of the best images from my trip. Take the stairs down to the banks of the Tiber River and you will find it virtually deserted.  This is where I sketched this peaceful scene below.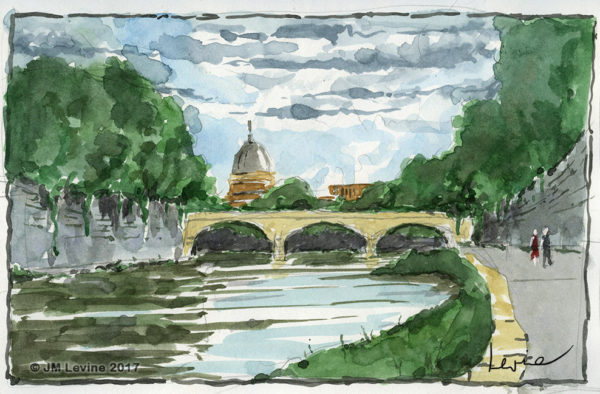 It took some searching to find a room overlooking the Roman Forum.  The place was sparse and without soap in the bathroom, but the view was spectacular and thats why I was there. The birds on top of the Temple of Mars woke me up in the morning.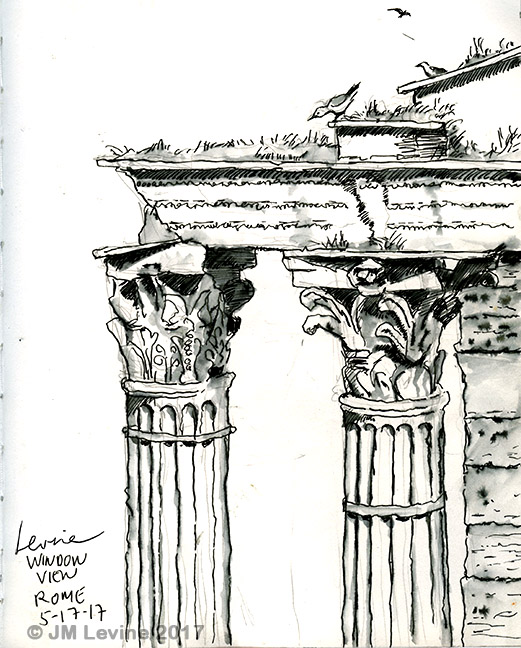 I sketched by the Trevi Fountain which was jam packed with tourists. A group surrounded me and watched as I painted, never expecting I would become a tourist attraction.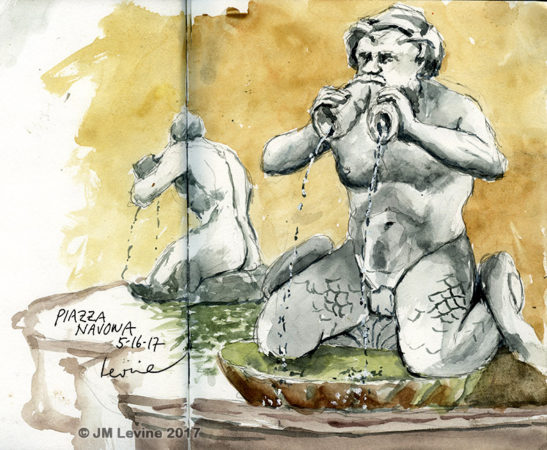 Below is another scene on the banks of the Tiber River, this one under the Ponte St. Angelo that goes directly to the Vatican.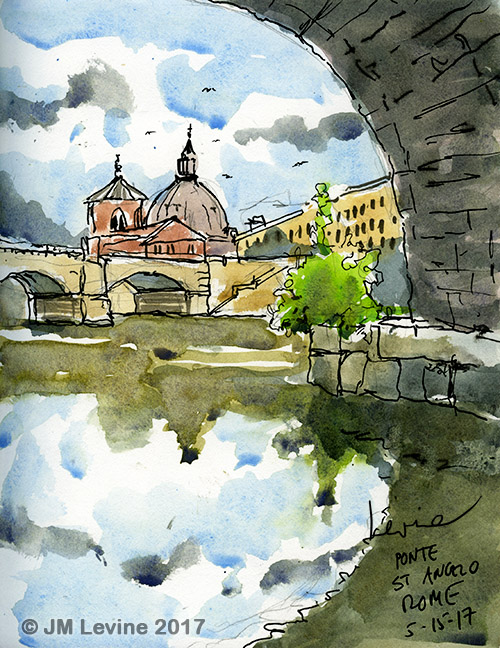 I rented a bike to travel down the famed Appian Way, the ancient Roman Road where 6,000 of Spartacus's followers were crucified in 71 BC. It was practically deserted which was a pleasure compared to the hordes of tourists in the city.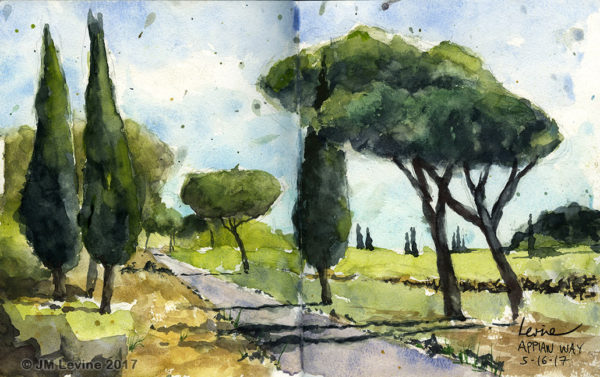 When in Tuscany I had the opportunity to spend time and learn with master artist and Urban Sketcher Maj Modir, who taught me things and took me places I never wound have seen.  This view of the Tuscany countryside with rolling hills and fields was sketched from Maj's studio.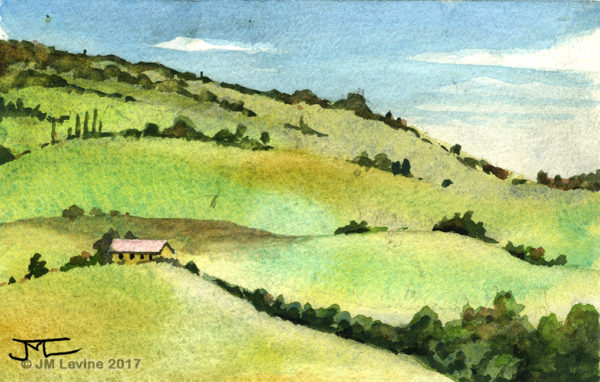 This scene below was painted in an abandoned monastery in the Medieval town of Volterra.  The exercise was to use a single color expressing tone and shadow.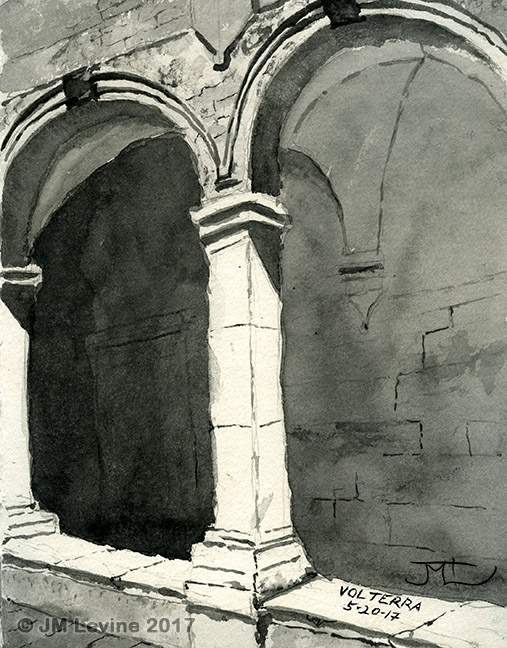 Tuscany abounds with flowers and gardens.  Here is a quick watercolor sketch where I struggled for simplification.  It looks easier than it is.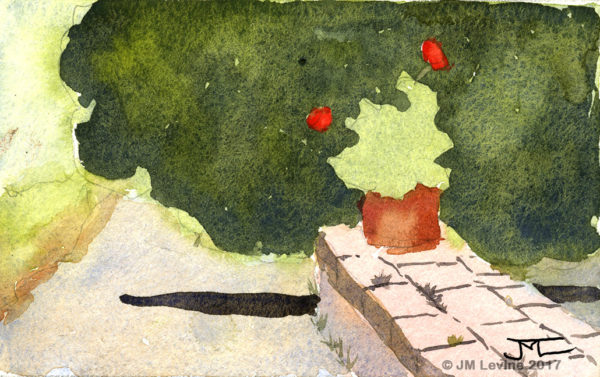 The town of Volterra is at the top of a hill.  Here is a quick watercolor sketch of the Tuscany sky in the late afternoon from a park at the edge of town.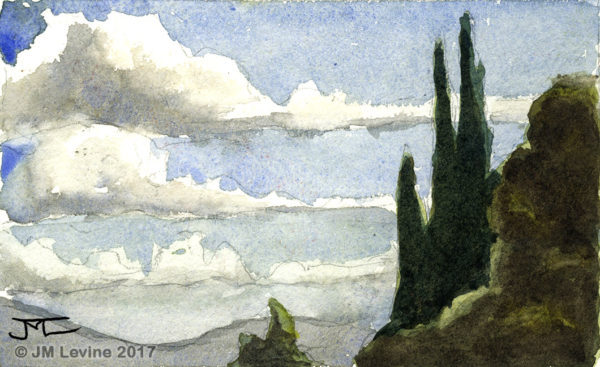 I tried to capture the late afternoon sun and shadows in the Medieval town of Volterra.  Spring in Tuscany gave me some of the worst allergies I've ever experienced.  The result below is pretty amazing when you consider that I could hardly see with stinging and tearing eyes.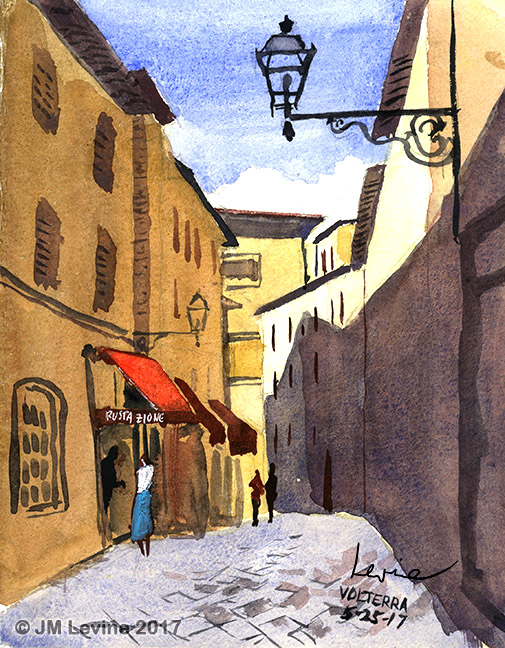 On my last night I stopped by the seaside town of Ostia, which is near an ancient ruined city called Ostia Antica.  I spent a lovely day painting in the ancient ruins. Way out of the tourist loop, I had this enchanting place almost to myself.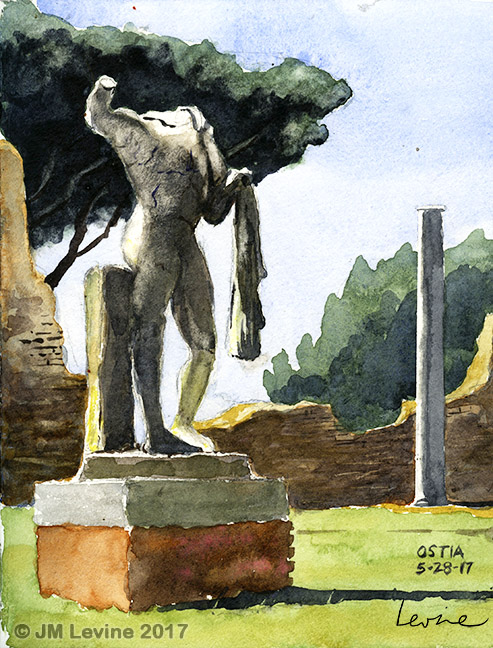 So that was my trip to Rome and Tuscany.  What a great experience to concentrate on making art for a solid two weeks.  Special thanks to Maj Modir who ran an incredible watercolor workshop in Tuscany under the sponsorship of Urban Sketchers – an international group that is a source of constant inspiration.
* * * * * * * * * * * * * * *
Related posts: