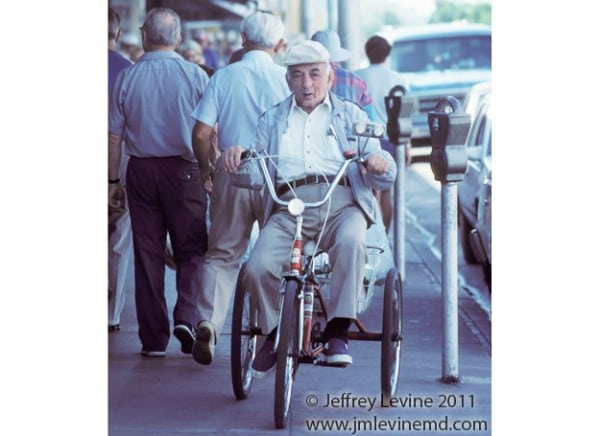 When I was growing up, my grandparents wintered in Miami.   I remember visiting them and feeling the warm sunshine and sand that sometimes scalded your feet when days were hot.  In 1985 while training in geriatrics in New York City, I returned to Miami to photograph the aging Jewish retirees.  Little did I know that I was recording the twilight of Jewish South Beach.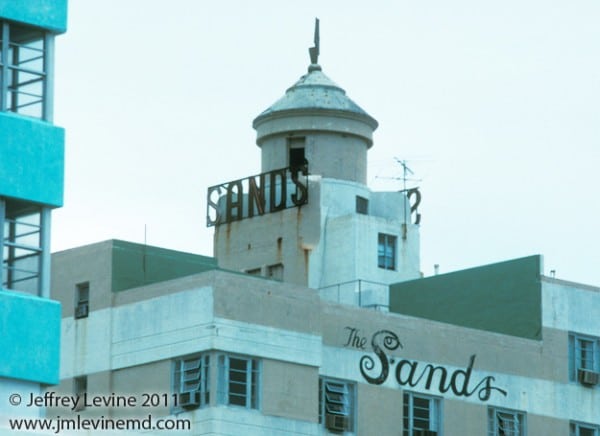 These Kodachromes were in storage for over 25 years when I found them in a box.  I scanned them into Photoshop where I dedusted them and before my eyes a vanished world emerged.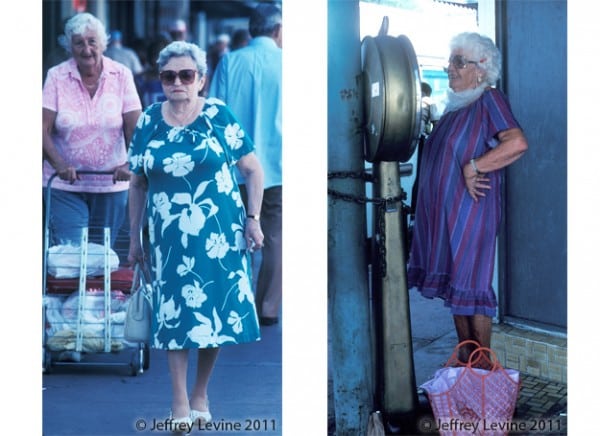 In these photos you can see a run-down Ocean Drive beachfront partially surrounded by barbed wire.  The neon decorated hotels with names like Shorecrest, Haddon Hall, and Royal Palm all had elderly people passing the time in chairs on the porch.  The smells of mildew and chicken soup drifted from the open doors.  Other hotels like the Ritz Plaza and The Sands were dilapidated and fading, and the skyline did not have the high-rise look of today's Miami Beach.  Washington and Collins Avenue had no boutiques, and were crowded with older people shopping for vegetables and speaking Yiddish.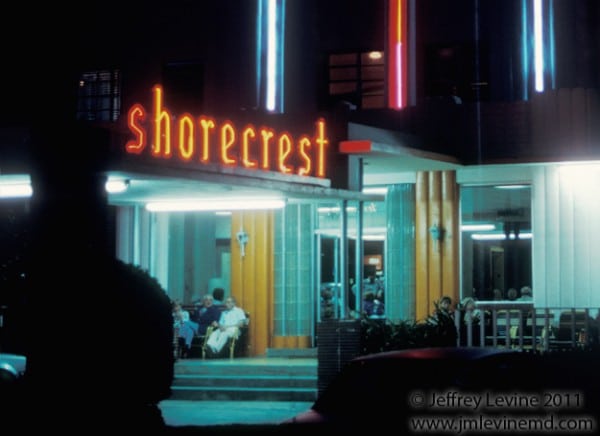 In 1913 the first Jewish people settled in Miami Beach.  A tourist and real estate boom took place in the 1920's, but barriers to Jewish ownership of real estate restricted them to south of Fifth Street – the area that became known as South Beach.  The population grew to 3,500 Jews, and in 1949 Florida's Legislature ended discrimination in real estate and hotels.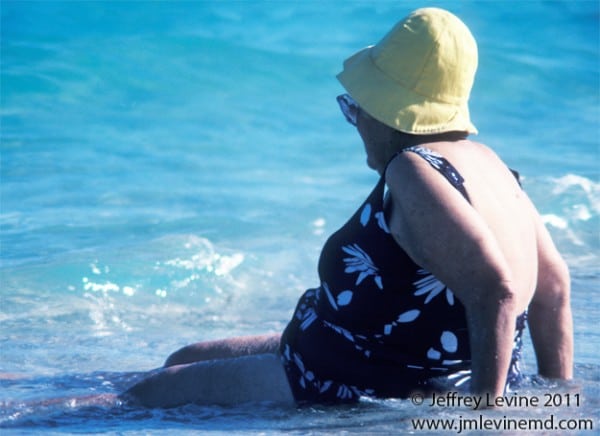 South Beach became the place to go for Jewish winter vacations and retirement, a place that would be called a NORC today, standing for Naturally-Occurring-Retirement-Community.  Isaac Bashevis Singer, the Nobel Prize winning author who wrote in Yiddish, made his winter home there.  He wrote,
"For me, a vacation in Miami Beach was a chance to be among my own people.  In those days Miami Beach was a magnet for Jewish people – a place where they flocked like geese to rest and warm themselves in the sun." 
The Art Deco buildings of the 1930s and 1940s – many designed, built and operated by Jews during the days of restricted ownership – ultimately became world recognized architectural treasures.  In the 1980s, Barbara Baer Capitman launched the campaign that established the Art Deco District, which began the transformation of South Beach into an upscale scene of models, clubs, and luxury hotels.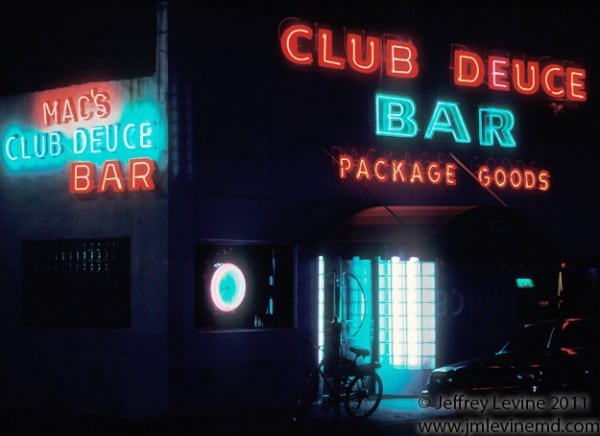 According to statistics from the Greater Miami Jewish Federation, in the 1970s, about 80 percent of the population on Miami Beach was Jewish. By 1980, the Greater Miami Jewish population reached its all-time peak of 230,000.   By 1985, the Jewish population had declined to 209,000.  This was the year that I visited with my camera.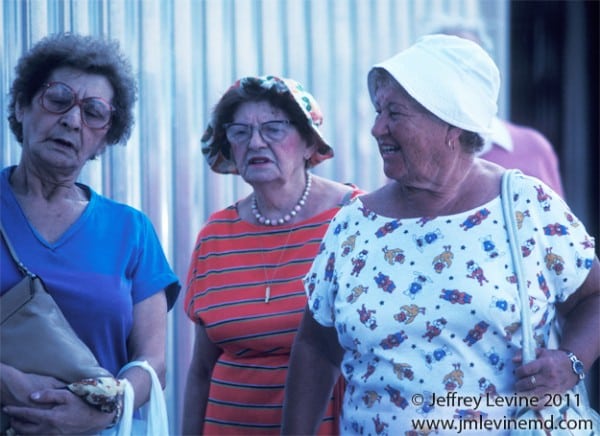 Today many landmarks have disappeared such as Wolfies, the last standing Jewish deli in Miami.  The last kosher hotel, the Saxony, closed in 2005 to make way for condominiums.  While the elderly Jews have vanished, the pastel colored Art Deco hotels still stand.  But I am certain that there are still plenty of memories of grandparents walking the streets and strolling in the cool waves that washed the shores of South Beach. 
* * * * * * * * * * * * * * *
Related posts:
A Train Graveyard in Thorndike Maine
Aging on the Covers of The Gerontologist
Celebrating Old Age at the Burning Ghats of Benares
Victory Day in Moscow
A Taste of Ancient Peruvian Medicine
The Twilignt of Jewish South Beach, Miami
The Elders of Taquile Island in Peru
Aging in Central Asia
Photographing Los Ancianos of Bolivia
Aging Inside Angola State Penitentiary
Faces of Istanbul
Photographing Wigstock in Tompkins Square Park 2003
Geriatrics, Art, and Ancient Treasure on Lake Titicaca
An Abandoned Psychiatric Hospital in Tuscany
Childhood Dreams Under the Pulaski Skyway
Manhattan After the Hurricane
Photographing Letchworth Village
Returning to Cow Canyon Trading Post
More Vanished Signs of New York
The Meatpacking District Before the High Line
.