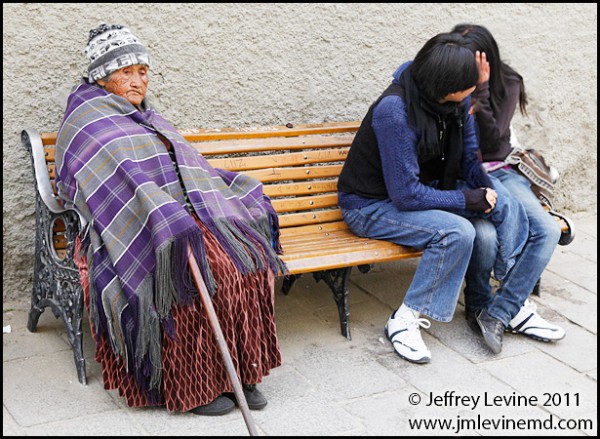 This past summer I returned to South America to photograph aging, and one of these photos is featured on the December cover of The Gerontologist.  This is the flagship journal of the Gerontological Society of America.  I am often asked about my "TG" cover photos (there's been about 40 since 1995), so I decided to give some background on this picture.  My destination was La Paz, Bolivia – a crowded and fast growing city of 800,000 people which sits high in the Andes at 12,000 feet.  Despite the large population there were surprisingly few homes for the aged, and I had the unique experience of visiting two of them.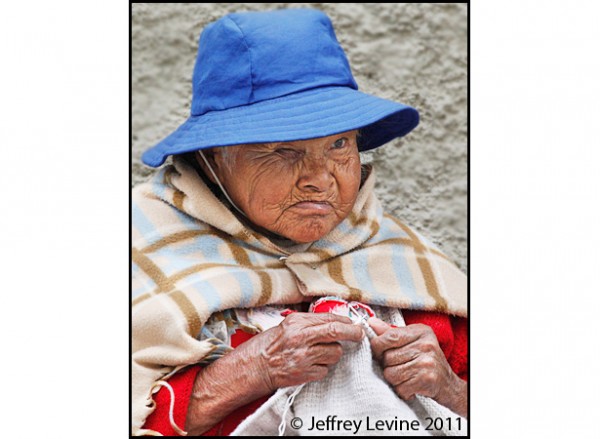 Bolivia is a poor country, and you can see the elders hard at work in the stores and markets.  As a rule, most elders remain at home with their families.  I saw very old people tending livestock, working the fields, carrying firewood and crops on their backs, and fishing on Lake Titicaca.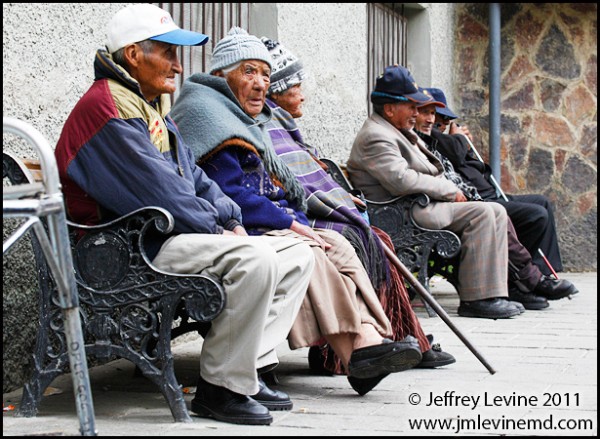 The homes I visited each provide housing for about 25 people.  One served as a permanent residence, while the other was a temporary way-station for elders found in the street and in need of placement.  The common denominator of the residents was absence of family.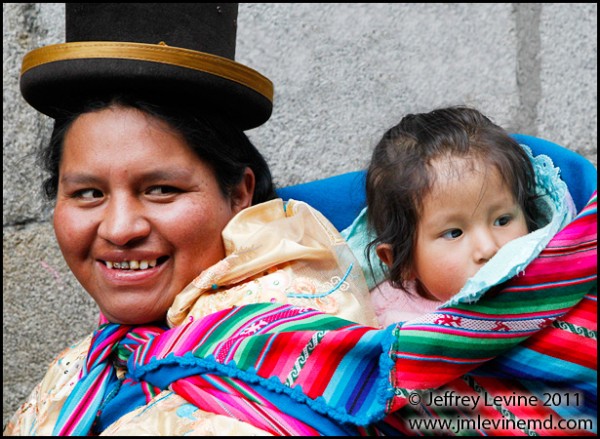 In preparation for my visit I took the advice of my guide and prepared fist sized packets of coca leaves to give to each of the elders, who were thrilled with the gift.  I was able to interview not only the residents but the nurses and other caretakers who worked there.  Room, board, medical care and medications were completely subsidized by the Bolivian government.  There was a nurse on-site every day, and a doctor visited three times a week.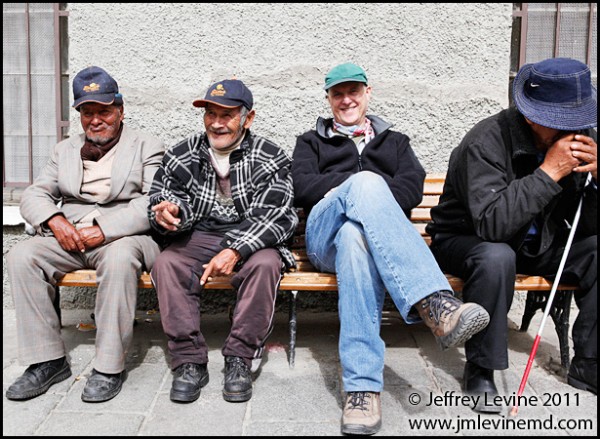 One of the oldest I met was a spry lady named Alicia.  She claimed to be 95, and wanted me to hire her as a housekeeper.  "I am poor and I am ignorant," she told me through my guide, "but I can do good work in your home." Another elder, a former boxer who seemed to be the entertainer of the group, proudly showed off his badly deformed nose that had been broken in a match years ago.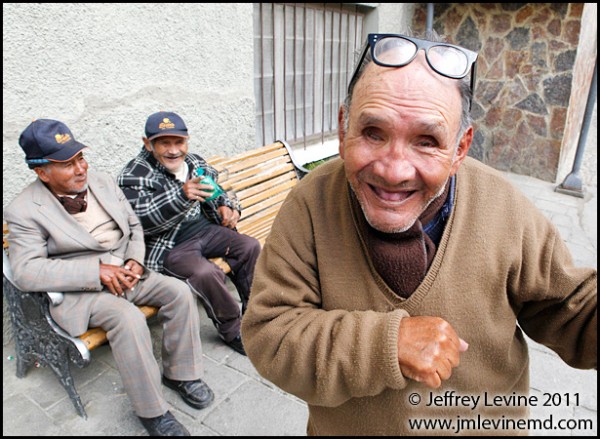 The first home was located on a quiet cobblestoned street in the old colonial section of La Paz, and named Asilo Residencio de Adulto Maria Esther Queldo.  It was an airy building with a large inner courtyard and a chapel filled with candles and icons.  The elders sat contentedly on benches outside as they warmed themselves in the morning sunshine.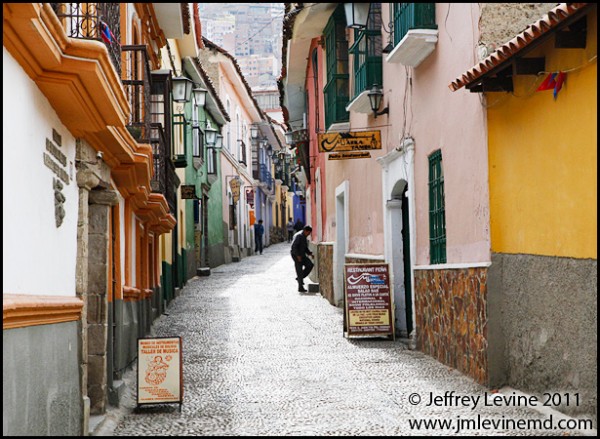 The second home was in a grand but decaying colonial mansion with huge heavy gates and two inner courtyards.  When I arrived there was a lot of activity, as a group of hair salon students from a local trade school were busy primping the men – providing haircuts, shaves, and nail care under the careful watch of their teacher.  Some before-and-after appearances of the men were amazing, and they certainly appreciated the attention of the young women.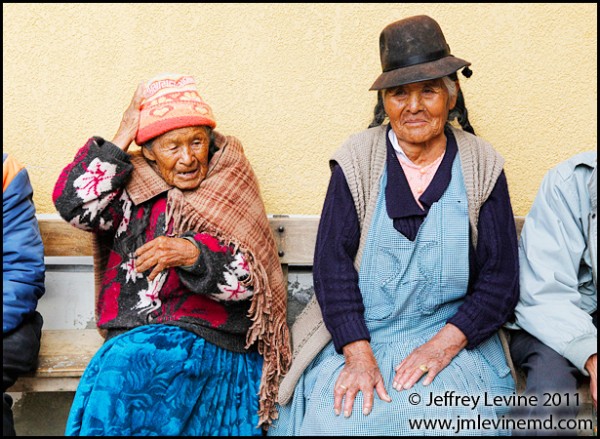 I was taking a rest in the courtyard when an ancient, stooped over woman came from her darkened room for lunch.  She was struggling slowly with small steps, but able to walk while leaning hard on her cane.  Her effort to traverse the walkway seemed almost heroic.  I happened to be in just the right position and the light was good, so using a medium length telephoto lens I pressed the shutter as she hobbled to the dining area.  After watching her, I was grateful that my two legs can still function.  That is the shot featured on the cover of this month's issue of The Gerontologist.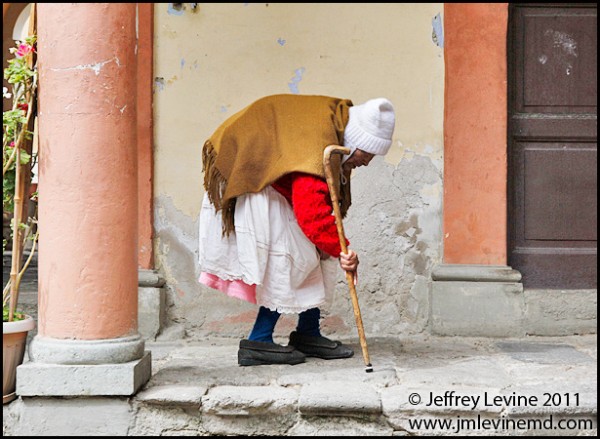 Growing old is a universal human experience, and I enjoy observing how different cultures treat old people, and how people adapt to advancing years.  In this poor country the elders have a strong place in society – working and caring for children.  There is obviously no such thing as retirement.  In the homes for the aged that I visited, there were a small number of well cared for people.  But I wonder what holds for the future as the population ages, and worry whether this small infrastructure of homes for the elderly will be adequate.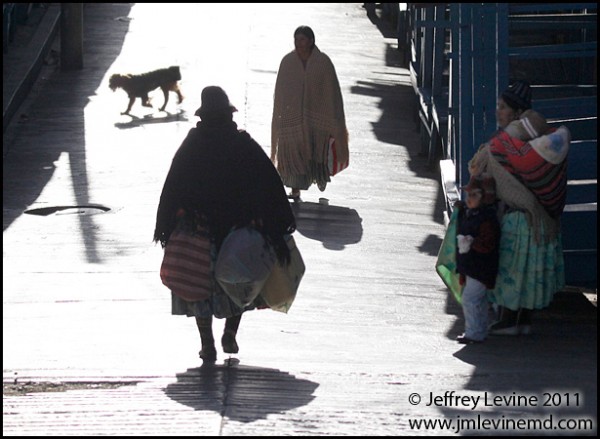 * * * * * * * * * * * * * * *
Related posts:
A Train Graveyard in Thorndike Maine
Aging on the Covers of The Gerontologist
Celebrating Old Age at the Burning Ghats of Benares
Victory Day in Moscow
A Taste of Ancient Peruvian Medicine
The Twilignt of Jewish South Beach, Miami
The Elders of Taquile Island in Peru
Aging in Central Asia
Aging Inside Angola State Penitentiary
Faces of Istanbul
Photographing Wigstock in Tompkins Square Park 2003
Geriatrics, Art, and Ancient Treasure on Lake Titicaca
An Abandoned Psychiatric Hospital in Tuscany
Childhood Dreams Under the Pulaski Skyway
Manhattan After the Hurricane
Photographing Letchworth Village
Returning to Cow Canyon Trading Post
More Vanished Signs of New York
The Meatpacking District Before the High Line