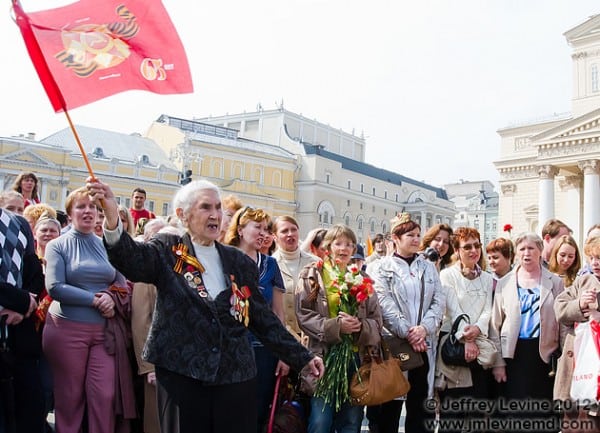 Victory Day is the Russian national holiday commemorating surrender of the German army on May 9, 1945. The country fought for 6 bloody years and lost over 26 million people including 8.5 million soldiers.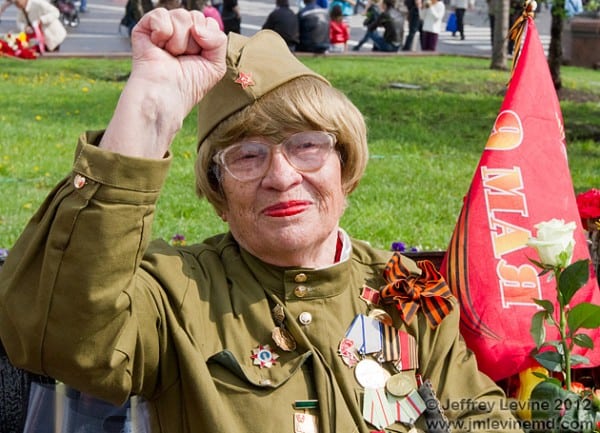 In Moscow there is a military parade in Red Square, and afterward there is a gathering near the Bolshoi Theater that honors veterans, many of whom show up in full dress uniform. I traveled to Moscow in May 2012 to photograph the celebration of the aging veterans.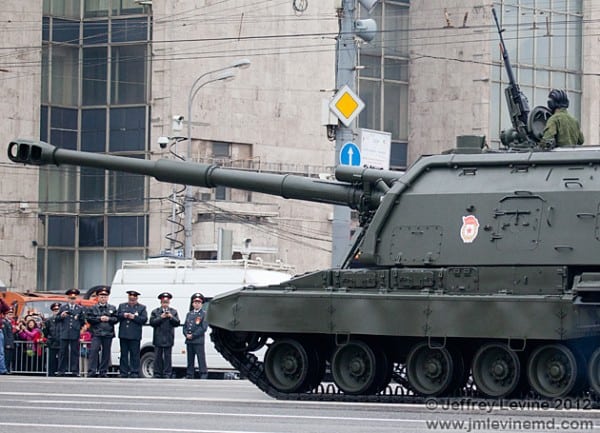 The day started with clouds and rain but by noon the sun was gleaming off the massive columns of the Bolshoi Theater. Water splashed in the fountain as elderly veterans milled about collecting roses, carnations, and daisies and telling war stories.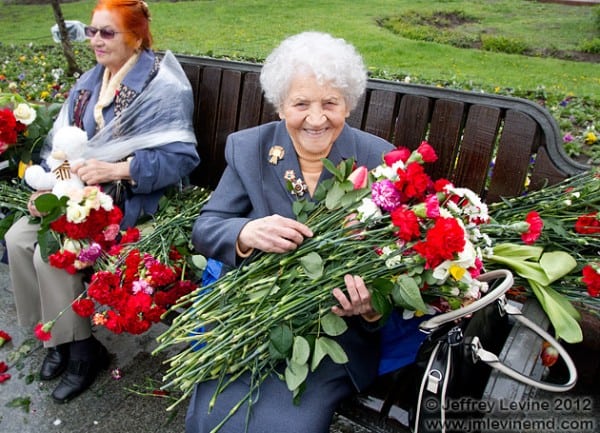 Most looked proud, some looked lost, some cried, and some sang songs or recited poetry. There were lots of hugs and serious catch-up on gossip. They shared sausages and vodka, memories and tears.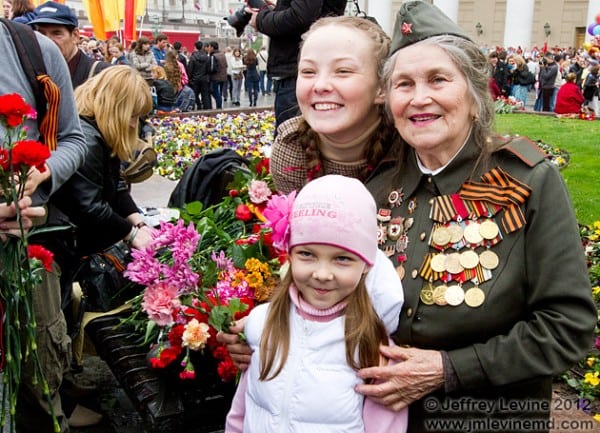 Some veterans brought their wartime picture albums, proudly showing off photos of themselves in the prime of youth. I noticed one man with a pile of old newspaper clippings. He sat with two gray haired ladies on a bench passing around the yellowed scraps of paper.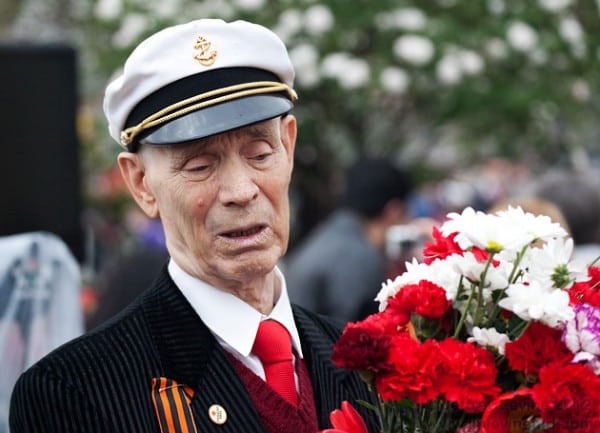 One bench was covered with black and white photos of German atrocities, including piles of emaciated corpses. I watched as a small child turned her head away in horror.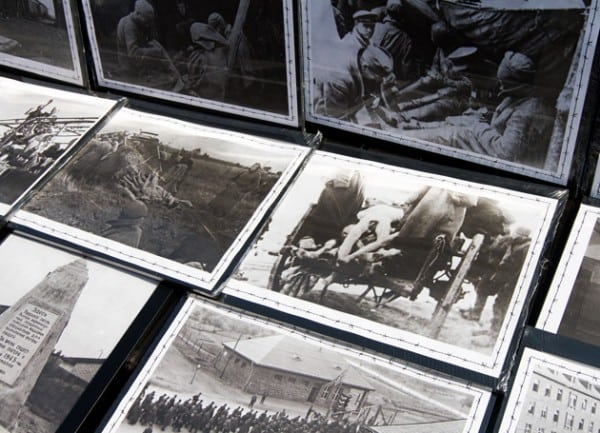 Circles formed around accordion players and people danced. One elderly man fell and looked embarrassed. Others jumped and spun with joy. The music reflected the wartime spirit from long ago.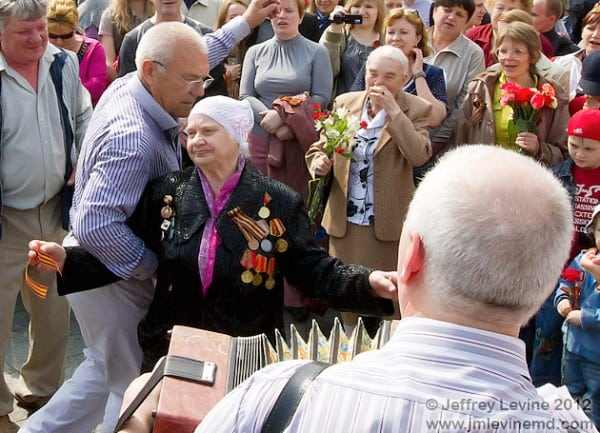 Many veterans were in full dress uniform, their chests covered with medals. Parents ordered their children to stand next to them for photos, and often they were stiff with fright. Some veterans told war stories while wildly gesticulating with their hands as crowds gathered around to listen.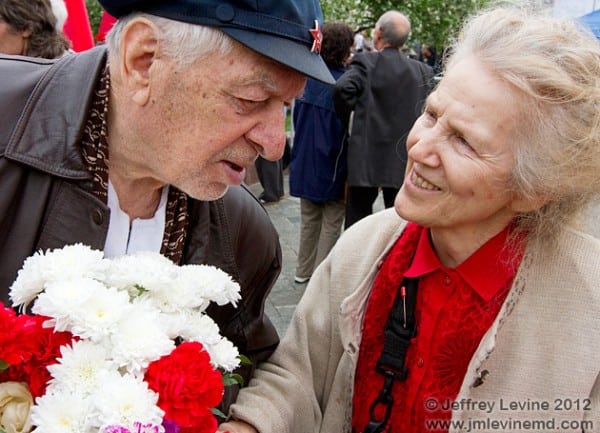 All received flowers.  One by one, flower by flower, the veterans received so many that they were impossible to carry. Many had friends or family to carry them, some had small carts, and some had nobody to help them.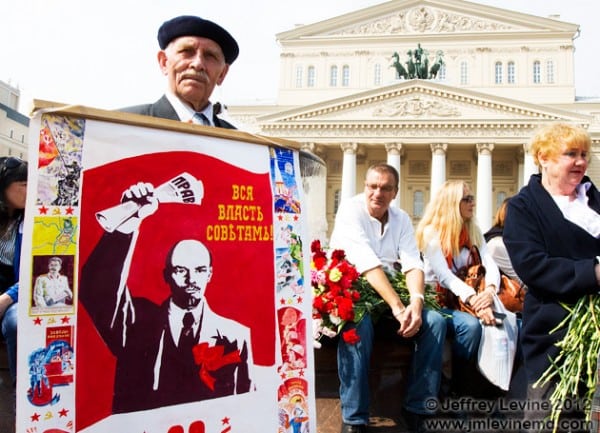 One well dressed man in particular caught my eye. He carefully unwrapped a fresh-looking poster of Lenin. His name was Maksimo and through a translator I learned that this was his original artwork from the days he worked as a propaganda artist for Stalin.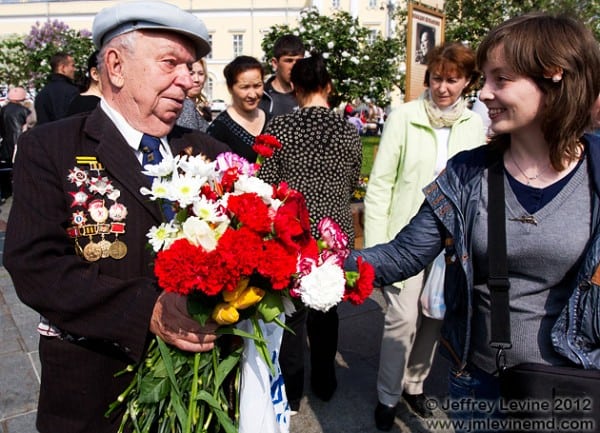 Red flags fluttered as they packed up their picnic baskets and flowers to head home.  A serious looking woman wandered in circles while hugging a portrait of Stalin. In the distance the afternoon sun reflected off the arsenal tower of the Kremlin as Victory Day 2012 drew to a close.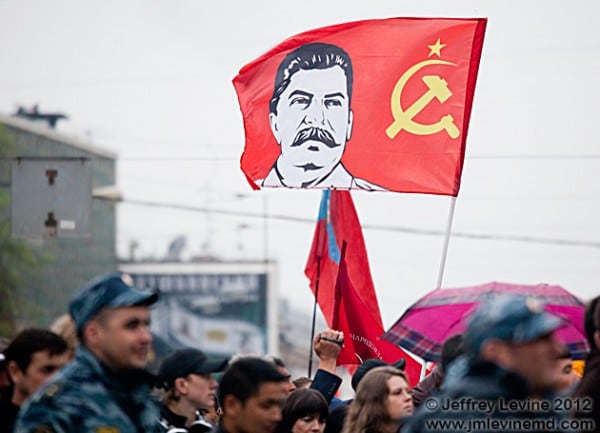 * * * * * * * * * * * * * * *
Related posts:
A Train Graveyard in Thorndike Maine
Aging on the Covers of The Gerontologist
Celebrating Old Age at the Burning Ghats of Benares
A Taste of Ancient Peruvian Medicine
The Twilignt of Jewish South Beach, Miami
The Elders of Taquile Island in Peru
Aging in Central Asia
Photographing Los Ancianos of Bolivia
Aging Inside Angola State Penitentiary
Faces of Istanbul
Photographing Wigstock in Tompkins Square Park 2003
Geriatrics, Art, and Ancient Treasure on Lake Titicaca
An Abandoned Psychiatric Hospital in Tuscany
Childhood Dreams Under the Pulaski Skyway
Manhattan After the Hurricane
Photographing Letchworth Village
Returning to Cow Canyon Trading Post
More Vanished Signs of New York
The Meatpacking District Before the High Line