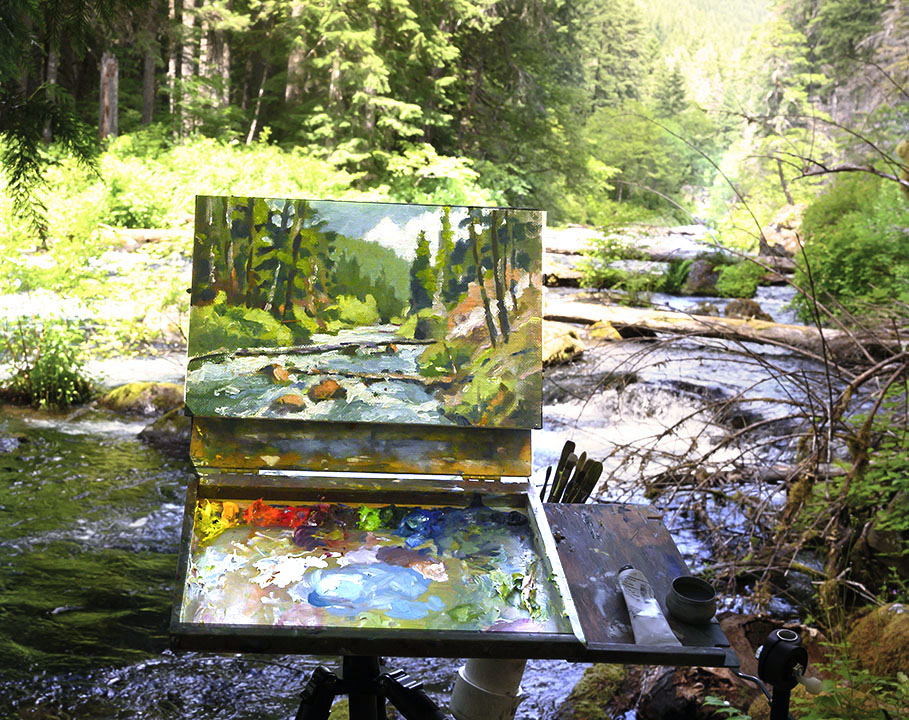 The wild McKenzie River runs through the Willamette National Forest, west of the Cascade Range in Central Oregon.  Over the July 4th weekend I went there to paint it.  I managed to film my work and post it, and this is the story of my trip.
I flew into Redmond and stayed with friends on their ranch in LaPine while I got acquainted with the area, then started out from Bend heading west.  The route took me through the town of Sisters and onto the McKenzie Highway – a winding, scenic road across the Cascade Range and over the McKenzie Pass at an elevation of 5,325 feet.  Heading further west I stayed at a hotel called Belknap Springs – a spa on the site of a historic hot springs I soaked in after a long day of driving.
The following day I scouted the river which had few convenient access points.  There were popular sightseeing areas at the scenic Koosah and Sahalie waterfalls, but these sites were too congested with tourists and hikers, and had few isolated spots to paint.  So I continued my search and found river access at the bottom of a hikable gorge off an unmarked dirt road.  I headed out first thing next day with my paints.
This was a challenging painting because of the location and rich visuals of the wild river with fallen trees and rapids.  I used a homemade panel made from Canadian plywood with hemp canvas applied with rabbit skin glue, followed by two coats of primer.  Hemp has a very rough texture that is tough on brushes and demands larger dollops of paint.  Because of the site I chose at the bottom of a forested gorge, the light was dim and there was lots of mud and mosquitoes.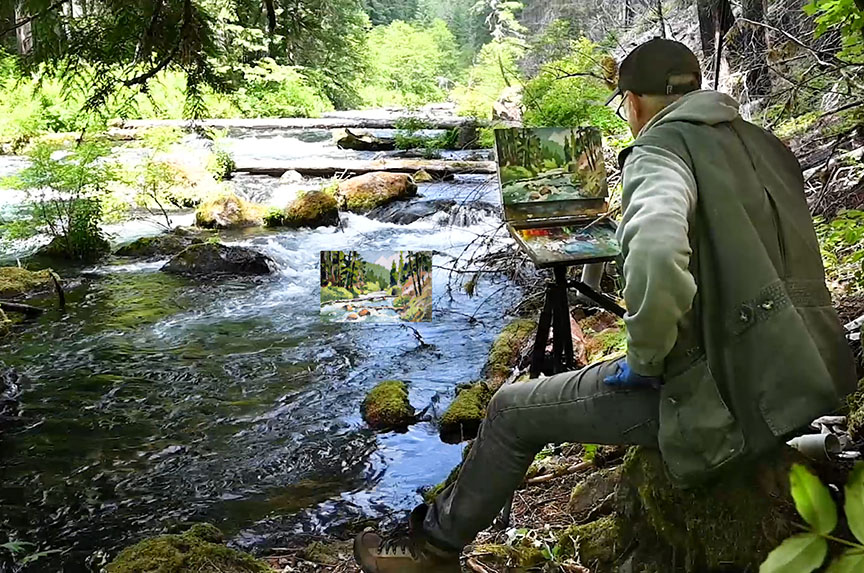 My easel was a very reliable Open Box M fixed onto a sturdy Sirui carbon fiber tripod.  My palette included titanium white, hansa yellow light, cad yellow, cad orange, cad red, alizarin crimson, red oxide transparent, cadmium green light,  cobalt blue, ultramarine blue, and paynes gray.  I filmed the process with a tripod-mounted Nikon Z6.  
The river ran quick with a near-deafening roar across the rocks as I painted.  The painting took about 3 hours but the process of getting there, setting up and cleanup took nearly the whole day.  Never having painted a fast river in oil under these conditions, I was generally pleased with my work. That evening I sat back in the hot springs with a glass of wine, watching the Oregon sky change colors as the sun set. 
* * * * * * * * * * * * * * *
Click here to watch a video of this painting in progress. 
Related posts:
Plein Air Painting in the Hudson Valley
Watercolor and Urban Sketching in Italy
Rediscovering my Art Supplies in the Arizona Desert