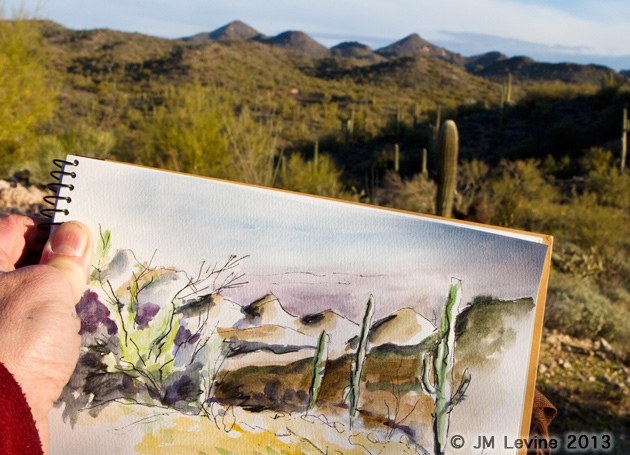 In 2012 I rediscovered my art supplies that were in storage for years, and decided to get reacquainted. So I threw sketchbooks, pens, and paints into a backpack and flew to Phoenix, rented a car, and drove out to the desert to commune with the warm sun, cactuses, and blazing sunsets. My plan was to find time with no distractions (and no cellphone service) to rediscover my sketching tools.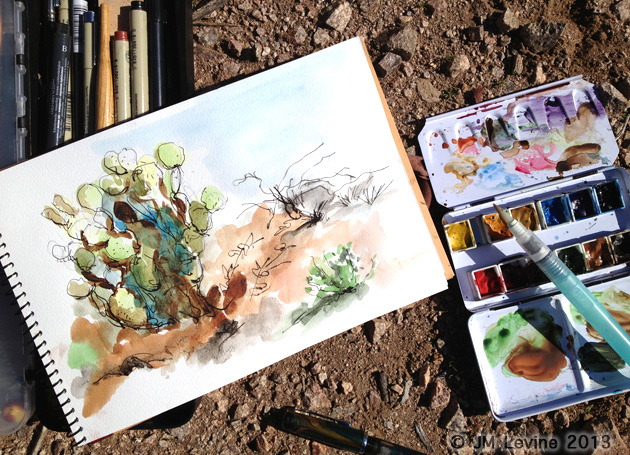 I left my motel room before dawn and headed off the highway down a long dirt road. My fingers almost froze as the sun came up, but I was thrilled to see an abandoned silver mine in the distance as the skies brightened. It turned out I was on the outskirts of a ghost town called Vulture City.  The sketch below is of the old mine.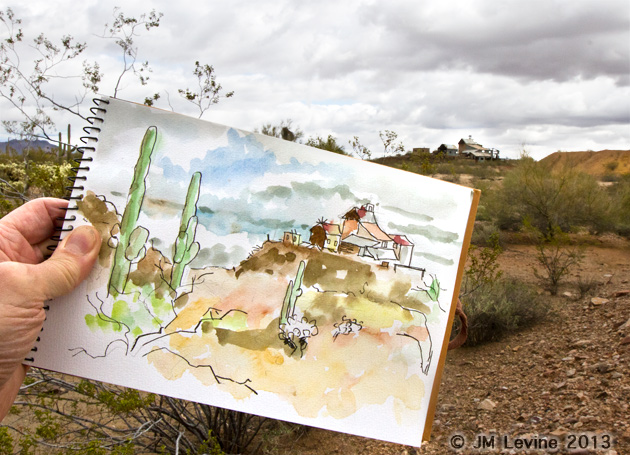 Living in Manhattan makes a horizon-to-horizon view in complete silence with nobody around an amazing treat. Here is a close-up of the dilapidated silver mine in Vulture City, which is an abandoned ghost town in the middle of nowhere.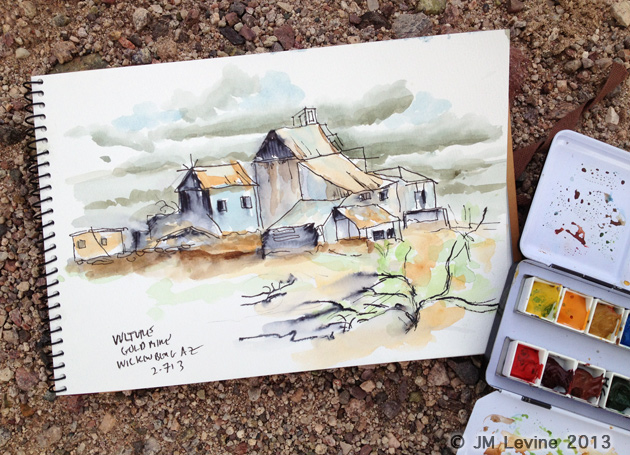 I didn't see any ghosts but there was lots of cactus and snow capped mountains off in the distance. As the sun rose, the desert glowed with green and ochre hues, and deep umber shadows painted the hills. During my days in the desert I tried several locations, testing my pens and watercolors.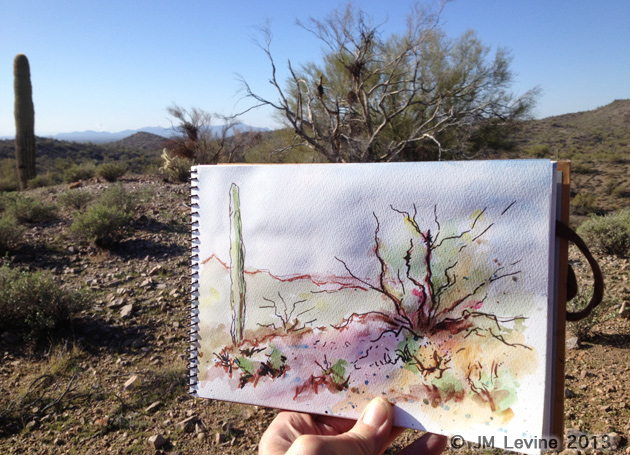 I felt rusty with watercolors that I hadnt used in years, but the solitude helped me concentrate. Standing on a lonely hill surrounded by saguaro cacti, I recalled a book I had read years before entitled The Teachings of Don Juan by Carlos Castaneda. It described the journey of a man who apprenticed with a Yaqui Indian sorcerer, and his path to enlightenment in the desert. When I got back I took that book from the shelf and found passages that resonated with my experiences in Arizona:
"Then slowly the world became clear and in focus. My field of vision became again very round and ample, and with it came an ordinary conscious act, which was to turn around and look for that marvelous being. At that point I encountered the most difficult transition. The passage from my normal state had taken place almost without my realizing it: I was aware; my thoughts and feelings were a corollary of that awareness; and the passing was smooth and clear."
Driving back I stopped off for Mexican food in the town of Tonopah, right near a nuclear reactor that supplies Phoenix with power.  I finally started feeling comfortable with my sketch tools, and ready to go back to New York City.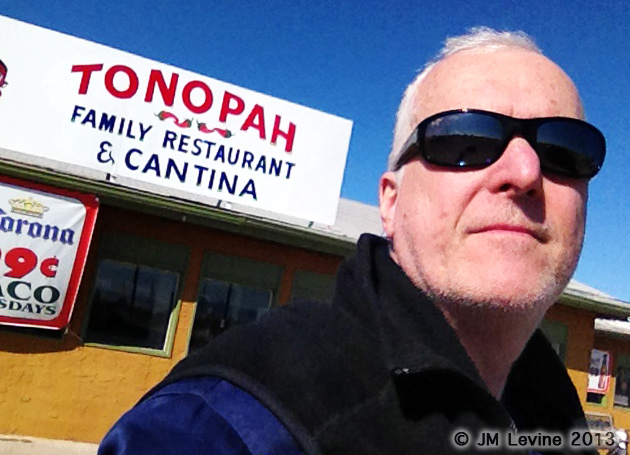 * * * * * * * * * * * * * * * * *
Related posts: 
The Ticket That Got Me Through Medical School
Visiting Dr. Chekhov
Combining Art and Medicine
Sketching the Subway and the Disapearance of Time
The Corpus Callosum, Buddha's Enlightenment, and the Neurologic Basis for Creativity
Sketching on the Left Bank
A Taste of Ancient Peruvian Medicine